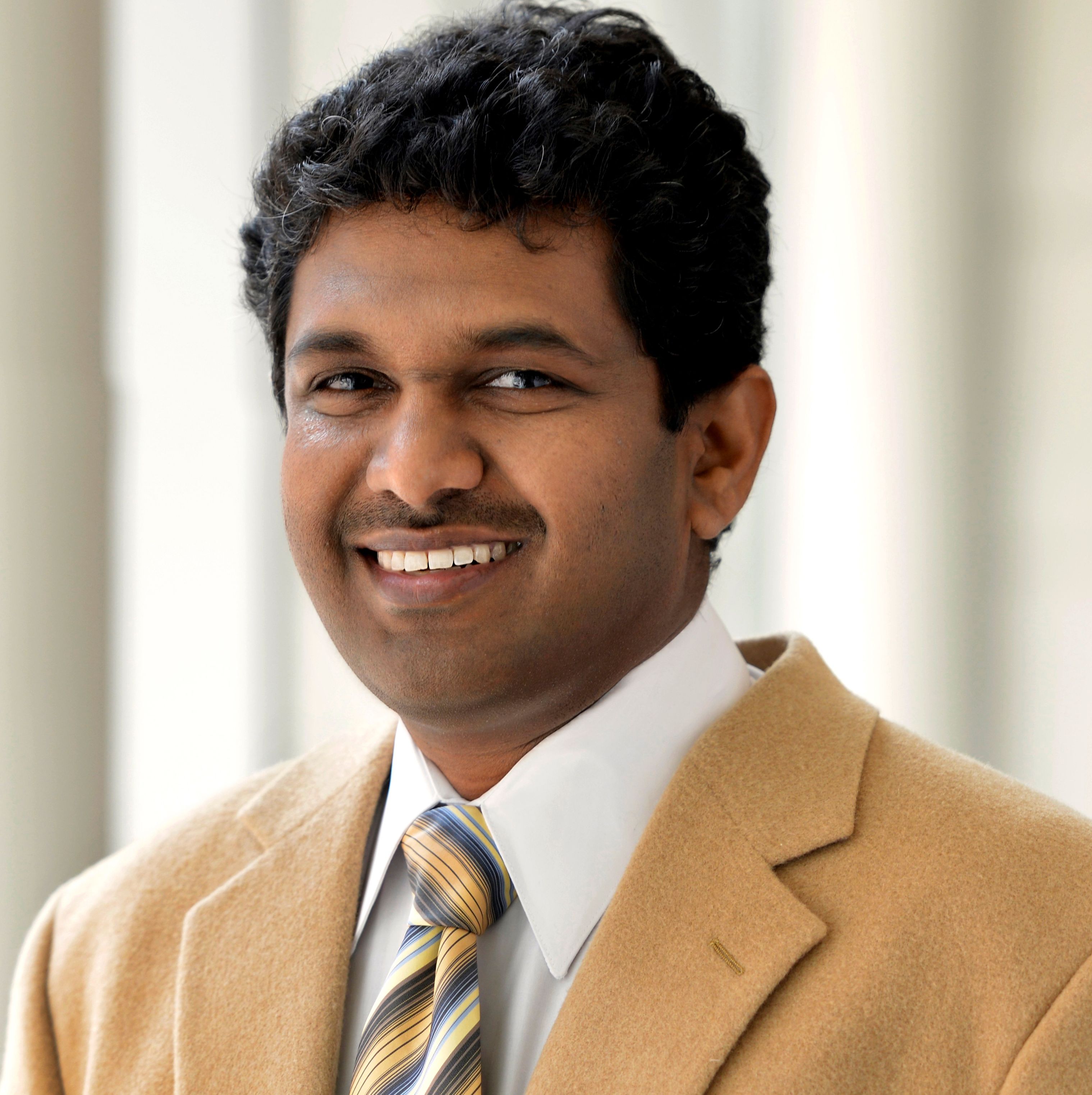 Email
Is this you?Log in to edit your profile.
Positions
Associate Professor

Molecular and Cellular Biology
Baylor College of Medicine
Houston, Texas, United States

Acadamic Director, Metabolomics Core

Advanced Technology Core
Baylor College of Medicine
TX, Texas, United States

Director, Metabolomics Shared Resource

Dan L Duncan Comprehensive Cancer Center
Baylor College of Medicine
Houston, Texas, United States
Education
PhD from Indian Institute Of Chemical Technology-IICT

01/2007 - Hyderabad, AP, India
Analytical Chemistry-Mass Spectrometry, Metabolomics, Proteomics

MS from Osmania University

07/2001 - HYDERABAD, AP, India
ORGANIC CHEMISTRY

BS from Osmania University

06/1998 - HYDERABAD, AP, India

Post-Doctoral Fellowship at Pennington Biomedical Research Center, LSU

07/2007 - Baton Rouge, Louisiana, United States
Proteomics

Post-Doctoral Fellowship at Medical College of Georgia

01/2009 - Augusta, Georgia, United States
Metabolomics
Professional Statement
We are applying mass spectrometry technology to study metabolic profiling studies in cancer development and progression . I have established a robust research program in bladder cancer research. Particularly, we have characterized metabolic alterations associated with smoking in bladder cancer, health disparity and more recently defined a role xenobiotic metabolism in bladder cancer progression. Importantly, these studies have resulted in multiple publications (European Urology Focus 2017, Cancer Prevention Research, 2017, Oncotarget 2017, Journal of Urology 2016). I have been collaborating extensively with clinicians to translate some of his findings to the area of biomarker development.
Since joining Baylor College of Medicine as a core director, I have been instrumental in developing and establishing a state-of-the-art metabolomics core facility that has from an institutional wide entity to a Texas Medical Center wide service unit. Here I developed a unique unbiased mass spectrometry-based metabolic profiling platform in the area of cancer. I have also developed the methods for targeted profile, global metabolome and lipidome and most recently established the in vitro flux analysis platform, all of which are being heavily used to address key metabolic questions in area of cancer and metabolic diseases. These results on metabolomics flux are published in high impact papers like Cell (2014), Science (2018), Nature (2017, 2018) Journal of Clinical investigations (2014, 2015, 2017), Cell metabolism (2017) and Cancer Research (2011, 2016).
Selected Publications
Kornberg MD, Bhargava P, Kim PM, Putluri V, Snowman AM, Putluri N, Calabresi PA, Snyder SH.. "Dimethyl fumarate targets GAPDH and aerobic glycolysis to modulate immunity.." Science. 2018 April 27;360(6387):449-453. Pubmed PMID: 29599194
Vantaku V, Amara CS, Piyarathna DWB, Donepudi SR, Ambati CR, Putluri V, Tang W, Rajapakshe K, Estecio MR, Terris MK, Castro PD, Ittmann MM, Williams SB, Lerner SP, Sreekumar A, Bollag R, Coarfa C, Kornberg MD, Lotan Y, Ambs S, Putluri N.. "DNA methylation patterns in bladder tumors of African American patients point to distinct alterations in xenobiotic metabolism.." Carcinogenesis. 2019 Pubmed PMID: 31284295
Zhang X, Wang X, Wang XQD, Su J, Putluri N, Zhou T, Qu Y, Jeong M, Guzman A, Rosas C, Huang YN, Sreekumar A, Li W, Goodell MA. "Dnmt3a loss and Idh2 neomorphic mutations mutually potentiate malignant hematopoiesis.." Blood. 2020 Pubmed PMID: 31932841
Dasgupta S, Rajapakshe K, Zhu B, Nikolai BC, Yi P, Putluri N, Choi JM, Jung SY, Coarfa C, Westbrook TF, Zhang XH, Foulds CE, Tsai SY, Tsai MJ, O'Malley BW.. "Metabolic enzyme PFKFB4 activates transcriptional coactivator SRC-3 to drive breast cancer.." Nature. 2018 April 3;556(7700):249-254. Pubmed PMID: 29615789
Vareed SK, Bhat VB, Thompson C, Vasu VT, Fermin D, Choi H, Creighton CJ, Gayatri S, Lan L, Putluri N, Thangjam GS, Kaur P, Shabahang M, Giri JG, Nesvizhskii AI, Asea AA, Cashikar AG, Rao A, McLoughlin J, Sreekumar A. "Metabolites of Purine Nucleoside Phosphorylase (NP) in Serum Have the Potential to Delineate Pancreatic Adenocarcinoma.." PLoS ONE. 2011;6(3):e17177. Pubmed PMID: 21448452
Kaushik AK, Vareed SK, Basu S, Putluri V, Putluri N, Panzitt K, Brennan CA, Chinnaiyan AM, Vergara IA, Erho N, Weigel NL, Mitsiades N, Shojaie A, Palapattu G, Michailidis G, Sreekumar A. "Metabolomic Profiling Identifies Biochemical Pathways Associated with Castration-Resistant Prostate Cancer." J Proteome Res. 2013 Pubmed PMID: 24359151
Putluri N, Shojaie A, Vasu VT, Nalluri S, Vareed SK, Putluri V, Vivekanandan-Giri A, Byun J, Pennathur S, Sana TR, Fischer SM, Palapattu GS, Creighton CJ, Michailidis G, Sreekumar A. "Metabolomic profiling reveals a role for androgen in activating amino Acid metabolism and methylation in prostate cancer cells.." PLoS ONE. 2011;6(7):e21417. Pubmed PMID: 21789170
Putluri N, Shojaie A, Vasu VT, Vareed SK, Nalluri S, Putluri V, Thangjam GS, Panzitt K, Tallman CT, Butler C, Sana TR, Fischer SM, Sica G, Brat DJ, Shi H, Palapattu GS, Lotan Y, Weizer AZ, Terris MK, Shariat SF, Michailidis G, Sreekumar A.. "Metabolomic Profiling Reveals Impaired Detoxification Mechanism in Bladder Cancer." Cancer Research. 2011 October Pubmed PMID: 21990318
Bader DA, Hartig SM, Putluri V, Foley C, Hamilton MP, Smith EA, Saha PK, Panigrahi A, Walker C, Zong L, Martini-Stoica H, Chen R, Rajapakshe K, Coarfa C, Sreekumar A, Mitsiades N, Bankson JA, Ittmann MM, O'Malley BW, Putluri N, McGuire SE. "Mitochondrial pyruvate import is a metabolic vulnerability in androgen receptor-driven prostate cancer.." Nature Metabolism. 2019 Pubmed PMID: 31198906
Vantaku V, Dong J, Ambati CR, et. al... Coarfa C, Putluri N. "Multi-omics Integration Analysis Robustly Predicts High-Grade Patient Survival and Identifies CPT1B Effect on Fatty Acid Metabolism in Bladder Cancer.." Clinical Cancer Research. 2019 Pubmed PMID: 30846479
Terunuma, A. Putluri, N. Sreekumar, A. and Ambs, S. "MYC-driven 2-Hydroxyglutarate Associates with Poor Prognosis in Breast Cancer." J Clin Invest. 2014 January;124:398-412. Pubmed PMID: 24316975
Dey P et. al.... DePinho RA. "Oncogenic Kras driven metabolic reprogramming in pancreas cancer cells utilizes cytokines from the tumor microenvironment.." Cancer Discovery. 2020 February Pubmed PMID: 32046984
Hu Q, et. al........Yang L.. "Oncogenic lncRNA downregulates cancer cell antigen presentation and intrinsic tumor suppression.." Nature Immunology. 2019 Pubmed PMID: 1160797
Putluri N, Maity S, Kommangani R, Creighton CJ, Putluri V, Chen F, Nanda S, Bhowmik SK, Terunuma A, Dorsey T, Nardone A, Fu X, Shaw C, Sarkar TR, Schiff R, Lydon JP, O'Malley BW, Ambs S, Das GM, Michailidis G, Sreekumar A. "Pathway-centric integrative analysis identifies RRM2 as a prognostic marker in breast cancer associated with poor survival and tamoxifen resistance.." Neoplasia. 2014 May;16(5):390-402. Pubmed PMID: 25016594
Scherp P, Putluri N, LeBlanc GJ, Wang ZQ, Zhang XH, Yu Y, Ribnicky D, Cefalu WT, Kheterpal I. "Proteomic analysis reveals cellular pathways regulating carbohydrate metabolism that are modulated in primary human skeletal muscle culture due to treatment with bioactives from Artemisia dracunculus L." J Proteomics. 2012 Pubmed PMID: 22480907
Scherp P, Putluri N, Leblanc GJ, Wang ZQ, Zhang XH, Yu Y, Ribnicky D, Cefalu WT, Kheterpal I. "Proteomic analysis reveals cellular pathways regulating carbohydrate metabolism that are modulated in primary human skeletal muscle culture due to treatment with bioactives from Artemisia dracunculus L.." J Proteomics. 2012 June 18;75(11):3199-210. Pubmed PMID: 22480907
Stashi E, Lanz RB, Mao J, Michailidis G, Zhu B, Kettner NM, Putluri N, Reineke EL, Reineke LC, Dasgupta S, Dean A, Stevenson CR, Sivasubramanian N, Sreekumar A, Demayo F, York B, Fu L, O'Malley BW. "SRC-2 Is an Essential Coactivator for Orchestrating Metabolism and Circadian Rhythm." Cell Rep. 2014 February Pubmed PMID: 24529706
Andreas Martin Lisewski, Joel P. Quiros, et. al. "Supergenomic Network Compression and the Discovery of EXP1 as a Glutathione Transferase Inhibited by Artesunate." cell. 2014 August
Memberships
Sigma Xi

Active Member (01/2010 - present)

American Association for Cancer Research (AACR)

Associate Member (01/2009 - present)

American Society of Mass Spectrometry

Member (01/2007 - present)

American Urological Association - AUA

Member (01/2017 - present)
Funding
Elucidating the Role of Xenobiotic Metabolism in Bladder Cancer Progression

$796,000.00 (07/01/2015 - 06/30/2019)
Grant funding from

American Cancer Society

RACIAL DISPARITY IN BLADDER CANCER AND IDENTIFICATION OF ALTERED METABOLISM IN AFRICAN AMERICAN COMPARE TO EUROPEAN BLADDER CANCER

- #R01CA220297
$1,819,903.00 (06/05/2017 - 06/05/2022)
Grant funding from

National Cancer Institute/NIH

IDENTIFY THE DNA ADDUCT AND ASSOCIATED METABOLIC ALTERATIONS IN BLADDER CANCER OF SMOKERS

- #RO1CA216426
$1,980,358.00 (04/01/2018 - 03/31/2023)
Grant funding from

National Cancer Institute/NIH