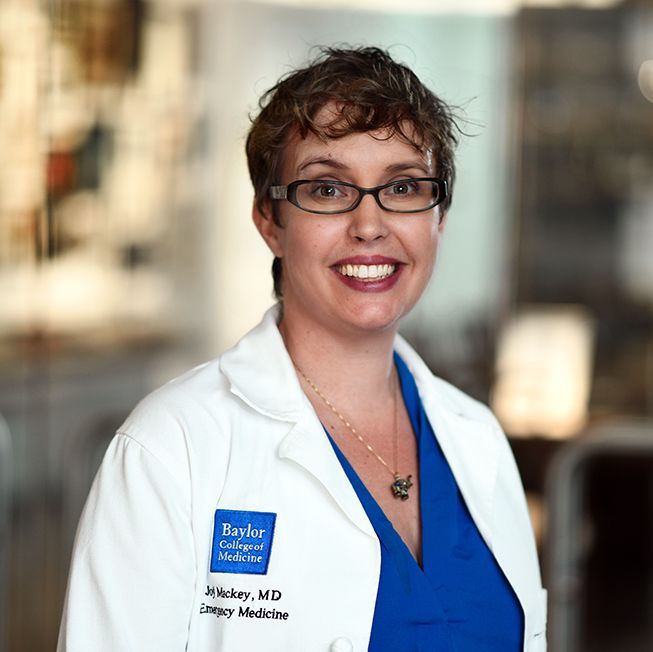 Email
Websites
Is this you?Log in to edit your profile.
Positions
Assistant Professor

Medicine-Emergency Medicine
Baylor College of Medicine
Houston, TX, US

Director, Global Health and International Emergency Medicine Fellowship

Emergency Medicine
Baylor College of Medicine
Education
MD from Baylor College of Medicine

05/2011 - Houston, Texas, United States

Residency at Alpert Medical School Brown University

06/2015 - Providence, Rhode Island, United States
Emergency Medicine

BA from Westmont College

05/2000 - Santa Barbara, California, United States
Professional Interests
Global Emergency Medicine
Program Development
Medical Education
Selected Publications
Jaung M, Jani S, Banu S, Mackey JM. "International Emergency Psychiatry Challenges: Disaster Medicine, War, Human Trafficking, Displaced Persons." Psychiatr Clin North Am. 2017 September;40(3):565-574.
Levine A, Barry M, Agrawal P, Duber H, Chang M, Mackey J, Hansoti B. "Global Health and Emergency Care: Overcoming Clinical Research Barriers.." Acad Emerg Med. 2017 April;24(4):484-493.
Pringle K, Mackey JM, Modi P, Janeway H, Romero T, Meynard F, Perez H, Herrera R, Bendana M, Labora A, Ruskis J, Foggle J, Partridge R, Levine AC. "A short trauma course for physicians in a resource-limited setting: is low-cost simulation effective?." Injury. 2015 May;S0020-1383(15):00280-6.
Memberships
American College of Emergency Physicians

Deputy Ambassador to Belize (12/2014 - present)