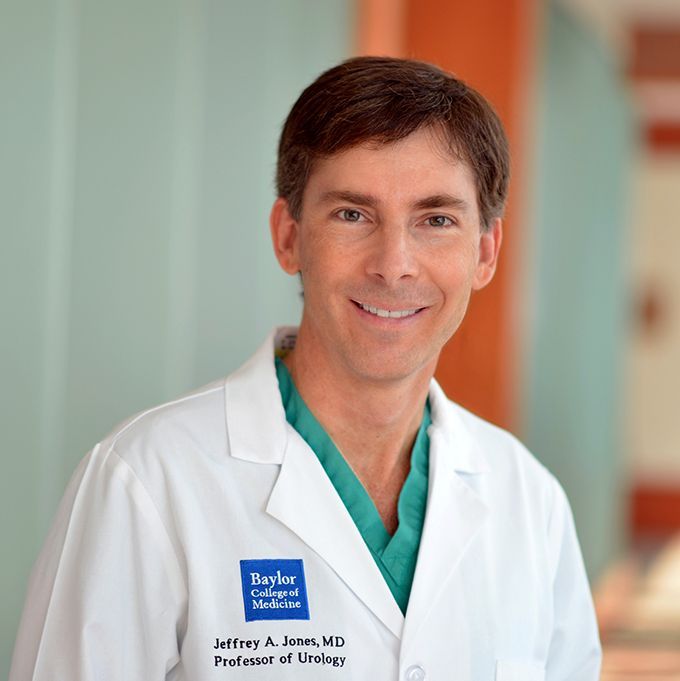 Email
Phone
Addresses
Clinic

Michael E. DeBakey VAMC

Urology Clinic

2002 Holcombe Boulevard, VAMC-700

Houston, Texas 77030

United States

(713) 798-4001
Websites
VIICTR Research Database
Is this you?Log in to edit your profile.
Positions
Professor

Urology
Baylor College of Medicine
Houston, TX, US

Chief

MEDVAMC Urology Service

Member

Dan L Duncan Comprehensive Cancer Center
Baylor College of Medicine
Houston, Texas, United States
Education
B.A. from Trinity University

01/1981 - San Antonio, TX, United States

M.D. from Baylor College Of Medicine

01/1984 - Houston, TX, United States

Internship at Indiana University Hospitals

01/1986 - Indianapolis, Indiana, United States
General Surgery

Residency at Indiana University Hospitals

01/1987 - Indianapolis, Indiana, United States
Resident in General Surgery

Residency at Indiana University Hospitals

01/1991 - Indianapolis, Indiana, United States
Resident in Urology

M.S. from University Of Texas Medical Branch

01/1998 - Galveston, TX, United States

Fellowship at Indiana University

01/1992 - Indianapolis, Indiana, United States
AFUD Scholar/Research Fellow in Urologic Oncology
Certifications
American Board of Urology
Honors & Awards
Distinguished Leadership Award – Outstanding Contribution in Medical Education and Research

Texas Tech University Health Sciences Center, Faculty (01/1995)

Young Investigator's Award

Space Medicine Branch of Aerospace Medical Association (01/1998)

Individual Special Space Flight Achievement Award, ISS Medical Operations Lead

01/2001

International Space Station Individual Superior Accomplishment Award

01/2002

NSA HQs ISS Expeditionary Medicine Group Award, Accepted as Group Lead

01/2002

Special Spaceflight Achievement Award, Medical Operations HRF Ultrasound Test Team

01/2002

Superior Performance Award, Orion Vehicle Integration and Design Support

01/2009

Armed Forces Reserve Medal, Twenty Years of Service

01/2009

Navy and Marine Corps Commendation Medal

01/2011

Combat Air Medal While Serving as Flight Surgeon to an F-18 Squadron in Iraq and as Electronics Countermeasures Officer

01/2010

Bruce Jackson Naval Reserve Flight Surgeon of the Year

01/2011
Professional Statement
Dr. Jeffrey Jones is a professor at Baylor College of Medicine (BCM) with a joint appointment in the Department of Urology and Center for Space Medicine. He is a fellowship-trained and board certified Urologic Oncologist and is board certified in Aerospace Medicine. He is a Fellow of the American College of Surgeons, American College of Preventive Medicine and the Aerospace Medical Association. He is currently the Chief of Urology at the Michael E. DeBakey Veteran Affairs Medical Center (MEDVAMC) and an active participant in the Southwest Oncology Group. He is Principal or Co-Investigator on multiple clinical cancer trials at BCM and MEDVAMC.
He is also a US Naval Flight Surgeon (current reservist, but participated in Operations Iraqi and Enduring Freedom) and was a NASA Flight Surgeon for 13 years. He served tenures as crew surgeon for Shuttle and ISS missions, the lead flight surgeon for both the International Space Station and Exploration Medicine programs, the NASA JSC Radiation and Countermeasures Integrated Product Team lead, the Multilateral Medical Operations Panel Radiation Health and Countermeasures Working Group lead and has been Co-investigator on multiple spaceflight medical science studies. He has participated in many prior human and animal studies of radiation exposure, tumor biology, cancer therapy and space countermeasures development, including a clinical study of astronauts for the use of Potassium Citrate in preventing spaceflight-induced renal calculi. He has authored multiple peer-reviewed manuscripts and book chapters on urological surgery, cancer therapy, stone management, space radiation health, radiation bioeffects, and radiation-induced carcinogenesis.
Memberships
Society for Basic Urologic Research

Member

Endourological Society

Member

Texas Urological Society

Member

Society of University Urologists

Member

American Aerospace Medicine Association

Member

American Medical Corps Officers of the Navy

Member

Association of Military Surgeons of the United States

Member

National Space Society

Member

American Astronautical Society

Member

Planetary Society

Member

Société International D'Urologie

Member

Society of University Urologists

Member

American Association of Clinical Urologists

Member

Texas Medical Association

Member

Society of Urologic Oncology

Member

Southwest Oncology Group

Member

American Urological Association

Member
Skills
Clinical Interests

Urologic oncology; calculus disease; urological applications for space and flight medicine

Research Interests

Southwest Oncology Group: Genitourinary Cancer Clinical Trials, Ben Taub Hospital and Michael E. DeBakey Veterans Affairs Medical Center; Center for Space Medicine/NASA-Johnson Space Center: Countermeasure for In-flight Bone Loss Using Bisphosphonate (Co-Investigator), Oxidative Stress Countermeasures for Spaceflight Extra-vehicular Activities (Principal Investigator)