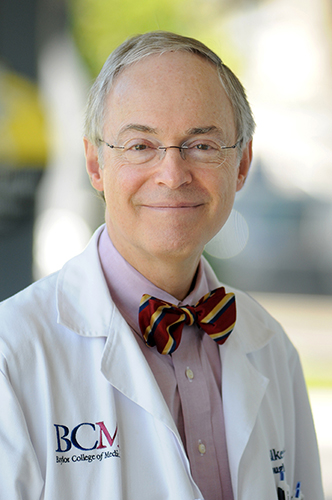 Addresses
Jamail Specialty Care Center - Alkek Eye Center (Clinic)

1977 Butler Blvd.

Alkek Eye Center

2nd floor

Houston, Texas 77030

United States

(713) 798-6100
Is this you?Log in to edit your profile.
Positions
Professor and Allen, Mosbacher, and Law Chair in Ophthalmology

Ophthalmology
Baylor College of Medicine
Houston, TX, US
Education
MD from Harvard Medical School

06/1977 - Boston, Massachusetts, United States
Alpha Omega Alpha

Graduate Certificate at Rice University

04/2010 - Houston, Texas
Medical and health care management

Fellowship at Moorfields Eye Hospital

10/1981 - London, England, United Kingdom
Cornea and Anterior Segment Surgery

Fellowship at Baylor College Of Medicine Affiliate Hospitals

06/1981 - Houston, Texas, United States
Anterior segment surgery

Residency at Baylor College Of Medicine Affiliate Hospitals

04/1981 - Houston, Texas, United States
Ophthalmology Chief Resident

Internship at St. Luke's Episcopal Hospital

06/1978 - Houston, Texas, United States
Internal Medicine

AB from Amherst College

01/1973 - Amherst, Massachusetts, United States
Independent study: Summa cum laude
Certifications
American Board of Ophthalmology
Professional Interests
Cataract and intraocular lens surgery
Managing complications of cataract and intraocular lens surgery
LASIK, PRK, and other refractive surgical procedures
Visian ICL surgery
Laser cataract surgery
Refractive lens exchange
Iris surgical repair
Professional Statement
My work focuses on improving the outcomes of cataract surgery and refractive surgery procedures such as LASIK and PRK. It involves all aspects: careful measurement, individualized selection of the appropriate options for each patient, meticulous surgery, prevention of complications, and maximizing the final vision. I also specialize in the management of complex conditions including cataract and intraocular lens problems, iris repair and replacement, and management of LASIK and PRK problems. I conduct research and teach physicians around the world in these areas.
Memberships
American Society of Cataract and Refractive Surgery

Past President

International Intraocular Implant Club

Past President

American Ophthalmological Society

Past President

American Academy of Ophthalmology

Association for Research in Vision and Ophthalmology

European Society of Cataract and Refractive Surgeons

American-European College of Ophthalmic Surgeons
Skills
Cataract and intraocular lens surgery

Basic and complex cataract surgery including personalized selection of the best option for each patient, meticulous measurements, and management of the most complex cataract and intraocular lens problems.

Laser cataract surgery

I was involved in the early stages of the development of laser cataract surgery and find it to be a major advance for accuracy and safety for the appropriate patient.

LASIK and PRK

LASIK and PRK offer the possibility of remarkable vision for the appropriate patient. I have been doing these procedures from the time of their early introduction and have been involved in many of the major clinical trials that have brought new advances. My major emphasis is quality of vision and safety for all patients.

Iris repair

I also specialize in surgical procedures to repair and replace the iris, including leading at Baylor a new trial of an artificial iris that is individually designed to match the patient's other eye. Results have been amazing.

Visian ICL surgery