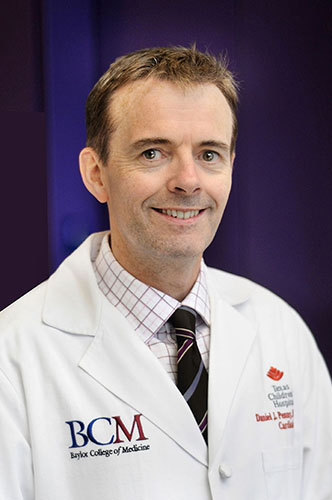 Phone
Addresses
Clinic

TCH-West Tower

Room: TXWT-19345

Mail Stop: BCM320

Houston, Texas 77030

United States

(832) 826-5654

Office

TCH-West Tower

Room: TXWT-19345

Mail Stop: BCM320

Houston, Texas 77030

United States

(832) 826-5654

Hospital

TCH-West Tower

Room: TXWT-19345

Mail Stop: BCM320

Houston, Texas 77030

United States

(832) 826-5654

Lab

Baylor College of Medicine

Pediatric Cardiology

Houston, Texas 77030

United States
Websites
Is this you?Log in to edit your profile.
Positions
Professor

Pediatrics-Cardiology
Baylor College of Medicine
Houston, TX, US

Chief of Pediatric Cardiology

Pediatrics
Pediatrics/Pediatric Cardiology
Texas Children's Hospital
Houston, Texas, United States
Education
M.H.A. from Abbott Northwestern Hospital

01/2008 - Minneapolis, MN, United States

Ph.D. from Monash University

01/2002 - Melbourne, Australia

M.D. from National University Of Ireland

01/1986 - Cork, Ireland
Professional Interests
Cardiac Intensive Care
Program Development
Memberships
American Academy of Pediatrics

American Heart Association

American College of Cardiology

Children's Heart Fondation Medical Advisory Board

Pediatric Heart Network

National Heart Foundation of Australia

Royal College of Physicians of Ireland

The International Society for Nomenclature of Pediatric and Congenital Heart Disease
Funding
Pediatric Heart Network

$1,454,365.00 (09/01/2011 - 06/30/2016)
Unrestricted funding from

Baylor/Texas Children's Hospital

Conduct research that will help children with heart defects or disease, today and in the future, have better and healthier lives.