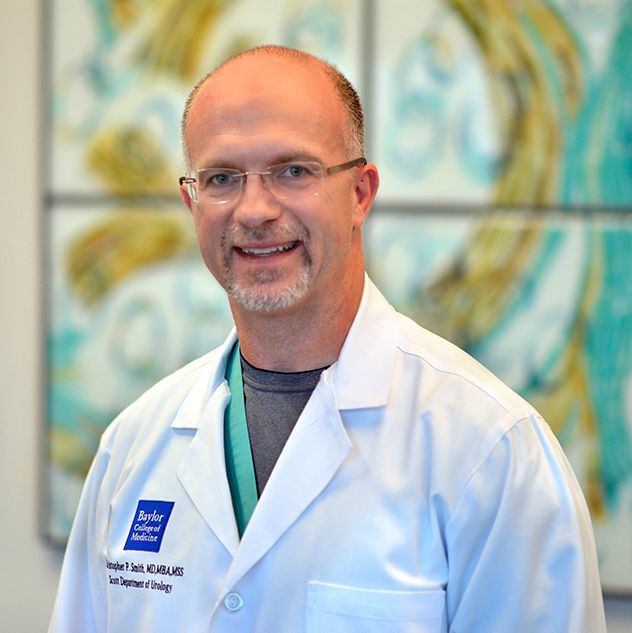 Email
Phone
Addresses
Clinic

Baylor College of Medicine Medical Center

7200 Cambridge, Suite 10B

Houston, Texas 77030

United States

(713) 798-4001
Websites
VIICTR Research Database
Is this you?Log in to edit your profile.
Positions
Associate Professor

Urology
Baylor College of Medicine
Houston, TX, US
Board Certifications
Board Certified

American Board of Urology
Clinical Interests
Male and Female Incontinence; Voiding Dysfunction; Overactive Bladder; Neurourology
Education
B.S. from George Washington University

01/1990 - Washington, DC, United States

M.D. from Northwestern University Medical School

01/1994 - Chicago, IL, United States

Internship at Baylor College of Medicine

06/1996 - Houston, Texas, United States
General Surgery

Residency at Baylor College of Medicine

06/2000 - Houston, Texas, United States
Urology

Fellowship at University of Pittsburgh

06/2002 - Pittsburgh, Pennsylvania, United States
NIH/K12 Physician Scientist Fellow in Neurourology and Female Urology

MBA from University of Pittsburgh

09/2002 - Pittsburgh, PA

Graduate Certificate at U.S. Army War College

07/2012 - Carlisle, Pennsylvania, United States
Christopher P. Smith, M.D., M.B.A., M.S.S., Associate Professor, is a Board-certified urologist specializing in male and female urinary incontinence and voiding dysfunction. Dr. Smith is an international expert on the basic and clinical aspects of botulinum toxin use within urology. He has used botulinum toxin clinically for over a decade. In addition to his extensive involvement in basic science research, Dr. Smith is a principal investigator on several clinical trials examining the effects of botulinum toxin to treat patients with overactive bladder and benign prostatic hyperplasia (BPH). Dr. Smith is also currently a Colonel in United States Army Reserve Corps and has been deployed three times in support of Operation Enduring Freedom (OEF).
Memberships
South Central Section of the American Urological Association

Member

Special Operations Medical Association

Member

Texas Urological Society

Member

Society of Urodynamics, Female Pelvic Medicine and Urogenital Reconstruction

Member

American Association of Clinical Urologists

Member

American Urological Association

Member
Honors & Awards
Rising Star in Urology Award

The Astellas/AUA Foundation (01/2008 - 01/2013)

AFUD Scholar

American Foundation of Urological Disease (01/2000 - 01/2002)

Paul Zimskind Best Young Investigator Award

Society of Urodynamics and Female Urology (01/2006)

Career Development Award "Studying the Role of Spinal Purinergic Pathways in the Development of Bladder Overactivity"

Department of Veterans Affairs (VA Central Office) (01/2008 - 01/2011)

Jack Lapides Essay Contest, Second Place Award, "Botulinum Toxin Type A Normalizes Alterations in Urothelial ATP and No Release Induced by Chronic Spinal Cord Injury"

01/2008

Apple Award for Excellence in Publishing in Spinal Cord Injury Rehabilitation Research

01/2008

Best Poster Award - AUA Annual Meeting

American Urological Association (05/2008)

Best Poster Award - AUA Annual Meeting

American Urological Association (05/2011)