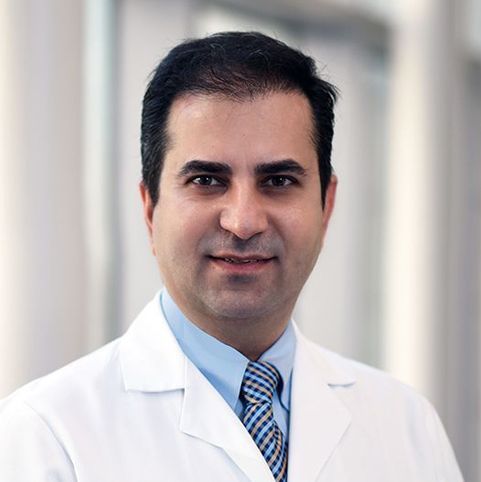 Email
Phone
Is this you?Log in to edit your profile.
Positions
Professor of Surgery

Division of Vascular Surgery and Endovascular Therapy
Baylor College of Medicine

Director, Clinical Research

Division of Vascular Surgery and Endovascular Therapy
Department of Surgery

Member

Dan L Duncan Comprehensive Cancer Center
Baylor College of Medicine
Houston, Texas, United States
Education
PhD from Swiss Federal Institute of Technology (EPFL)

Lausanne, Switzerland
Biomedical Engineering

MSc from Sharif University of Technology

Tehran, Iran
Biomedical Engineering

BSc from Isfahan University of Technology

Isfahan, Iran
Electrical Engineering
Professional Statement
Dr. Najafi is currently serving with Baylor College of Medicine, as Professor of Surgery and Director of Clinical Research, in the Division of Vascular Surgery and Endovascular Therapy, Michael E. DeBakey Department of Surgery. He received a Ph.D. degree in Bioengineering followed by a Postdoctoral Fellowship in Applied Biomechanics at the Swiss Federal Institute of Tech (Lausanne, Switzerland), and in Neuroscience at Harvard University, Neuromotor Control Lab. Before joining BCM, he served as Professor of Surgery (with Tenure) at the Department of Surgery as well as Director of interdisciplinary Consortium on Advanced Motion Performance (iCAMP), chair of research operation at the Southern Arizona Limb Salvage Alliance (SALSA), member of Arizona Center on Aging, Associate Member of Arizona Cancer Center, and scientific advisory board member of Arizona Arthritis Center.
He has almost two decades of experience in designing bio-inspired sensors for objective evaluation of healthy state of patients with locomotor dysfunctions, over 200 scientific publications in peer reviewed journals or conference proceeding with more than 4300 citations, five issued patents and seven pending patents, and have been PI or a key investigator on over 40 industrial, national and international grants ($35M+). He worked with a wide network of clinical and bioengineering collaborators across the globe primarily in the clinical areas of falls, frailty, gait, cognitive impairment, and diabetes and diabetic foot ulcers.
His unique expertise is the translation of wearable technologies for more accurate movement assessment of patients in their natural environment where they're the most comfortable and active. His goal is to better understand how people move through their environment. In this way, he believes we may be able to fundamentally change the way we objectively measure quality of life for people across disciplines. He has assisted in successful translation of several innovative technologies for commercialization in the area of remote heath monitoring, precision medicine, and movement assessment including several wearable and mHealth technologies for activities monitoring, gait analysis, balance assessment, automatic fall detection (PAMSys™, LEGSys™, BalanSens™, ACTIVPers™, etc), patient adherence (PAMTag™), and various technologies for foot problems management including prevention of diabetic foot ulcers (SmartSox Novinoor, SurroSens Orpyx, SmartMat, and Podimetrics).
He has mentored 150+ postdoc, research fellows/interns, graduate, undergraduate, premed, and medical students, several of them received prestigious awards from their achievements while working in his team. He is also serving as Editor, Associate Editor, and guest editors for several scientific journals including Section Editor for Gerontology, 'Regenerative and Technological Section', Journal of Surgery, Journal of Diabetes Science and Technology, and Journal of American Podiatric Medical Association (JAPMA). He has served as the chair of research operation at the Southern Arizona Limb Salvage Alliance (SALSA), a collaborative clinical and research alliance dedicated to advancing care of the diabetic foot and preventing amputations in North America and worldwide.
Selected Publications
Najafi B, Horn D, Marclay S, Crews RT, Wu S, Wrobel JS. "Assessing postural control and postural control strategy in diabetes patients using innovative and wearable technology." J Diabetes Sci Technol. 2010;4(4):780-91. Pubmed PMID: 20663438
Toosizadeh N, Mohler J, Najafi B. "Assessing Upper Extremity Motion: An Innovative Method to Identify Frailty." J Am Geriatr Soc. 2015;63(6):1181-6. doi: 10.. Pubmed PMID: 26096391
Aminian K, Najafi B. "Capturing human motion using body-fixed sensors: outdoor measurement and clinical applications." Comp Anim Virtual Worlds. 2004;15(2):79-94..
Schwenk M, Grewal GS, Honarvar B, Schwenk S, Mohler J, Khalsa DS, Najafi B. "Interactive balance training integrating sensor-based visual feedback of movement performance: a pilot study in older adults." J Neuroeng Rehabil. 2014;11:164. doi: 10.1186. Pubmed PMID: 25496052
Toosizadeh N, Mohler J, Lei H, Parvaneh S, Sherman S, Najafi B. "Motor Performance Assessment in Parkinson's Disease: Association between Objective In-Clinic, Objective In-Home, and Subjective/Semi-Objective Measures." PloS one. 2015;10(4):e0124763. doi: 10.1371/j. Pubmed PMID: 25909898
Najafi B, Armstrong DG, Mohler J. "Novel wearable technology for assessing spontaneous daily physical activity and risk of falling in older adults with diabetes." Pubmed PMID: 24124940
Mohler J, Najafi B, Fain M, Ramos KS. "Precision Medicine: A Wider Definition." J Am Geriatr Soc. 2015;63(9):1971-2. doi: 10.. Pubmed PMID: 26390003
Grewal GS, Schwenk M, Lee-Eng J, Parvaneh S, Bharara M, Menzies RA, Talal TK, Armstrong DG, Najafi B. "Sensor-Based Interactive Balance Training with Visual Joint Movement Feedback for Improving Postural Stability in Diabetics with Peripheral Neuropathy: A Randomized Controlled Trial." Gerontology. 2015;61(6):567-74. doi: 10.1159/. Pubmed PMID: 25721132
Schwenk M, Hauer K, Zieschang T, Englert S, Mohler J, Najafi B. "Sensor-derived physical activity parameters can predict future falls in people with dementia." Gerontology. 2014;60(6):483-92. doi: 10.1159/. Pubmed PMID: 25171300
Schwenk M, Mohler J, Wendel C, D'Huyvetter K, Fain M, Taylor-Piliae R, Najafi B. "Wearable sensor-based in-home assessment of gait, balance, and physical activity for discrimination of frailty status: baseline results of the Arizona frailty cohort study." Gerontology. 2015;61(3):258-67. doi: 10.1159/. Pubmed PMID: 25547185