Master
Heading
Baylor College of Medicine 3MT® Competition
Media Component
Credit
V. Simerskey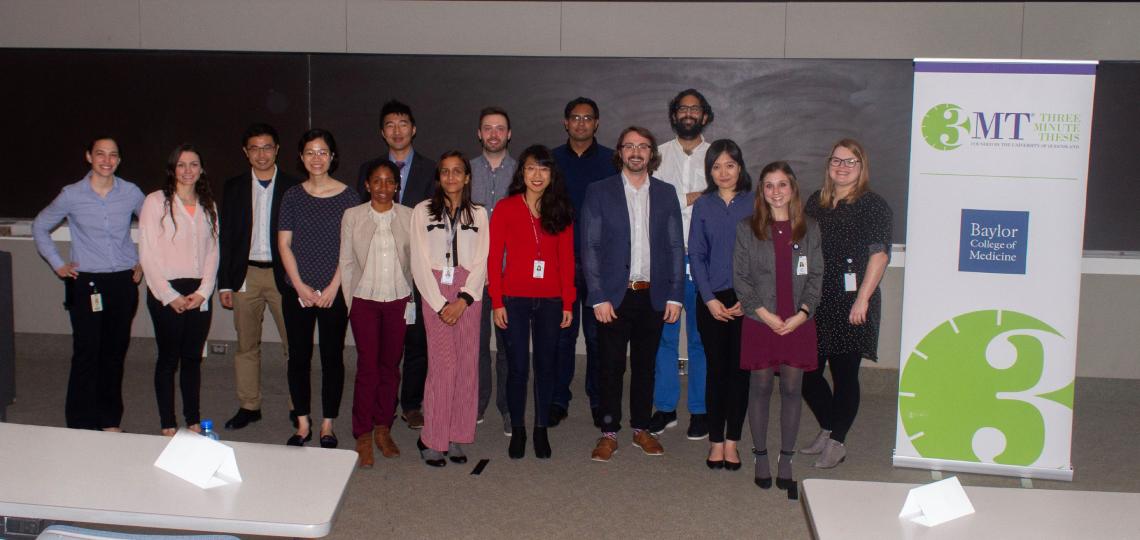 Content
On Wednesday, Feb. 6 the Career Development Center along with the Graduate School of Biomedical Sciences hosted the first 3MT® Competition at Baylor College of Medicine. With a diverse group of presenters from nine of our 16 graduate school programs, 15 finalists presented.
Heading
Competition Overview
Content
Welcome to Baylor College of Medicine's 3MT® (Three Minute Thesis) Competition! The Career Development Center and Graduate School of Biomedical Sciences (GSBS) are pleased to offer eligible students the opportunity to further develop research communication skills through this exciting event!

This page offers information to introduce you to this competition as well as resources to help you prepare for the competition.
Three Minute Thesis (3MT®) celebrates the exciting research conducted by Ph.D. students around the world. Developed by The University of Queensland, the competition cultivates students' academic, presentation, and research communication skills. Presenting in a 3MT competition increases their capacity to effectively explain their research in three minutes, in a language appropriate to a non-specialist audience. Competitors are allowed one PowerPoint slide, but no other resources or props.
Please note: The Baylor College of Medicine 3MT competition was held Wednesday, Feb. 6 in McMillian Auditorium. Based on the number of registered contestants, it is possible to have preliminary rounds in advance of the final competition.
Content
The competition is open to current Baylor College of Medicine Ph.D. candidates who have passed their qualifying exam or are in their third year of study or greater.
Work presented must have been conducted at Baylor. Students should be in the final stages of graduate school so they have some sound conclusions and impacts from their research.
Graduates are not eligible.
If you have any questions, please contact the Career Development Center.
Content
A single static PowerPoint slide is permitted. No slide transitions, animations or 'movement' of any description are allowed. The slide is to be presented from the beginning of the oration.
No additional electronic media (e.g. sound and video files) are permitted.
No additional props (e.g. costumes, musical instruments, laboratory equipment) are permitted.
Presentations are limited to 3 minutes maximum and competitors exceeding 3 minutes are disqualified.
Presentations are to be spoken word (e.g. no poems, raps or songs).
Presentations are to commence from the stage.
Presentations are considered to have commenced when a presenter starts their presentation through either movement or speech.
The decision of the adjudicating panel is final.
Content
First Place: $500
Runner-Up: $250
People's Choice: $250
Content
Emily Reiser, Ph.D., Deputy Director, Enventure; Innovation Strategist, TMCx
Ana Rodriguez, Ph.D., Science Writer and Editor, Office of Communications, Baylor College of Medicine
Mansi Karkhanis, Ph.D., Postdoctoral Associate, Molecular & Human Genetics, Baylor College of Medicine
Ann Tanabe, CEO, BioHouston
Lynn Yeoman, Ph.D., Professor Emeritus, Baylor College of Medicine
Content
At every level of the competition, each competitor will be assessed on the judging criteria below. Each criterion is equally weighted and has an emphasis on the audience.
Heading
Comprehension and content
Content
Did the presentation provide an understanding of the background and significance to the research question being addressed, while explaining terminology and avoiding jargon?
Did the presentation clearly describe the impact and/or results of the research, including conclusions and outcomes?
Did the presentation follow a clear and logical sequence?
Was the thesis topic, research significance, results/impact and outcomes communicated in language appropriate to a non-specialist audience?
Did the presenter spend adequate time on each element of their presentation - or did they elaborate for too long on one aspect or was the presentation rushed?
Heading
Engagement and communication
Content
Did the oration make the audience want to know more?
Was the presenter careful not to trivialize or generalize their research?
Did the presenter convey enthusiasm for their research?
Did the presenter capture and maintain their audience's attention?
Did the speaker have sufficient stage presence, eye contact and vocal range; maintain a steady pace, and have a confident stance?
Did the PowerPoint slide enhance the presentation - was it clear, legible, and concise?
Heading
Confidentiality and Intellectual Property Guidelines
Content
• The 3MT® presentation must represent the original research of the competitor
• The authors of the 3MT® presentation will retain all rights regarding its use at all times prior to and following the competition except as stated below*
• Due to the nature of the competition, we will not ask judges, reviewers, staff or the audience to agree to or sign non-disclosure statements for any participant
• All public sessions of the competition, including but not limited to oral presentations, are open to the public at large. Any and all of these public sessions may be broadcast to interested persons through media which may include the Internet
• Any data or information discussed or divulged in public sessions by entrants should be considered information that will likely enter the public realm, and entrants should not assume any right of confidentiality in any data or information discussed, divulged, or presented in these sessions. This means, if your research includes commercial-in-confidence or culturally sensitive material you should think very carefully about how you can present this information. We advise that you discuss your competition entry with the party/ies before entering the 3MT® competition.
• Baylor College of Medicine 3MT® (Three Minute Thesis) competition may make photocopies, photographs, videotapes and/or audiotapes of the presentations or material prepared for use in presentation at the 3MT® competition.
Content
Baylor College of Medicine held its first Three Minute Thesis in February 2019. Ph.D. students Diana Cox and Ben Hall tied for first place, while Lauren Miterko won runner up. Hall was also voted as People's Choice winner by audience members. See video of the winning presentations.