Master
Media Component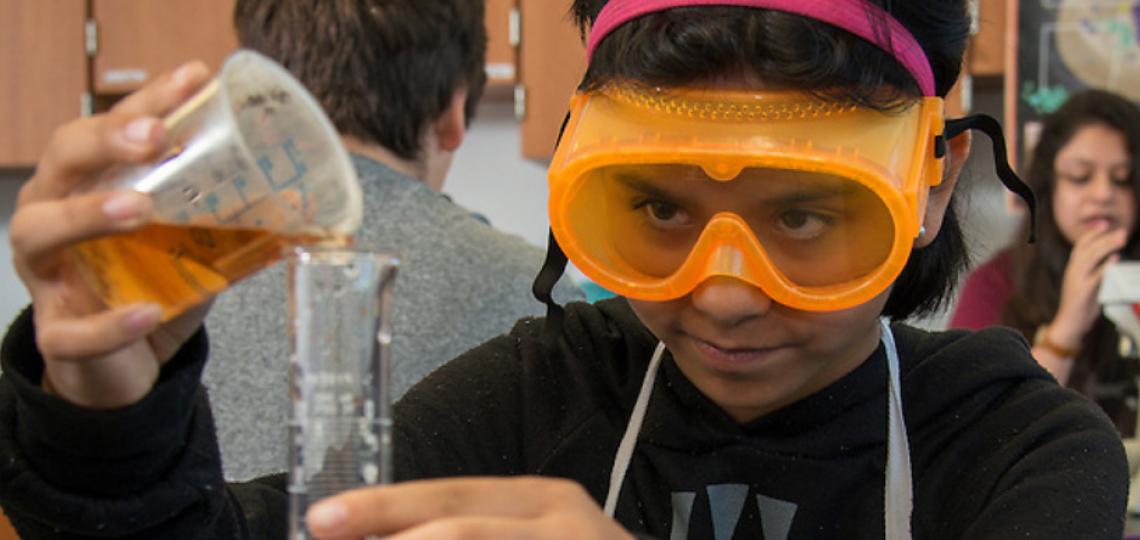 Content
A young student at Baylor College of Medicine Biotech Academy at Rusk investigates chemical properties as part of an activity focusing on scientific decision-making.
Content
In 2016, Baylor College of Medicine and the Houston Independent School District partnered again to begin the process of transitioning The Rusk School (PreK–8) into the Baylor College of Medicine Biotech Academy at Rusk (grades 6–8). The redesigned health sciences magnet school offers its students a rigorous, one-of-a-kind educational experience featuring unique curriculum developed by Baylor's Center for Educational Outreach. Courses include neuroscience (grade 6), scientific decision-making (grade 7) and principles of biotechnology (grade 8), for which students receive high school credit.
Located in Houston's historic East End, BCMBAR students have the opportunity to interact with leading medical professionals from Baylor and other world-renown institutions in the Texas Medical Center. An important distinguishing characteristic of BCMBAR is that its small size allows students to thrive in the community. Students, faculty, staff, parents, and surrounding community share a collective responsibility for student success.
The Texas Education Agency's 2017–2018 School Report Card for the academy rated the campus as having met the accountability standards with a distinction in Social Studies. The school is in transition from a combined elementary school and middle school, with current rankings including grades 4–5. The school population is composed of 99 percent minority students, with 87 percent economically disadvantaged and 19 percent of whom are English learners.
For more information, contact Katherine Harris, Baylor's STEM Specialist by email (Katherine.Harris@bcm.edu) or by phone at (713) 226-4543.
We are delivering a challenging and rigorous curriculum to our students through project-based learning, scientific inquiry and exposure to the foundations of biotechnology and bioengineering. –Principal Jesse Herrera
View the Baylor College of Medicine Biotech Academy at Rusk website.