BUILDING SERVICES INFORMATION
Emergencies Procedures
General Housekeeping
Laboratory Specific Information
Requests for CNRC Building Services
Security
Receiving Dock
Lactations Support Rooms
Emergencies Procedures
Assistance During Emergency Evacuations
In the event of an emergency that requires the evacuation of the CNRC, CNRC Building Services needs to be able to provide a list of Hearing and Mobility Impaired individuals to the Houston Fire Department. Individuals that are eligible or need assistance exiting via the stairs due to injuries, surgery, pregnancy, etc. should inform Lou Esquivel at (713) 798-7015 or e-mail to cnrcfacilities@bcm.edu. The list is updated every six months or as needed.
Fire Alarms and Emergency Evacuation
Walk to the nearest stairwell and await further instructions. If you detect signs of smoke, walk down the stairs and notify Security in the 1st floor lobby. If you have been through Evacuation Training by the Houston Fire Department, you should verify that everyone on the floor has moved to the nearest stairwell.
Pest Prevention hints
Ants will find sources of food including sugar in empty soda cans. Ants also use potted plant soil if available for their habitat. Roaches and other insects can eat through plastic bags. Gnats love fruit and open water (especially where there is standing water for plant cuttings, bamboo shoots, etc.).
Suggestions to avoid your work area being infested:
Remove empty soda cans from your area daily. We do not suggest recycling can in trash bins unless the cans are rinsed before being disposed of and there is a person that removes the cans on a regular basis (this is not a building housekeeping task)
Don't store food in your workspace -If you are committed to have food, store it in plastic containers or unopened packages.
Avoid keeping plant cuttings with open standing water (change water frequently if you do)
Trash Disposal Boxes and other types of trash
All boxes/trash to be picked up by day or evening housekeeping must have the words: BASURA / TRASH or they will be left alone. Materials stacked on a trash can will also be discarded.
Recycling Bin Locations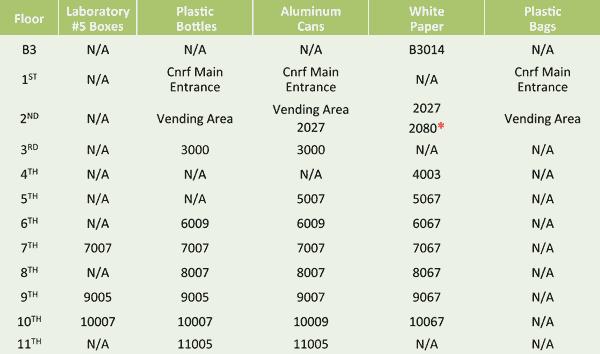 * Color Paper, Newspaper
Night Housekeeping
The night housekeepers come on duty at the CNRC building at 5:00PM and work until 10:00PM. Any housekeeping tasks that haven't been addressed or areas you feel need special attention can be reported to Jackie Walker. She keeps a Housekeeping notebook where all complaints or requests are recorded.
Laboratory Specific Information
Biological Waste Disposal
The BCM Office of Environmental Safety requires that the medical waste disposal users obtain generator code labels. Their waste box must remain inside the PI laboratory until full. After being packed up correctly with the generator code label affixed to the box, call or e-mail Jackie Walker so she can keep records and have them picked up from the Laboratory.
Over the years, a number of avoidable, costly repairs have been required where lab technicians have inappropriately used acids and corrosives in the hoods. The cause has been from heating the liquids, having them condense in the ductwork where the residue sits and corrodes the metal - potentially causing liquids to leak onto the ceiling, fixtures, or anything below. There is special heating equipment that has a manifold to collect these corrosive vapors and should be used in the hoods if your protocol includes this type of procedure.
The eye wash stations should be run once a week so that fresh water flushes through the pipes and the unit remains frees of contaminates.
Laboratory black epoxy resin counter tops and sinks
Laboratories are equipped with durable, chemical resistant counter tops and sinks. In turn, the material is susceptible to thermal and, to a lesser degree, mechanical shock. If ice, even when in a secondary container is in a sink and warm to hot water is also applied, the temperature difference may cause the sink to crack.

Do not put dry ice in or pour liquid nitrogen into the sinks. Laboratory sink repairs are the responsibility of the PI assigned the laboratory space.
Laboratory Air Flow and Hood Use
For safety reasons most wet labs will increase air flow automatically when motion is sensed. This function is verified when the lights come on when someone enters the room. Lights may also go off if occupants remain motionless for extended periods of time. Labs without this feature have a higher air flow 24/7.

If your lab has a hood that has ductwork to exhaust air to the outside of the building, there is a switch on a brown or gray control box that must be turned on to use the hood. If your lab's room number ends in 02 or 50, the control panel and switch is located in the corridor outside of the room.
Refrigeration and Emergency Power
Emergency Power Ultra low freezers receive the 1st priority for support by emergency power. PI's can submit other equipment to be supported instead of their own ultra low freezers. Engineering is responsible for swapping equipment between limited numbers of circuits during an extended power outage.

PI's with wet lab space have the option of receiving 1 each center supported ultra low freezer, refrigerator and -20 freezer. The center supported units will be repaired at up to 50% of their replacement value or replaced as deemed appropriate by Building Services personnel.

In February 2015 the CNRC adopted Stirling ultra low freezers as our standard ultra low freezer due to their large capacity, low utility load and quiet operation. The Stirling is an Energy Star* rated product and is one of the most efficient units available.

*Energy Star rated equipment should be purchased whenever possible.
Requests for CNRC Building Services
Water leaks, stopped up sinks and toilets, wet ceiling tiles or light repairs (overnight log book entry) do not require work order requests. They are items that require immediate attention and can be handled by notifying cnrcfacilities@bcm.edu.

A Work Order Request Form must be completed for troubleshooting, modifications, repairs or moves, etc. We try to complete work orders within 2 weeks.

Download and complete this Work Order Request Form then save it and email it to cnrcfacilities@bcm.edu.

Please note that all laboratory equipment must be inspected by the Office of Environmental Safety prior to work being performed by a CNRC Technician. All work requests need to be signed by the investigator. They should be submitted after safety clearance labels are on the equipment.
Requests for Event Support
Request for Special events in the Howland auditorium and the Fomon conference room should be scheduled thru Tiffany Jacobo at 713-798-7022 or tiffany.jacobo@bcm.edu

A Facility Event Form should be used by personnel requesting only tables, chairs, and trash bins for special events inside the CNRC.
Security
The CNRC is a restricted access facility. If you have access related questions or see unidentified individuals, please notify CNRC Security at X86767.
If you notice something is missing from your area, report it immediately to Security at (713)798-6767 or e-mail cnrcsecurity@bcm.edu. Inform them of when the last time you used or saw the item, and when you noticed it missing. Lock up your valuables! Keep items like digital cameras, laptop computers, other valuables protected /out of sight/locked up.
Receiving Dock and Delivery Service procedures
Hours Open 8:00 AM to Noon
The receiving dock will be staffed between 8:00 and Noon for processing deliveries.

Recipients will be notified by phone of any overnight Federal Express and refrigerated deliveries. Recipients have the choice of going down to the loading dock office for pick up, or waiting until packages are delivered after noon.
Mail Delivery received from Postmaster
Mail will be distributed to the 2nd floor mailroom immediately upon receipt from the Postmaster. (Mail receipt times usually vary from 2:30 to 3:00PM or later)
To streamline deliveries, there will be one or two point deliveries to the office suite on lab floors, normally not to each individual room.

Bottled gas cylinders, paper, and other special requests will be delivered after noon. E-mail cnrcdock@bcm.edu , phone (713)798-6729
Receiving Dock Gas Cylinder Delivery
Requests for gas cylinders should be made via e-mail to cnrcdock@bcm.edu.
Deliveries of gas cylinders will be made after noon. Please make your requests in advance as deliveries may not occur until the next work day afternoon.

Air Liquide has requested that all gas cylinder users be informed that they are not to write on the gas cylinder or its label. When the gas cylinders are delivered to the dock the receiving clerk will write the room number on an Air Liquide tag and attach it to the gas cylinder. The Lab. personnel are supposed to pull off the sections of the tag-full and in use. The tag should indicate "empty" when the tank is returned to the dock.
The receiving dock has limited storage space for gas cylinders that cannot be exceeded. For safety reasons, all cylinders must be stored in the dock tank racks and secured by chain

Thank you for your cooperation in our efforts to keep our receiving dock compliant to safety regulations and establish an efficient system of deliveries
Receiving Dock - Returns to Vendor
Main Baylor receiving/shipping are responsible for pick-up of returned items. On a number of occasions Baylor has refused to pick up items for return from CNRC due to unacceptable packaging of the item to be returned.

In order to expedite returns, please keep in mind:

If an item comes in damaged or a wrong product is received, it is the requester's responsibility to contact purchasing to generate a return authorization.
In order for the item to be picked up by Baylor and shipped, it needs to be boxed and taped up. The CNRC receiving facility does not have boxes or packing material to do this for you.
The item for return will be kept at the requester's location until CNRC receiving has gotten the return authorization paperwork back from Baylor. It is up to the requester to follow up with purchasing if the return authorization form is not received in a timely manner.
Once the return authorization form (which should include a shipping label) is received at the CNRC loading dock office, arrangements will be made to pick up the item from your location.

Please help us keep the CNRC receiving dock running smoothly. Thank you!
Lactations Support Rooms
Contact Lori Lwler-Lopez at (713) 798-7026 or by e-mail to llawler@bcm.edu for room availability.
The CNRC is a limited access facility so this option is only available to BCM employees assigned to the CNRC.