Master
Media Component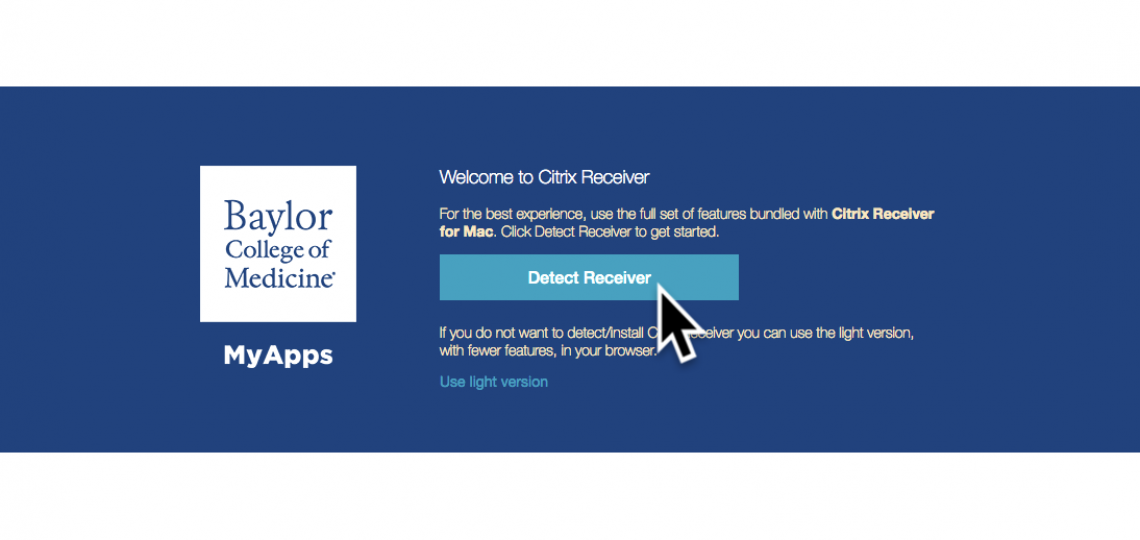 Heading
Step 2: Check for Citrix Receiver
Content
Click Detect Receiver to see if you already have Citrix Receiver installed.
Media Component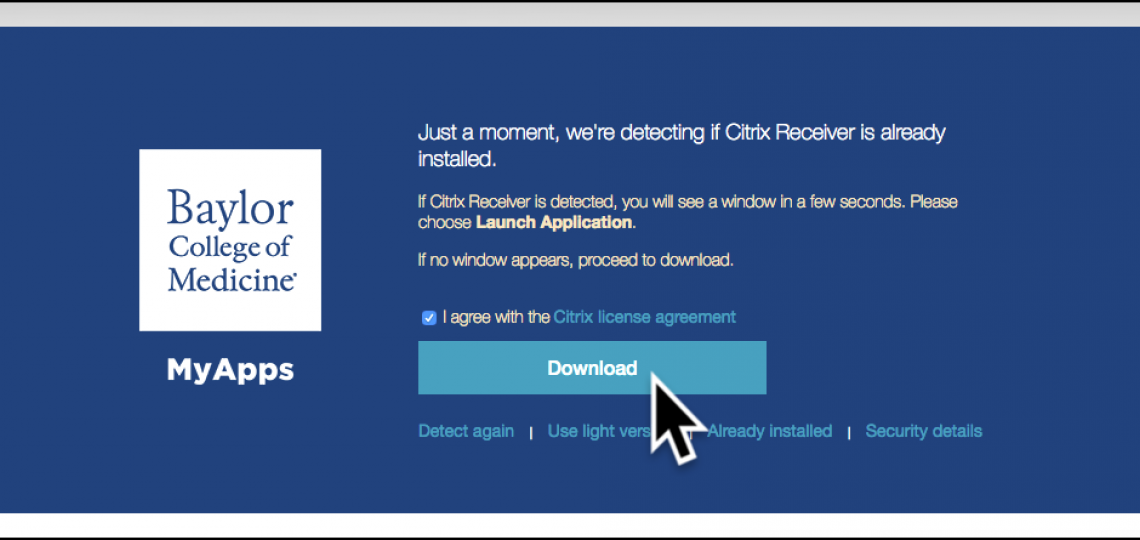 Heading
Step 3: Download Citrix Receiver
Content
If you do have Citrix Receiver installed on your system, a popup window will appear to let you click Launch Application, and you won't need to install anything else.
Note: If you see a popup window telling you there is no application to open a URL beginning with receiver://... click the Cancel button, then continue with these instructions.
If you don't have Citrix Receiver, check the Citrix license agreement checkbox, then the Download button.
Heading
Step 4: Install the Downloaded File
Content
Leaving your browser window open, locate and open the file you downloaded (CitrixReceiverWeb.exe on Windows, CitrixReceiver12.2.dmg on Macs), then follow the installation instructions.
Media Component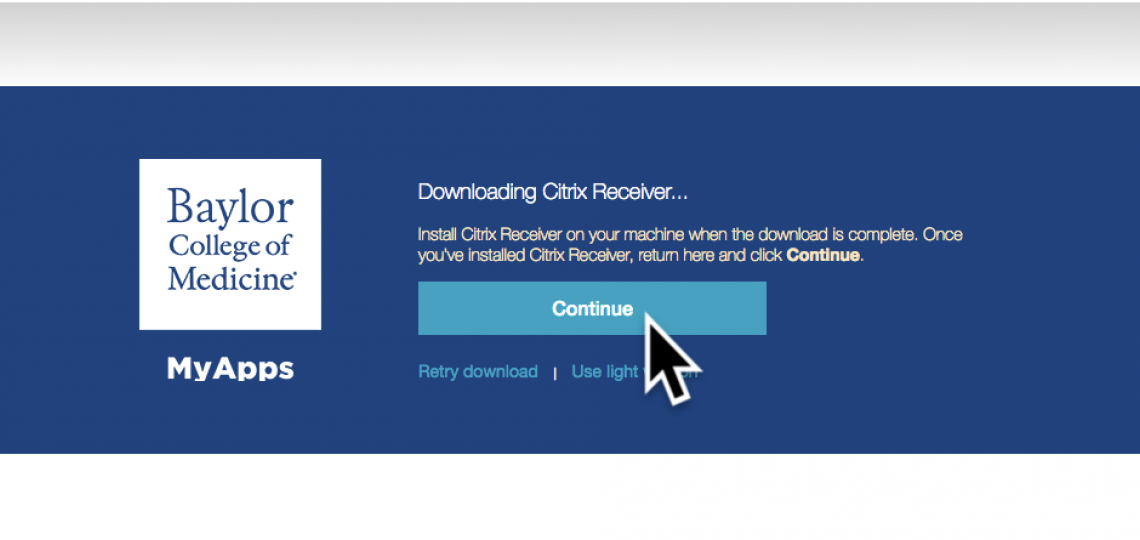 Heading
Step 5: Continue in Your Browser
Content
Once you've installed Citrix Receiver, return to your browser and click the Continue button.
Heading
Step 6: Launch the Citrix Receiver
Content
In the popup window that appears, click the Launch Application button.
Media Component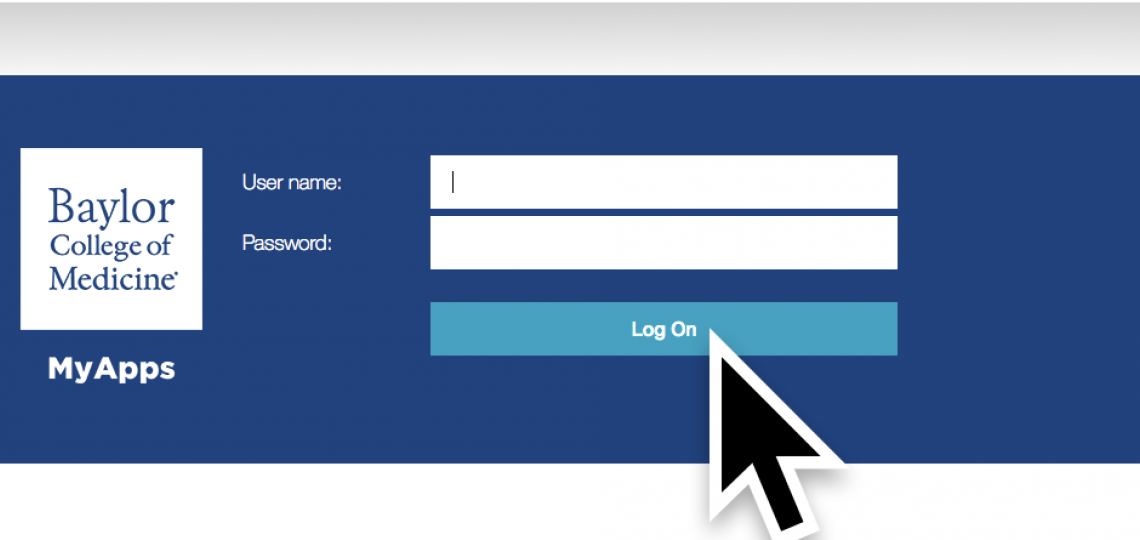 Heading
Final Step: Enter Your Credentials
Content
If you are prompted for your ECA username and password, enter them, then click Log On. If your machine is bound to the Baylor network, you will simply be asked to click the Log On button using the same ECA username and password you used to log onto your computer.
Heading
Home Installation Tips
Content
Home users may need to take extra steps to run MyApps. After downloading and opening the Citrix Receiver (see Step 4 above), follow these steps:
When the Add Account window appears, do not enter any information, and click the Close button.
Go to https://myapps.bcm.edu in your browser and log in with your ECA username and password.
You should now be in MyApps in your browser. Click the icon for the app you wish to use.
You should only have to do this once. If you continue to have issues, please contact the OIT Help Desk by sending an email to it-support@bcm.edu or calling 713-798-8737.
Content
Your browser may tell you that the Citrix plug-in must be activated or unblocked.
In Safari, go to the Safari menu > Preferences > Security > Plug-in Settings button. Click Citrix Receiver in the left column, then choose On to the right of myapps.bcm.edu in the right column.
In Firefox, click Activate Citrix Receiver in the middle of the browser window, then click the Allow and Remember button in the popup window that appears in the upper left corner of the browser window.