Master
Content
Box at BCM is an enterprise-strength, cloud-based storage and collaboration service available to all active faculty, staff and students at Baylor College of Medicine.
Content
Box at BCM may be used to manage the following content:
Protected identifiable human subject research data (HIPAA & Common Rule)
Student education records (FERPA)
Research Lab data
Grant and Collaborative documents
Student collaboration and lecture data
Heading
Content Not Allowed
Content
Box at BCM may not be used to manage the following content:
Credit card or payment card industry (PCI) information
Export controlled research – export administration regulations (EAR)
Federal Information Security Management Act (FISMA)
Radiation and hazardous chemical information (NRC & DHS)
Social Security Numbers (47 state privacy laws)
Heading
Guidelines for Sharing
Content
Please review the following guidelines for sharing and downloading information classified as protected or regulated (e.g. HIPAA Protected Health Information) to non-BCM entities or devices.
Media Component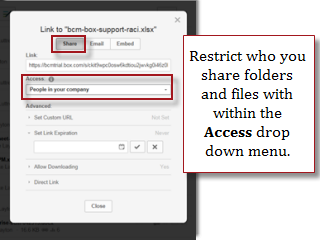 Content
The sharing of folders and documents from within your Box at BCM environment should be limited only to those to whom it is critical to access that information. In general, folders and file sharing will default to "People in your company (i.e. BCM). Any sharing of content outside of BCM will need to be specifically called out in the Access drop down menu. Within the Access drop down menu, you may specify the following options:
1. People with the link – Consider setting a link expiration within the Set Link Expiration field when using this option on sensitive data and setting the Allow Downloading field to No.
2. People in your company
3. People in this folder
Content
Box at BCM provides tools (Box Edit) that can enable document editing without having to download to a local device. It is recommended that you use this feature when editing and/or reviewing PHI content and other materials of a sensitive nature.
If you find it is absolutely necessary to download or sync PHI content to a personal device (e.g. mobile device or home computer) that device must meet BCM Security policies for protection and compliance.
It is the Box at BCM account owner's responsibility to understand what information has been uploaded to that account and to ensure additional protections are enabled if that information is shared or downloaded outside of Baylor College of Medicine.
Heading
Self-Help Resources
Content
Additionally, you can view or download guides and read answers to frequently asked questions.