Master
Heading
Frequently asked questions about Clutter
Content
Find answers to frequently asked questions about the Clutter folder.
Content
Clutter is designed to help you focus on the most important messages in your inbox. The email server keeps track of the email you read and the ones you don't. As new email comes in, it takes messages you're most likely to ignore and puts them into the Clutter folder. The more you use it, the better it gets.
Heading
How does Clutter filter messages?
Content
Clutter and junk email are both filtered out before they reach your Inbox. Junk email is evaluated and filtered first, then Outlook processes the rules (if you have set up any). Next, Clutter analyzes the remaining messages and filters out the types of messages that you usually ignore or don't respond to, based on your past behavior.
Clutter looks at various aspects of messages to understand what you don't typically read, for example:
The sender
Whether you've participated in the conversation
If you're the only recipient
The importance
Heading
How can I train Clutter?
Content
You can train Clutter by marking items as Clutter or simply moving the items to the Clutter folder. If you find items in your Clutter folder that shouldn't be there, train Clutter by moving the messages back to your inbox. Clutter continuously learns and will adapt to your new patterns. As you work with Clutter it will notify you of its activity in your inbox.
The Clutter folder allows you to take advantage of the feature across many email clients including Outlook, OWA, and mail apps for most devices. Clutter continuously learns from your actions across these clients. Regardless of the client, the messages moved to the Clutter folder are out of your inbox view—yet readily accessible.
Media Component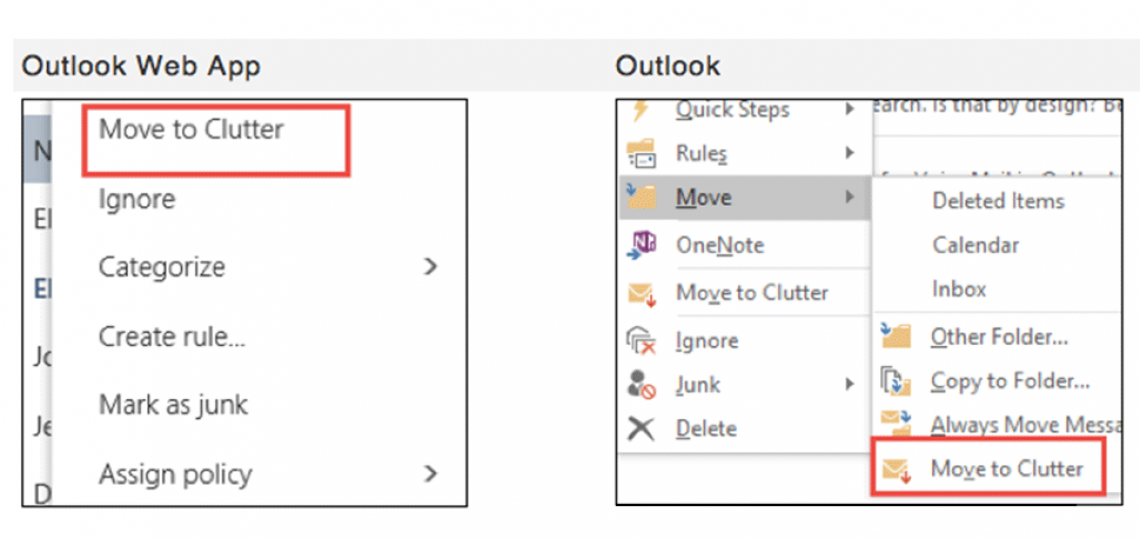 Heading
How to train Clutter
Content
You can train Clutter by marking items as Clutter or simply moving the items to the Clutter folder.
Media Component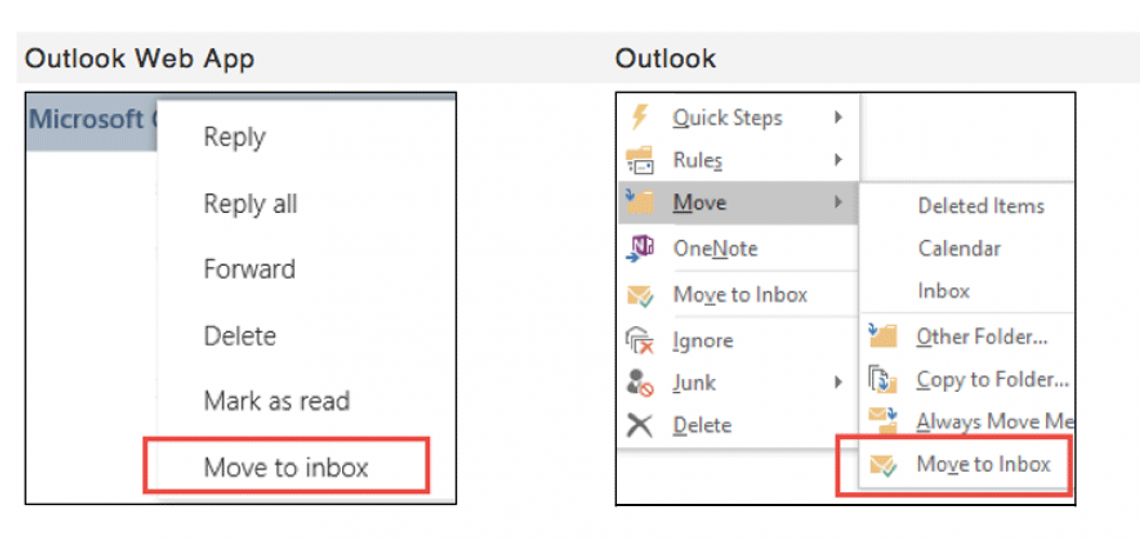 Heading
Moving items from Clutter to your inbox
Content
If you see a message that was sent to Clutter by mistake, right-click the message and choose Move to inbox, or drag the email from the Clutter folder and drop it in your inbox.
Heading
How frequently will I receive notifications from Clutter?
Content
Users will receive one summary notification per week and up to one message per day when new message types are moved to Clutter, i.e. the first time a message from given distribution list is moved.
Heading
Why are the notifications delivered to my inbox?
Content
The notifications are delivered to your inbox to ensure you can stay informed across the range clients you might use, including Outlook desktop and mobile email clients.
Heading
Can I turn Clutter off?
Content
Yes. Sign into mail.bcm.edu and follow the steps below.
NOTE: The Clutter folder remains in Outlook after you turn off the Clutter feature. You will need to move messages from the Clutter folder into your inbox as desired.
On the top right corner of the page, go to Settings.
On the Settings page, go to Options > Mail > Automatic processing > Clutter.
Choose Don't Separate items identified as Clutter.
Click the Save (floppy disk icon) button.
Media Component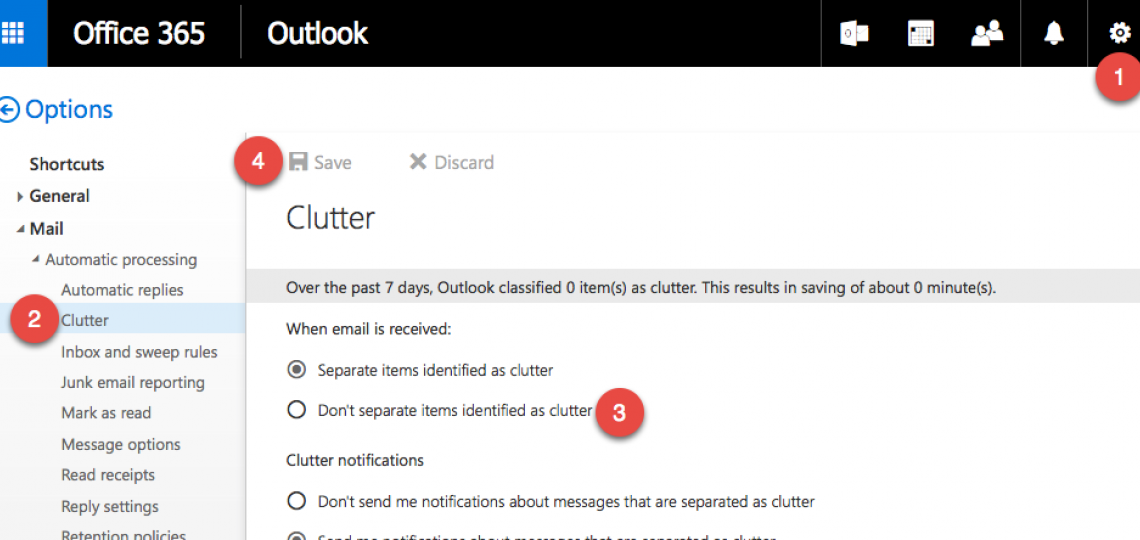 Heading
How to turn Clutter off
Content
Once logged into webmail, you can turn Clutter off by following four simple steps.