Master
Heading
Viral PCR Analysis
Media Component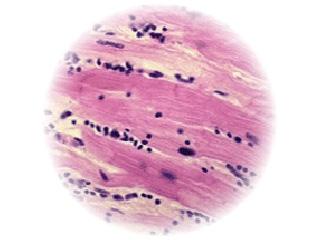 Content
The detection of viral genomic nucleic acid sequences by PCR or RT-PCR provides a highly sensitive and specific method for diagnosing viral infection. These techniques have facilitated the association of different virus types with acute and chronic disease that was either unclear or overlooked using the classical virologic techniques of culture, serology, or immunohistochemistry. The limitations of these techniques were due to various reasons, including but not limited to, sensitivity, the latent or persistent state of the virus, and the immunocompetence of the host. In addition, these techniques often required several weeks for the data to be accumulated and interpreted. PCR is extremely sensitive and rapid and, when associated with other molecular biological methods, can facilitate obtaining an accurate description of the state of the infecting virus at the molecular level. For additional information on the role of viral infection in myocarditis, as well as our role in the discovery of viral agents as one of the underlying causes of myocarditis, please read the article How Viral Infections Fit Into Myocarditis which was published in CAP Today in October, 2004.
A variety of tissue and fluid samples can be analyzed for the presence of virus genomic sequences. They include myocardial samples (biopsy, explant or autopsy), lung, liver, brain, tracheal aspirates, and amniotic fluid. For tissue samples, the method of preservation is important for the ability to amplify genetic material. Please carefully read the specimen handling instructions.
Heading
Viral Tests Offered
Content
Adenovirus
Cytomegalovirus
Epstein-Barr virus
Enterovirus
Influenza A virus
Mumps virus
Parvovirus
Rubella virus
Respiratory syncytial virus
Heading
Reasons for Referral
Content
Molecular confirmation of viral infection
Content
Both RNA and DNA are isolated simultaneously from the specimen. PCR primers are used to detect a portion of the genomic DNA of adenovirus, cytomegalovirus, parvovirus, and Epstein-Barr virus, as well as the RNA genomes of the enteroviruses, rubella virus.
Content
Service Fees

| Service | Direct and Institutional Billing |
| --- | --- |
| Test for Individual Viruses | $400 per virus |
| Viral Panel Testing (adenovirus, enterovirus, CMV, EBV, and parvovirus) | $800 |
Content
CPT Codes

| Service | CPT Codes |
| --- | --- |
| Testing for a Single DNA Virus | 87798 |
| Testing for a Single RNA Virus | 87798 |
| Viral Panel Testing | 87496, 87498, 87798x3 |