Master
Content
Two MS based proteomics services are offered: identification of endogenous protein complexes using antibody affinity purification (IP) and unbiased proteome profiling. Core personnel perform all steps of the process for both of IP and profiling including selection of most suitable antibody, cellular fractionation, sample lysis, and antibody affinity purification of the complex.
Media Component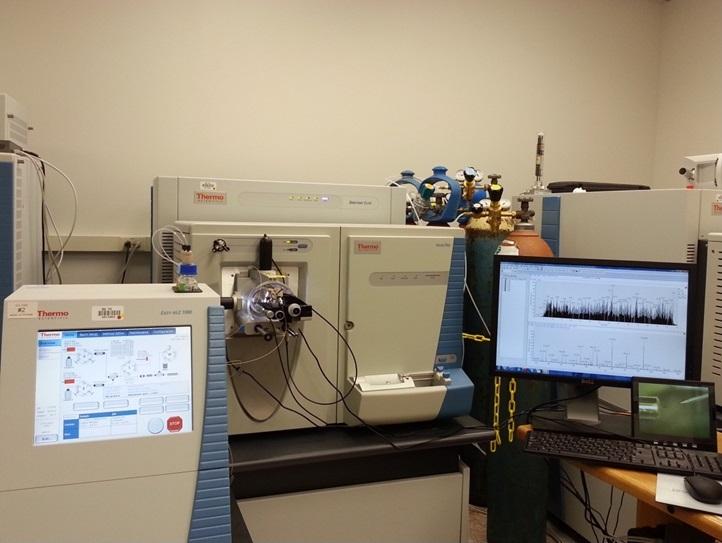 Content
The major equipment for analysis of protein complexes is the Orbitrap Elite™ Mass Spectrometer (Thermo-Fisher Scientific), which has an ultra-high resolution & a high mass accuracy.
Content
Two of additional Orbitrap mass spectrometers are readily available and are used primarily for protein profiling – a Thermo® Tribrid Orbitrap Fusion™ and a Thermo® Q –Exactive. These instruments have the capacity for high throughput and enable 24/7 operation.
Content
The core directors provide advice and assistance on upfront experimental design of projects including protocols and guidelines for sample preparations and sample replicates.
Heading
Identification of Proteins Complex
Content
Purification and identification of targeted protein complex is carried out from ~20 mg of total protein lysates. In-gel digested proteins are analyzed by LC-ESI-LTQ on the Thermo Elite mass spectrometer. The MS RAW data files are analyzed in Proteome Discoverer 1.4 (PD1.4) suite (Thermo Fisher) with Mascot algorithm (Mascot 2.4, Matrix Science). The process of identifying proteins is through knowledge and experience based data analysis algorithms that excludes non-specific binders and generates a list of specific proteins interactions with the target of interest.
The core also provides PTM (post translational modifications) analysis of affinity purified endogenous or ectopically expressed single recombinant proteins. PTMs that are readily analyzed include phosphorylation (serine, threonine and tyrosine), ubiqutinylation (lysine) and acetylation (lysine). Obtained MS RAW data files are processed as described above using a modified protein database containing corresponding modification-specific mass changes. PTM matches are further subjected to manual validation.
The core provides unique protein pathway analysis of protein complex composition through a custom built "protein complex- complex interaction information program" which can deconvolute non-organized protein identification information to specific protein complex-complex interaction information. The primary protein identification data from PD1.4 using Mascot engine is processed through an in-house iPAC program to calculate the correct AUC (area under curve) of each detected peptide. The AUCs of each peptide are extracted from RAW files by the iPAC program. This conversion process is essential to obtain label free semi-quantitative information of each identified peptide. All peptide and corresponding AUC information is then transferred to a data depository/curation database and software pipeline, where individual peptide information is merged and converted to corresponding gene products. The heart of the program is a database of more than 5,000 endogenous protein complexes accumulated over the past 12 years of research by Dr. Jun Qin's group at Baylor College of Medicine. This is the most extensive endogenous protein complex interaction dataset to date. This level of data analysis provides investigators with an unparalleled modular and hierarchal organization of protein complex networks that can be applied to cancer biology mechanisms and questions.
Media Component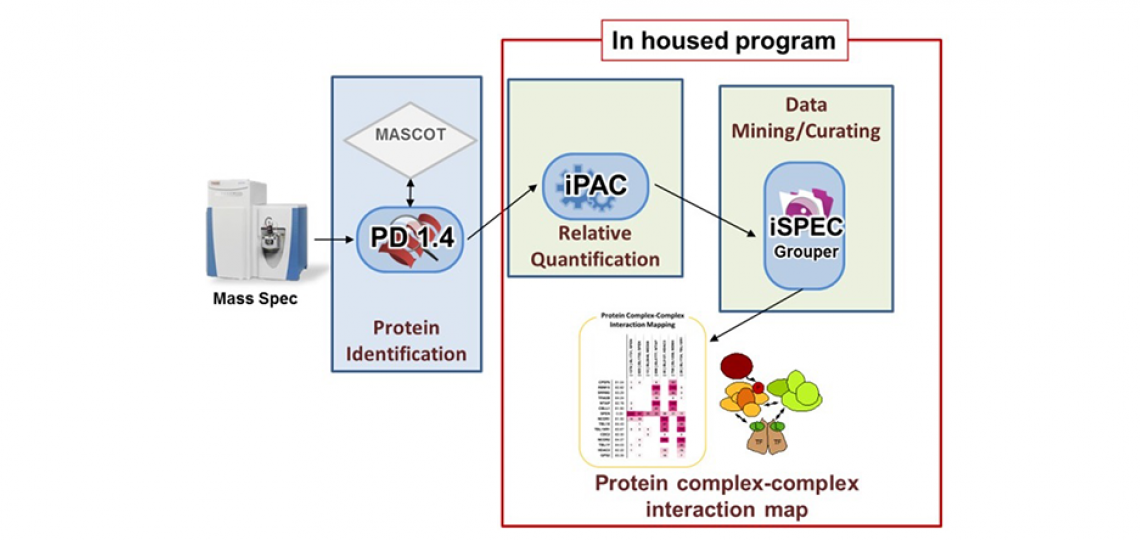 Heading
Proteome Profiling
Content
We offer an unbiased proteome profiling service for identification and quantification of over 6,000 proteins from as little as 100,000 cells. This is an optimized RP-RP based label-free profiling protocol that reaches sufficient depth of proteome coverage for detection of protein levels and changes in ~12 hours. The minimum sample requirement of this service is as low as 10ug per proteome. Our sensitive profiling method is suitable for the analysis of small and clinical samples while offering cost savings to the core and the customer. We are using Thermo Scientific Orbitrap Fusion Tribrid and Thermo Scientific Q–Exactive instrument for this service.
An in-house Label free semi-quantitative protein amount calculator platform is used for data analysis. Peptide identity and quantitation information generated by Proteome Discoverer 1.4 interface with Mascot algorithm is processed through in-housed pipeline for peptide quantification (iPAC) and protein identification and quantification (grouper, which utilizes iPAC results). Relative protein abundance is determined by the iBAQ value. Furthermore, Align program allows bioinformatic integration by including functional classification for proteins, expression from BioGPS and protein profiling studies, annotation of significant cancer mutations, and a function to display protein interaction networks. This information is displayed in parallel with experiment-specific mass spectrometry data, and all parameters are fully searchable.
Media Component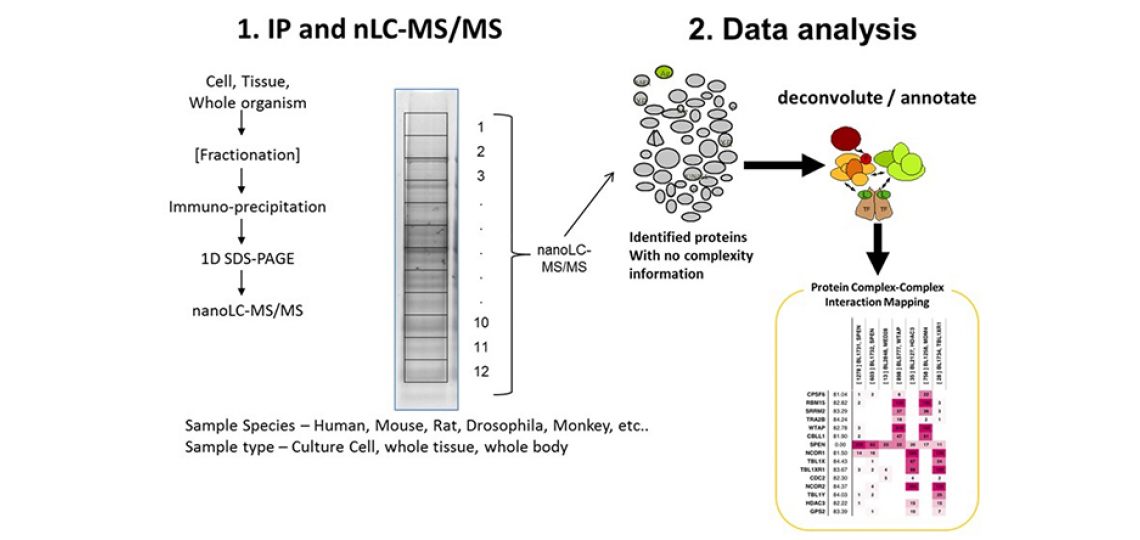 Media Component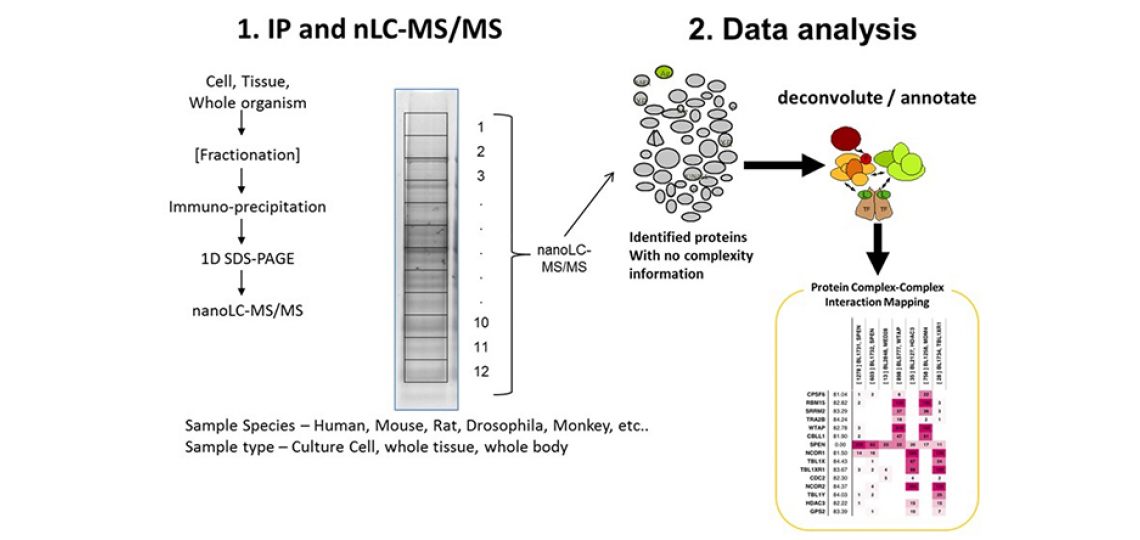 Heading
Primary Data Analysis
Content
Normalization and Q/C of MS data and primary data analysis are included as a package with the MS technology platforms.
Heading
Secondary Data Analysis (Upon Request)
Content
Higher level data analysis can be performed upon request and is referred to the Bioinformatics group. Examples of secondary data analysis includes:
Pathway mapping using commercial proteomics software (ingenuity, GSA, etc.)
Integration with other OMICS datasets
Consultation and defining supplementary experiments
Heading
References (Core supported publications)
Content
Han,S.J., Jung,S.Y., Wu,S.P., Hawkins,S.M., Park,M.J., Kyo,S., Qin,J., Lydon,J.P., Tsai,S.Y., Tsai,M.J., DeMayo,F.J., and O'Malley,B.W. (2015). Estrogen Receptor beta Modulates Apoptosis Complexes and the Inflammasome to Drive the Pathogenesis of Endometriosis. Cell 163, 960-974. (PMID:26544941)
Hsu,T.Y., Simon,L.M., Neill,N.J., Marcotte,R., Sayad,A., Bland,C.S., Echeverria,G.V., Sun,T., Kurley,S.J., Tyagi,S., Karlin,K.L., Dominguez-Vidana,R., Hartman,J.D., Renwick,A., Scorsone,K., Bernardi,R.J., Skinner,S.O., Jain,A., Orellana,M., Lagisetti,C., Golding,I., Jung,S.Y., Neilson,J.R., Zhang,X.H., Cooper,T.A., Webb,T.R., Neel,B.G., Shaw,C.A., and Westbrook,T.F. (2015). The spliceosome is a therapeutic vulnerability in MYC-driven cancer. Nature 525, 384-388 (PMID: 26331541)
Kang, Y. K., Jung, S. Y., Qin, J., Li, C., Tsai, S. Y., Tsai, M. J., and O'Malley, B. W. (2014) E2/Estrogen receptor/sjogren syndrome-associated autoantigen relieves coactivator activator-induced G1/S arrest to promote breast tumorigenicity. Mol. Cell Biol. 34, 1670-1681. (24567374)
Karlin,K.L., Mondal,G., Hartman,J.K., Tyagi,S., Kurley,S.J., Bland,C.S., Hsu,T.Y., Renwick,A., Fang,J.E., Migliaccio,I., Callaway,C., Nair,A., Dominguez-Vidana,R., Nguyen,D.X., Osborne,C.K., Schiff,R., Yu-Lee,L.Y., Jung,S.Y., Edwards,D.P., Hilsenbeck,S.G., Rosen,J.M., Zhang,X.H., Shaw,C.A., Couch,F.J., and Westbrook,T.F. (2014). The oncogenic STP axis promotes triple-negative breast cancer via degradation of the REST tumor suppressor. Cell Rep. 9, 1318-1332. (PMID: 25453754)Foulds CE, Feng Q, Ding C, Bailey S, Hunsaker TL, Malovannaya A, Hamilton RA, Gates LA, Zhang Z, Li C, Chan D, Bajaj A, Callaway CG, Edwards DP, Lonard DM, Tsai SY, Tsai MJ, Qin J, O'Malley BW. Proteomic analysis of coregulators bound to ERα on DNA and nucleosomes reveals coregulator dynamics. Mol Cell. 2013;51(2):185-99 (PMID: 23850489)
Han K, Holder JL Jr, Schaaf CP, Lu H, Chen H, Kang H, Tang J, Wu Z, Hao S, Cheung SW, Yu P, Sun H, Breman AM, Patel A, Lu HC,Zoghbi HY. SHANK3 overexpression causes manic-like behaviour with unique pharmacogenetic properties. Nature. 2013, 503(7474):72-7. (PMID: 24153177)
Liu J, Wang Y, Li L, Zhou L, Wei H, Zhou Q, Liu J, Wang W, Ji L, Shan P, Wang Y, Yang Y,Jung SY, Zhang P, Wang C, Long W, Zhang B, Li X. Site-specific acetylation of the proteasome activator REGγ directs its heptameric structure and functions. J Biol Chem. 2013,288(23):16567-78. (PMID:23612972)
Content
Monday - Friday 9 a.m. - 5 p.m.
Content
Prices

| Service | Unit | Price/Unit |
| --- | --- | --- |
| Project Consultation and Experimental Design | Project | No additional charge |
| Cellular Fractionation | Project | $500 |
| Immunopurification (IP) | Project | $500 |
| Mass Spectrometry data acquisition | per IP | $600 |
| Primary data analysis (IP/MS) | Project | $800 |
| Primary data Analysis (profiling) | Project | $700 |