Master
Media Component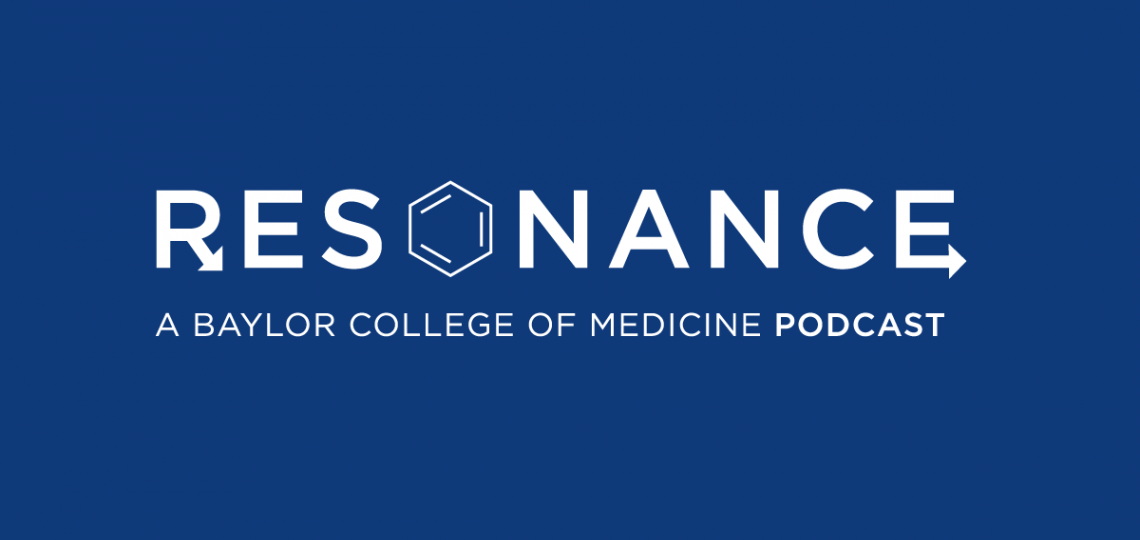 Content
Apple | Spotify | Google Play | Stitcher | Length: 51 minutes | Published: April 8, 2022
Resonance is a student-run podcast aimed at showcasing the science at Baylor through the eyes of young professionals. Each episode is written and recorded by students who have a passion for research and the medical community. Guests on the show include both clinical and basic science research faculty who are experts in their fields.
In this episode, we speak with Dr. Jane Montealegre, the Deputy Director of the Office of Outreach and Health Disparities at Baylor College of Medicine. We learn about Dr. Montealegre's work on cervical cancer screening and prevention, including her ongoing research on mailed, self-collected HPV testing kits. In this podcast, we explore the future of cancer screening and prevention, and how to better reach underserved groups.
Content
Juan Carlos Ramirez
Welcome to the Baylor College of medicine resident podcast. I am one of your hosts, Juan Carlos Ramirez.
Madeline Graham
And I am Madeline Graham and I am the head writer for this episode.
Juan Carlos Ramirez
And in this episode, we are going to talk with Dr. Jane Montealegre, the deputy director of the office of outreach and health disparities at Baylor College of medicine. We will learn about Dr. Montealegre's work on cervical cancer screening and prevention including her ongoing research on mailed self-collected HPV testing kits. In this podcast, we will also explore the future of cancer screening and prevention and how to better reach underserved groups. So, Madeline, why Dr. Montealegre?
Madeline Graham
So, Dr. Montealegre was actually someone that I met during my thesis research, my senior year of undergrad. I was writing on school-based HPV vaccination in the Rio Grande Valley, and comparing it to a really successful school-based vaccination program in Australia. So, I actually met her when I was down in the Valley and talked to her a little bit about her research and her story and thought that she would be a wonderful guest for the podcast. Okay, Dr. Jane Montealegre graduated with a degree in ecology and evolutionary biology from Tulane University; then went on to pursue her M.P.H. at the Tulane University School of Public Health and Tropical Medicine. She completed her Ph.D. in epidemiology in a post-doctoral fellowship in cancer prevention from the UT School of Public Health. Currently, she serves as the deputy director of the office of outreach and health disparities here at Baylor.
Juan Carlos Ramirez
Wonderful! So, what is she… the breadth of the work is sort of pretty expensive, right? And she addresses some pretty… some pretty serious problems.
Madeline Graham
Yeah, absolutely! So, some of her projects that she is working on right now are one sending out self-screening HPV tests via mail, so the goal of this project would be ultimately to have a way to flag patients who have high risk strains of HPV, that cause the majority of cervical cancer cases as well as some other cancers. So, ideally we would be able to identify these people and then refer them to treatment, so that they could catch these strains of HPV before they go on to turn into cancer. And then another project that she is working on is coupling HPV vaccine provider recommendations with tobacco cessation screening in pediatrician's offices. So definitely a lot of really interesting work going on. Primarily, among underserved populations and safety net healthcare systems.
Juan Carlos Ramirez
Wow, that is so cool! And the way that they are just kind of tackling many issues all at once, is impressive and thinking outside the box in certain ways. I did not, you know, we learned this in school, you know, like HPV vaccines, it is never something you think of it as being a problem in society, you know, that people cannot get a vaccine or something that is so obviously beneficial and life-saving. So this is, you know, this is part of why I love doing the podcast, I get to learn all the stuff. So this is very hopeful news. You would mention the healthy people 2030. Could you explain that a little to our listeners?
Madeline Graham
Yeah, let me double check, which does that healthy people, I do not want to say it wrong.
Juan Carlos Ramirez
Oh got you.
Madeline Graham
Okay. So, every 10 years or so, the U.S. Department of Health and Human Services releases this publication, called Healthy People, which outlines goals for different screenings and vaccination rates. So, currently the Healthy People 2030 goal is to have 80% of adolescents age 13 to 15 receive recommended doses of HPV vaccine. So, if you are under the age of 15 when you start the sequence that is two doses; if you are over the age of 15 that is three doses. And currently our vaccination rate in the U.S. is 48%. And then within that 48%, Texas actually has a lower vaccination rate of about 43.5%, and ranks 39th out of 50. And on top of that, this vaccination rate is not the same all across Texas, right? So, we have some areas that are more underserved that are even lower than this 43.5%. But, 80% is the goal, and we believe that getting to 80% would get us to… get us a lot closer to herd immunity and help to get rid of cervical cancer as a public health concern.
Juan Carlos Ramirez
Those words alone are so mind-boggling impressive, you know, getting rid of a cancer altogether from the population. And I am super happy that we get to talk to Montealegre about all this stuff and how we are going to get there because I am assuming it has not been an easy path and it would not be. It is very exciting, very exciting, well…
Madeline Graham
And topical too… oh sorry…
Juan Carlos Ramirez
Go ahead.
Madeline Graham
I am going to say and topical too, I am talking about vaccine distribution in the middle of the coronavirus pandemic.
Juan Carlos Ramirez
Yeah.
Madeline Graham
It will be interesting to ask Dr. Montealegre about parallels between COVID vaccine distribution and HPV vaccine distribution.
Juan Carlos Ramirez
Yeah, absolutely! And without further ado, let us go to the interview with my Dr. Montealegre. Welcome!
Dr. Montealegre
Happy to be here! Thank you for having me.
Juan Carlos Ramirez
Thank you for joining us. And that is wonderful to talk to you today. And get to know you and your story. And, Madeline takes it away.
Madeline Graham
Yeah. So, thank you again for being here with us today, we are really excited to talk to you a little bit more about your journey to Baylor and your work here. So just to start it off… Could you tell me a little bit about yourself and your journey to Baylor?
Dr. Montealegre
Sure. So, I am an assistant professor at Baylor College of Medicine in the department of pediatrics. And I am the assistant director for community outreach and engagement for the Dan L. Duncan Comprehensive Cancer Center, also at Baylor. I am a behavioral epidemiologist by training. I could not really figure out if I was a behavioral scientist or an epidemiologist, so I ended up kind of doing a hybrid of the two, which gets me into a really interesting area of research, looking at how individuals' behavior and particularly risk behaviors affect their health, and their health outcomes. My work primarily is in the area of health disparities. I am particularly interested in health care access and utilization. Particularly of cervical cancer prevention, sorry, repeat… or, cancer, sorry… particularly in the area of cancer prevention services, so HPV vaccination and cervical cancer screening for cervical cancer as well as some work in other screen able cancers like colorectal cancer. And, I am particularly interested in healthcare access for underserved populations, immigrants, racial/ethnic minorities… My work has always been in sort of that area and addressing inequities in the health care system and in health care… and health access. How did they get to Baylor? Let us see. So, I was very fortunate when I applied for a post-doctoral fellowship at UT School of Public Health, where I did my Ph.D. training. It was there my mentor at SPH, really was the brains behind connecting me to Dr. Michael Scheurer in pediatrics at Baylor College of Medicine. He had done a lot of his work in human papillomavirus, HPV. And I was really interested in health disparities around cervical cancer, and particularly how cervical cancer affects immigrant populations and racial/ethnic minorities because of failure to access new cervical cancer screening. Michael is a molecular epidemiologist and a very hardcore sort of analytical epidemiologist. And like I said I am a behavioral epidemiologist. So, it was definitely… It was really wonderful for me because I came into a very different kind of environment from where I had done my Ph.D. training. And I just really loved it. And I also really enjoyed the niche that I kind of filled in Baylor because it is so heavily basic science. And kind of, you know, more of the biomedical sciences that people see when there is a lab and whatnot. It is really fun to come here and fill a niche in behavioral work and also in designing and preventing… designing and implementing prevention services and that sort of thing, so that is what… so the postdoc is what brought me to Baylor to be doing some work in strict cancer and then I ended up staying because of that really neat niche that I seem to fill and which I am delighted to take on within the cancer center. That is what got me here.
Madeline Graham
So that is awesome! I feel like a lot of people when they think about research, they think about test tubes and being in the lab. I was wondering how did you get involved in behavioral epidemiology and how did you discover the field?
Dr. Montealegre
Well, it was a long journey for me as well. I grew up, I think I always knew I wanted to be a scientist and I went on the lab route in college and in my master's degree. And I really tried to force myself to like it. And then at one point, I went back to Guatemala, where I am from, for a summer. I usually was going down in the summer to do research rotations at a university there. And one summer, I was fortunate enough to participate in an epidemiological study with coffee plantation migrant workers. And we were out, and we were interviewing migrant coffee workers on the plantations and speaking Spanish and having to, you know, climb up hills and get dirty. And I realized, you know what, I really like humans. And I decided that I was going to throw my whole facade of forcing myself to like the laboratory sciences away and really join kind of more the human side of things. But I still really wanted that the number thing and so epidemiology seemed to be the fix for that. But when I realized that epidemiology could be sort of a range of things and where there was a role for behavioral epidemiology that is kind of when I had this click moment where I thought, yeah, this is what I want, it gives me the best of both worlds.
Juan Carlos Ramirez
Yeah. To be quite honest, I had not heard about behavioral epidemiology until now. And it sounds like combining, you know, behavioral psychological social issues. And that way of looking at problems with most of the population's least favorite is heavy bio-statistical analyses. Were there like it is just staggering statistics that kind of motivated you in a way you like, you know, sometimes more motivated by like, you know, this large percent of this population is at a disadvantage for whatever… was there something like that that stuck out to you in the work that you do?
Dr. Montealegre
I think where I… by pure sheer luck in early on in my graduate studies, I ended up working with very vulnerable populations, I was doing some work with injection drug users, and women living in housing projects. And I think that is really… I think that is really where I realized that where you live and the circumstances you are born into often force you into lifestyles and behaviors that are far outside of your control that lead to poor health outcomes. And, just, it was really kind of that quick moment where I just realized the forces of structures, you know, our structural environment and society and how that really kind of forms people's health. And I think that is what really… and I was seeing it initially in terms of sexually transmitted diseases and then I really got inspired with cervical cancer because it is so preventable through HPV vaccination and through very simple screening measures. It really is a pretty unique marker of inequity. And really a marker of things that exist, you know, sort of in all facets of life but it all kind of manifests itself and gender inequality. It all manifests itself in cervical cancer incidence and mortality. And it was really kind of that click I think that drew me into that area of research, was having the fortune to work with some vulnerable populations and just really realize how that is that, that happens.
Juan Carlos Ramirez
Wow! It seems like a natural, very natural progression into what sort of… yeah.
Dr. Montealegre
Everything seems natural… Our career path is interesting and when you look back, you say oh yeah that all did make sense. But, you know, while you are doing it, you know, you are still trying to find your way in the world. And I think in retrospect you look back and you really see how one thing progressed into another and it is very natural. But at the time it seemed like much unchartered territories…
Juan Carlos Ramirez
Yeah. And you mentioned something interesting that something like the HPV vaccine, it is, you know, from what I know about it is been kind of like a game changer. You know, it is probably one of the most preventable cancers, there is around, in the easiest manner. And you also mentioned that disparity or that lack of access to something as simple as that. But maybe it is not a simple, perhaps I am missing something. Is there just a major reason why something as simple as that is, you know, a barrier for like underrepresented minorities or populations?
Dr. Montealegre
Yeah, no. This is an excellent question. And it really comes down to sort of the structural inequalities in our system, right? Because cervical cancer, I mean, so I will go into cervical cancer. I know there is a lot of other HPV associated cancers but I think I was telling Madeline that we are really at an exciting point the WHO has launched a campaign to eliminate cervical cancer as a public health problem, which means getting it down to an incidence rate, that is low enough where it is no longer a public health burden. And for the first time ever we have the tools to do that. So we have an HPV vaccine, which is prevents nearly all cervical cancers. And we also think and are gathering evidence that it prevents other HPV-associated cancers, like oral cancer, and anal cancer, which are on the rise in the United States. And likely the same trends will follow suit in other countries soon. So, we have a very effective vaccine for that. And then while we had a really remarkable tool for screening, which is a pap smear, which is the big success story we all think of in terms of cancer prevention, you know. We were able to decrease the incidence of cervical cancer remarkably in countries that had high infrastructure for doing that testing. The reality of that is that because it requires a health care provider, and it requires a woman to go a pretty uncomfortable and often costly procedure. You know, the benefits that we have seen in terms of what it is been able to do in preventing cervical cancer has really been skewed toward the wealthy, within countries, the wealthy, and those with health insurance, and then across countries we can obviously see this in the countries with high incomes and high infrastructure sort of having these decreases, whereas in the rest of the world we are even seeing increases in cervical cancer. And women dying, you know, every couple of minutes from a disease that could have been caught quite simply from a simple pap smear, which is in reality, it is simple you compare it to, you know, CT scanning for lung cancer and you know all the other crazy kind of stuff we do in biomedical world, you know, it is really kind of a simple thing. We finally now have an HPV test. And I think this really is an exciting time. And I think this is what is really led us to this point where we said we can eliminate this, this is we have a simple test, that can test for the ideological agent HPV. And this can be done by women themselves. So that is the area of my work is how do we increase access to screening by having women screen themselves for cervical cancer, but we have a high precision test that could, you know, potentially be done once or twice in women's lives and that would be sufficient to screen them, and reassure them that they are have a low likelihood of developing cervical cancer. And so this test, you know, it is really just a matter of finding cheaper, easier, more acceptable ways to get it out to more and more women. So that is the exciting point that we are at now.
Juan Carlos Ramirez
Wow! That is awesome. That is awesome.
Dr. Montealegre
And with the HPV vaccine, also we are at this really exciting point because it is never before had the ability to prevent any type of cancer with an injection, with a vaccine and yet we somehow watch this, the society. Somehow we did not get the memo on how you roll out vaccination. I think we have botched vaccination on many fronts but particularly the HPV vaccine. And so it is really a time to kind of say, you know, how can we do better? And that is the stuff that Madeline and I have talked about is really how do we kind of think outside the box. We know that people cannot access healthcare. There are inequities in that. So can we use things like school-based vaccination programs, how do we get this out to communities. So it is not reliant on them coming in to see a healthcare provider.
Madeline Graham
Yeah, I love that, you brought up school-based HPV vaccination - that is kind of like a geeky area of interest of mine. So, I would love to hear your take, I know that there are many barriers to rolling out HPV vaccination on the scale that we need it, in order to get like herd immunity against HPV. But I was wondering if you think, like, what you think the biggest barrier is, whether it is accessing the vaccine or if it is once you have access to the vaccine, if there is like parental hesitation or other factors like what you think is the biggest player in this?
Dr. Montealegre
Yeah, no that is a really, really great question. And I think the answer is, it depends where and what population because we have a project the one that you are familiar with is in the Rio Grande Valley. And preventable hesitation about the vaccine is not the main issue. The main issue there is really that parents are busy, they are often working several jobs, they do not have a car, they do not have ten dollars of copay to pay a provider, and their lives are just kind of overwhelmed with survival that having sort of the additional task of being on top of their vaccinations and what not. Sometimes it seems trivial to us but the big burdens put on parents. And so what we have seen is in the Rio Grande Valley, when you have parents, have access to the vaccine for their kids in a way that really takes the onus off of them. And is there the school is letting them know that their kid needs it. The school is providing the services on site, so that parents can just do it quite easily when their kid is dropped off at school, and if they are not the ones dropping them off, they can sort of just send in a consent form. We are seeing that when we remove those barriers to access, that we are getting the HPV vaccine uptake increases a lot. Now that being said, there are plenty of areas and I think the Rio Grande Valley might be an exception in the United States more than the rule. I think parental hesitation and our growing, I mean are growing sort of vaccine hesitancy, that we are seeing is a huge, huge threat to vaccination programs, in general. And I think it is becoming more of a problem rather than less. And I think there are communities where that is the main driver of low uptake. And so, I think really, we have to get to a point I think where we are really tailoring strategies based on the populations and what their barriers really are. And we tend to kind of throw out, you know, simple solution, that is not simple, we throw out solutions and we think that they work in multiple different places and the realities that they do not.
Juan Carlos Ramirez
Instead we are getting a little repeat of history, especially with, you know, it is not more obvious than never with the… they know the COVID vaccine, and it is, you know, family members ask and then people, friends of mine who are non-medical, just like are you going to get the vaccine? Yeah, I am. I am going to get all of them, you know. And, you know, I explained to them. But it is, I could see how it could be difficult for someone who's non-medically inclined, to be confused and hesitant, you know, because there are even like people in healthcare who are like no I am not going to do it, your other reasons. You know, that could be confusing. And then could prevent someone from receiving something that is life-saving, so…
Dr. Montealegre
Yeah. And I think we really, I think this roll out of COVID is really… I think it is really shining light on our roles as people in the health arena. And really being leaders and not having that hesitation. I think it is really showing. I think things that we think for granted, like healthcare providers all are pro vaccines is a myth that I think has been busted by the government rollout. So, I think it is really kind of shining light on a lot of things that we maybe knew that they were there but really had not scratched underneath the surface and COVID is just making all of that, you know, quite obvious. So I think there is a lot of work for us to do in that area.
Juan Carlos Ramirez
Agreed!
Madeline Graham
And I think another thing too is that I have seen with the COVID rollout is that Baylor has really made an effort to find like community champions in the same way that we were trying to do by educating parents in the Rio Grande Valley. For example like posting pictures of getting your vaccine on social media and like really just speaking out about like, this is why I am getting the vaccine and using your platform. And I saw that a little bit in the way that like the program was educating parents during these seminars that then they were able to tell their friends and their relatives and really amplify the effect of your work. So it is really cool to see.
Dr. Montealegre
Yeah, absolutely! I think we need to definitely allow people to have sort of key messages that they can take their social networks. I think for learning how important that is, so that we do interventions with one person, we do not forget to amplify them through sort of that natural process of telling of… people telling their friends and whatnot. That is definitely something we have thought a lot about in terms of the cervical cancer. Screening issue with, you knows how we get people to be able to have their messages so that they can, you know, casually, informally.
Madeline Graham
So, another question I had was; how COVID has affected your research with the self-screening HPV tests? Have you seen an increase in uptake? Because people maybe are a little bit more hesitant to go into the doctor's offices and are preferring like a no contact or low contact approach.
Dr. Montealegre
Yeah, no these are really great questions. So, we have been doing this trial to evaluate the effectiveness of sending mailed kits for self-sample HPV testing to women's homes in a safety net healthcare system which is Harris Health here in Harris County. And we started the trial right before COVID started. And so we do not really have much of a comparison to go back to because it only rolled for about one month before the pandemic hit. And, you know, at first, you know, we had a pull-up of our research on hold. We could not enroll, you know, we did not, even though our intervention is something that can be done from home, you know, there was that whole, you know, limiting resources, so that all the research infrastructure could go into COVID. So that was our first halt. And then that time gave us time to kind of reflect on how we were going to have to modify our study during the COVID period. And I think, you know, we are fortunately lucky because this is, if there was a trial to be done during COVID, this was the trial. Our intervention arm is sending these mailed kits. Our control arm is just educating women and recalling them to come in for a path test and an HPV test collected by a provider. So, I think we have a little bit of an artificial inflation of what we are seeing with the mailed kits because clinics are closed, intermittently. And, you know, during the sort of the initial few months of it, closed all together. And also yes there is a lot of fear for people that actually come into the clinics. But, we think that this, the COVID pandemic, when this is all finally over, if it ever truly ends, you know, it is really going to change behaviors, these are going to be sort of lasting behavioral changes in terms of how people use healthcare. And so, I think rather than thinking of COVID as sort of the exception, we are sort of starting to realize that, you know, we are shifting towards telehealth anyway, and we are shifting towards people wanting to do things more themselves, we have seen this.
Dr. Montealegre
And many other, you know, technological advances and in healthcare, you know, pregnancy testing and whatnot, all of that. So, I think this is really, probably indicative of how things will continue to go. But, yeah, we have seen that women, when you send them a kit to their home and they do not have to come in to see a provider and they can just do a self-sampling kit from the comfort of them home and stick it in the mail and be done with it, there is definitely a lot of enthusiasm for that.
Madeline Graham
So, you mentioned at-home pregnancy tests, do you ever see an HPV test hitting the shelves of like CVS or Walgreens or something? Like would that be feasible and what are the costs of these tests?
Dr. Montealegre
You know, I do see that. I do see that happening. I think we need to be careful because if we screen women, if we screen in general, and we are not hooking people into a system where there is follow-up, really the screening is pointless. And I think a lot of the times in the screening world and in biomedical we think, oh, we have this technological fix. This is it. I think I will be guilty of this. I initially thought, oh self-testing, this is the answer to cervical cancer screening. Technology rarely is the answer to some of these complex problems that we have had. And, you know, I think with at-home cervical cancer screening, we really need to be careful that the roll-outs. I think I could see it being done that way but we need to make sure that there is a system to get people in for follow-up. So that if they do have a positive HPV test that we can get them in for, you know a colposcopy or a tap test or whatever the follow-up algorithm ends up being at the time, we need to make sure that that is all in place. Otherwise we are going to have a whole bunch of people, you know, screening, having this assurance that they have done what they need to do and we do not really have a system to follow up on them and make sure that that actually turns into improved, you know, outcomes. So, yeah, but I think so, I think so, we have actually, just last week put in an application for, to be a site for a trial of the National Institutes of Health is interested in doing the test and non-inferiority of self-testing. And I think this is one of the last little pieces of data that they need for the FDA approval of this. And I think once we have FDA approval, you know, leave it to market forces, there is going to be an explosion of things and you will be seeing this at CVS and Walgreens.
Juan Carlos Ramirez
And Dr. Montealegre makes millions and millions…
Dr. Montealegre
No.
Juan Carlos Ramirez
No I am just kidding.
Dr. Montealegre
How do we roll this out in healthcare, I wish it takes some technological advances but no really I think when public… what I really like about public health is, you know, kind of overlooked all these things, we think we have the technology and then that is all we need and then we overlook kind of how do we integrate this, how do we get this out, how do we make sure that it is equitably distributed in the population. So it is getting to the people who really need it and that… oh I am happy that that is my area of work. So, if any of that is ever built into any of this, I will definitely be very happy.
Juan Carlos Ramirez
Sure. Yeah. I am doing this; it is like very rewarding in itself. As I was thinking as you were saying sort of the unforeseen problems that could arise from something like at home HPV test hitting the shelves, HEB, CVS or Walgreens. And I thought of the example with like 23 and me. And it is not to knock the company or anything but there is had someone foreseen problems, where they had the health report and unfortunately some of those screenings could deliver a pretty hefty mental blow. For example, you know, you could screen and say I have HPV but I cannot go through with the treatment, then now I am living with this burden, with this mental burden. Is that ever or has that ever been like an ethical consideration? Sort of that market side of that at home HPV testing.
Dr. Montealegre
Yeah, no, I think that is a really important question. And I have not really done as much consideration of this. But I think, you know, we have definitely seen in other aspects. I think the example you mentioned is a really great example of sort of over screening… And, particularly when we do not have anything we can do about it, you know. If we are screening and I will go back to cervical cancer but I think it relates as well to sort of these genetic things. If we are screening and there is nothing that people can do about it. Then you have really kind of let them powerless and it becomes this huge mental burden. And then when there is something you can do about it, you know, there is a really fine line in terms of how much the health system can actually absorb, you know. Everybody is running around, doing all these tests, thinking that that is the best thing that they need to do for themselves. But, you know, is the health system equipped to be able to handle this. We have seen this. I do work in implementation of programs and health systems. And, you know, we rolled out a colorectal cancer screening program in our safety net system. And we were really excited because we, you know, duplicated the number of screening tests that we were doing and we were finding all these pre-cancers and been great and everything was really exciting and we thought we were doing a really great job and the truth of the matter is that we had not put enough work into thinking about the health system's capacity to absorb all these screening tests.
Juan Carlos Ramirez
Excellent point! The best medicine is preventative medicine.
Dr. Montealegre
And that is the beauty of the vaccine. We just need to get the people vaccinated, so we do not have all the screening problems.
Madeline Graham
And I also saw that you are working on a project coupling HPV vaccine provider recommendations with smoking cessation interventions. So could you talk about that a little bit?
Dr. Montealegre
Yeah, absolutely! So, we were very fortunate several years ago to get a secret prevention services grant to improve our HPV vaccine rates in our safety net health system at Harris Health System. And we had really, really great outcomes for that. Harris Health really does a good job of providing great care to their patients. So, they were already good to begin with but we really found sort of niche areas where we could improve processes and improve recommendations and support providers in implementing sort of proven evidence-based things that they can easily do to improve uptake for the vaccine. So, we are trying to find, like, what is your lowest hanging fruit, what is going to take the least amount of effort on you that is going to have the biggest, you know, impact, what is the biggest bang for your buck. And so we really focused on those kinds of interventions in our first HPV vaccine project. And… so when it came time to renew the grant, you know, you always have to do more with the same or more with less money and we had been thinking about this a lot from before but we really got really interested our group and what more can pediatricians do for the lifelong health of their patients because we know from our experience with the HPV vaccine that there is a lot of interest in pediatricians in terms of, you know, the lifelong health, that is exactly what vaccines are doing, right? You are vaccinating kids now. And it is protecting them through their life course. And so, there was a lot of interest in the pediatric world in doing this. And so we really started thinking well what else do pediatricians, what other roles could they play in preventing cancer. And my colleague who is a pediatrician but she is also a mother of teenagers. We were sitting around one day discussing and she says, you know, my daughter has really been talking a lot about all the kids at school vaping. My kids are little, so this is totally off my radar; I did not even realize that this was a problem. But she said, you know I wonder what is going on there and so that just really took us down this rabbit hole of… not rabbit hole but, you know, whatever one thing led to another, we really started looking into what she has seen anecdotally as kids vaping a lot at school. And we realize that this is a really big problem. And it threatens to reverse decades and decades of worth… decades and decade's worth of smoking cessation and smoking prevention programs that we as a public health community has done. Because we know that kids who vape are significantly more likely to go on to be smokers of, you know, traditional tobacco. And now we know from, again from the COVID pandemic that, you know, well and right before comet pandemic you all probably remember that we had the epidemic of faith being related deaths. So between that happening right before COVID and now COVID, where there is quite substantial evidence that shows that people who vape have more severe COVID, you know, we are realizing it is not just about them becoming smokers in the future, there is obviously near-term consequences to their health as well. And so this has been really an extreme project. It is really kind of motivating, empowering pediatricians to think about their patient's long-term health. And really give strong messages against, you know, not in the shading, vaping, we rolled out a screening questionnaire, so that that is become standard practice, that it, well child visits we now screen for vaping. We are working with the Texas quit line, that is usually or is entirely made for the adult population but we are doing some targeting… not targeting, sorry, we are adapting the Texas quit line, so that it can be used in a pediatric population, specifically for vaping, and integrating that within sort of the processes of the health system, so that providers are easily able to refer their patients to cessation services. So that is been a really fun project and I think for me the funniest part is really working with pediatricians who are wonderful people, and wonderful healthcare providers, all around. It is really hard to find a pediatrician who's not very motivated to do whatever they can for the health of their patients.
Juan Carlos Ramirez
Yeah. And I am glad you said all of that positive stuff after because it is so scary to think of like children vaping and they do not know what they are getting themselves into health-wise and it is…
Dr. Montealegre
No. And it is… and we, since we started on this project we really… I really tuned into the popular media more than I ever have in my life but it is crazy how much they are being targeted. Like pretty aggressively by the vaping industry, that is completely unregulated as of now and they are taking advantage of the years before we can actually get it together to regulate them. They know full well that the number of years is quite limited, and so the aggressive marketing towards children is insane to me. So, yeah, I think there is a lot we have to do to counter balance that.
Juan Carlos Ramirez
Yeah. And like many, many years ago when I first heard of vaping and I was like, oh, here comes a terrible idea, right? You are just; you are removing the whole smoking part because we thought that the smoking part was terrible. But now you are putting it into a liquid, you have no idea what it is. And then you can, sometimes ten times the dose, in a single paw or a couple puffs but I never saw the children targeting coming. And I guess I should have seen it coming with blueberry and strawberry and all these things started coming out. Anyway, I am glad you are working on this.
Madeline Graham
No, it is crazy. I remember. I went to high school, here in Houston, and it was just everywhere. Like everyone was vaping, like in classrooms, and it was really horrible to watch, and these kids thought there was nothing wrong with vaping, you know, because it was all the marketing around that the outreach that they had gotten around tobacco cessation was tobacco cessation. You know, no one was talking about the addictive effects of nicotine, at least not when we were growing up so… And it is also kind of tricky to screen for too. If you are asking someone about tobacco use, you need to be really careful to ask about vaping and nicotine and like other substances that they may be ingesting that they may not realize is something that you are asking about. They may even be trying to hide their use.
Dr. Montealegre
Absolutely!
Madeline Graham
Yeah.
Dr. Montealegre
Yeah, exactly! So, yeah, we have done a lot of research into sort of how you ask that, so that it is inclusive of all the terms that teenagers and kids are actually using because if you call it by the right name, they will pick up on it. But, if you call it some, you know, nerdo parent term, well they are not going to respond to that because they would not understand what you are even talking about. So, it is always fun to kind of update the terminology we use and update our provider training materials, so that providers can kind of be in the know on, what it is being called as of a few weeks ago is always changing.
Madeline Graham
I know we got a little bit off on a tangent on the vaping but I thought that was a really cool side note, I am glad we had it. Was there anything else that you wanted to talk about Dr. Montealegre?
Dr. Montealegre
Oh my goodness! I think the big overarching umbrella of all this is sort of healthcare interventions, health interventions for underserved populations is kind of the one thing that ties all of this together because there is definitely a whole lot of different interventions going on, that we do. But what really drives it together is really improving health systems and improving outside of health systems like the schools. But, you know, really improving our public health infrastructure and our health care industry to support populations that otherwise kind of get overlooked and are underserved and have less accuracy than others, so…
Juan Carlos Ramirez
Yeah, hopefully we can as collectively get ahead of that, this time around, just seems like we are always more… medicine is almost always very reactive rather than proactive unfortunately.
Dr. Montealegre
Absolutely, yes! And I hope at some point we can, you know, get to a point where we see these things happening and we prevent rather than react because we are seeing sort of the limits of that paradigm. We are kind of realizing the limitations of that paradigm. So we are definitely in need of a big paradigm shift.
Madeline Graham
So, if we have listeners that are hearing this episode and want to get involved in that paradigm shift and help these underserved communities and do research in behavioral epidemiology or cancer prevention, where would you point them to start doing some of their own research and finding out ways to get involved?
Dr. Montealegre
Oh my goodness. Wow, that is a great question. Let us see, whole bunch of videos, I think if this is something that is a fair of interest, I think kind of really kind of start digging around as to why is it that we are seeing these inequalities, what is it that is driving it, I think that is going to get you into an area that you are really passionate about, if you sort of ask the why. And then the other thing, of course, is like how do we address it, right? And I think if you start thinking about why these exist and how do we address, it kind of gets your brain going into some really fun areas of work. Thinking kind of outside of what we are doing now and really kind of how can we change it to address some of these problems? Of course! I will put in a plug for our office of community outreach and engagement at Baylor, the cancer center is doing some really, really great work in terms of health disparities, addressing health disparities, so if anybody is of interest to this, I am always happy to talk. I think that is one of my priorities and how I allocate my time is talking to people, who are interested in career in health disparities, public health, cancer prevention, disease prevention. So, always happy to have my door open or my zoom open because that is the new way we do things but always happy to schedule a time to chat. But, yeah, I think, if this is an area that is of interest to listeners, I think it is a booming area. And so I highly encourage people to take that passion and follow up on it because I think we have so much work to do as a society to sort of fix the wrongs of the past and fix the wrongs of the present, that the work is, you know, is infinite. So, I think if there is one area where you will always be making a contribution, it is certainly in this area.
Juan Carlos Ramirez
Well, we are certainly thankful that you are making contributions, and that you are proactive, and very thankful that you have shared with us all this information and for enlightening our listeners, and for your time and dedication to some very serious but very necessary problem solving.
Dr. Montealegre
Well, thank you so much, this is so much fun to talk to you. And thank you guys for highlighting all the exciting work going on at Baylor College of Medicine, for kind of letting faculty talk about what makes them passionate, what kind of led them into their wacky, a research trajectory. So this is a lot of fun and I am sure also, you know, great for your listeners to kind of hear how all these things get cobbled together to make something that looked like it was planned from the beginning.
Juan Carlos Ramirez
Absolutely!
Juan Carlos Ramirez
Oh thank you very much, Dr. Montealegre.
Madeline Graham
Thank you so much again.
Dr. Montealegre
Thank you so much.
Juan Carlos Ramirez
We wish you all the best in your endeavors.
Dr. Montealegre
Wonderful! Best wishes