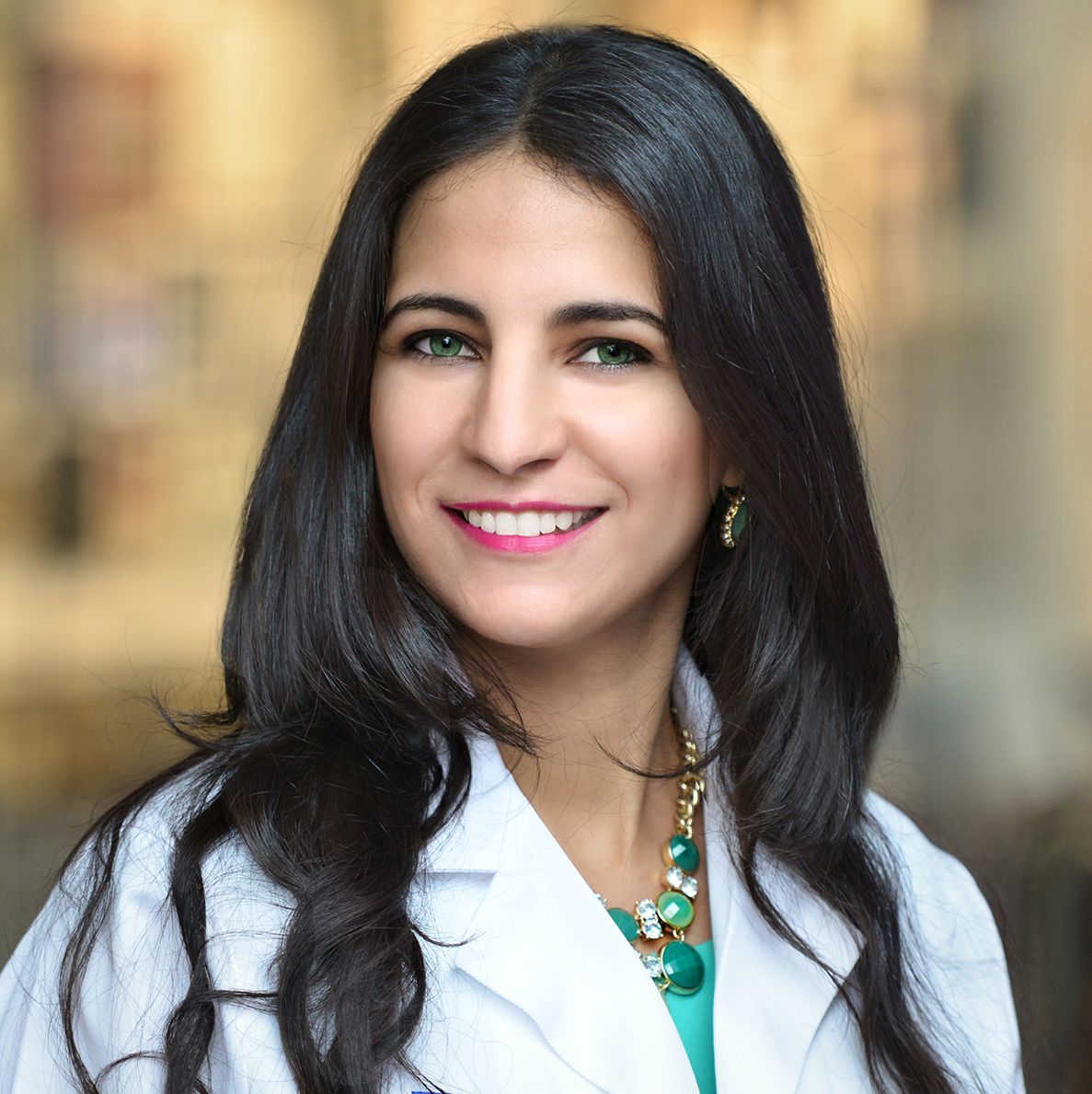 Phone
Addresses
Jamail Specialty Care Center - Alkek Eye Center (Clinic)

1977 Butler Blvd

Houston, Texas 77030

United States

(713) 798-6100

Office

Neurosensory Center

Room: NEUR-205

Mail Stop: NC205

Houston, Texas 77030

United States

(713) 798-5143
Is this you?Log in to edit your profile.
Positions
Assistant Professor

Ophthalmology-Departmental
Baylor College of Medicine

Staff Ophthalmologist

Ophthalmology-Departmental
Ben Taub Hospital

Staff Ophthalmologist

Head and Neck-Department
MD Anderson Cancer Center

Associate Residency Director

Ophthalmology
Education
BA from University of Texas at Austin

05/2004 - Austin, Texas, United States

MD from Baylor College of Medicine

05/2009 - Houston, Texas, United States

Internship at Georgetown University/Inova Fairfax

05/2010 - Fairfax, Virginia, United States

Residency at Baylor College of Medicine

06/2013 - Houston, Texas, United States

Fellowship at Bascom Palmer-University of Miami

07/2014 - Miami, Florida, United States
Cornea, Cataract and Refractive Surgery
Certifications
Board Certified in Ophthalmology

11/21/2014 - present
American Board of Ophthalmology

Texas Medical License

08/31/2014 - present
Texas Medical Board

AOA

Alpha Omega Alpha
Honors & Awards
Stephen N. Schindler Award for High Ethical and Humane Standards

Baylor College of Medicine (06/2013)

Kerato-refractive ASCRS Poster Winner

04/2013

Baylor Ophthalmology Chief Resident

07/2012 - 07/2013

Baylor College of Medicine Graduate with Honors

06/2009

Heed Foundation Scholar

10/2012
Professional Interests
Corneal Transplantation
Cataracts
Refractive Surgery
External Disease
Keratoconus
Fuchs Dystrophy
Secondary Intraocular Lenses
Lasik
PRK
Professional Statement
Zaina Al-Mohtaseb is an ophthalmologist specializing in cornea, external disease, cataract and refractive surgery. Dr. Al-Mohtaseb earned her medical degree with honors from Baylor College of Medicine in Houston, TX. She completed her ophthalmology residency at the Cullen Eye Institute at Baylor College of Medicine and was elected Chief Resident in her final year of training. She completed a fellowship in cornea/external disease, cataract & refractive surgery at the University of Miami's Bascom Palmer Eye Institute, Miami, FL. Dr. Al- Mohtaseb has authored numerous articles and textbook chapters and has presented her research at multiple national meetings. She is currently the Associate Residency Program Director & Assistant Professor at Baylor College of Medicine.
Selected Publications
Al-Mohtaseb, Zaina, Wang, L., Weikert, M.. "Repeatability and comparability of corneal thickness measurements obtained from Dual-Scheimpflug Analyzer and from ultrasonic Pachymetry..." Graefes. 2013 July;251(7):1855-60.
Al-Mohtaseb, Zaina, Heffez JL, Carvounis PE Holz ER. "Laser demarcation photocoagulation for treatment of rhegmatogenous retinal detachments.." Eye (Lond).. 2010 December;24(12):1772-6.
Sakai, Y, Shaw CA, Dawson BC, Dugas DV, Al-Mohtaseb Z, Hill DE, Zoghbi HY.. "Protein interactome reveals converging molecular pathways among autism disorders.." Sci Transl Med.. 2011 June 8;3(86):86ra49. Pubmed PMID: 21653829
Al-Mohtaseb, Zaina, Foroozan, R. "Congenital optic disc anomalies.." Int Ophthalmol Clin.. 2012;52(3):1-16.
Al-Mohtaseb, Zaina, Ventura, B., Wang, L., Koch, D.. "Impact of Posterior Corneal Astigmatism on Astigmatism Management during Cataract Surgery. Curbside Consultation in Refractive and Lens-Based Surgery: 49 Clinical Questions.." 2014
Al-Mohtaseb, Zaina, Culbertson, W.. "Intrastromal Astigmatic keratotomy with the Femtosecond laser: a nonpenetrating approach for the correction of keratometric and refractive astigmatism. Cataract and Refractive." Surgery Today. 2014 March
Al-Mohtaseb, Zaina, Galor, A., Perez, V.. "Dry Eyes and Menopause: But don't forget Men.." Ocular Surface News.. 2013
Al-Mohtaseb, Zaina, Dixit, L., Meghpara, B., Schmidt, C., Weikert, M.. "Review of "A correlation of visual quality with satisfaction and function in a normal cohort of pseudophakic patients."." Eye World Journal Club. 2013
Al-Mohtaseb, Zaina, Seongmu Lee, Michael T. Yen. "Oncocytoma of the upper conjunctival fornix.." Eye Reports.. 2011 September 12
Al-Mohtaseb, Zaina, Foroozan, R. "Bilateral optic disc edema." WebMD.
Memberships
American Academy of Ophthalmology

American Society of Cataract & Refractive Surgery

Cornea Society