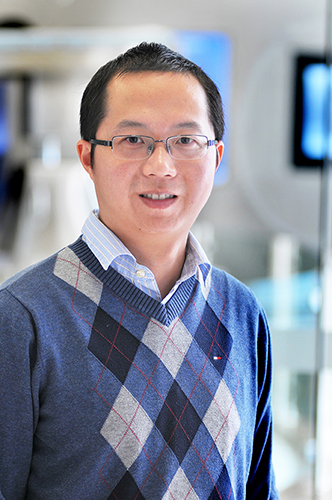 Email
Phone
Addresses
Office

Children's Nutrition Research Center

Room: CNRC-8070

Mail Stop: BCM320

Houston, Texas 77030

United States

(713) 798-7199

yongx@bcm.edu

Lab

Children's Nutrition Research Center

Room: CNRC-8012

Houston, Texas 77030

United States

(713) 798-0359
Websites
Is this you?Log in to edit your profile.
Positions
Associate Professor

Pediatrics
Nutrition
Baylor College of Medicine
Houston, Texas, United States

Secondary Associate Professor

Molecular and Cellular Biology
Baylor College of Medicine
Houston, Texas, United States
Education
Fellowship at University Of Texas Southwestern Medical School

Dallas, TX, United States

PhD from University of Alberta

10/2006 - Edmonton, Alberta, Canada

MSc from Tongji Medical University

06/2002 - Wuhan, China

MD from Tongji Medial University

06/1999 - Wuhan, China
Professional Interests
CNS control of body weight, glucose and blood pressure
Professional Statement
The goal of my research is to identify the novel neural circuits, neurotransmitters and intra-neuronal signals that are critical for coordinated control of body weight, feeding behavior, glucose balance and blood pressure. The critical approach that makes the cornerstone of my laboratory efforts is targeted gene manipulation in mice. We use the Cre-loxP and/or Flpe-frt strategy to achieve tissue or cell-specific gene deletion or re-activation in functional animals. This genetic approach is supplemented by optogenetics, neuroanatomy, electrophysiology, systemic physiology, biochemistry, molecular biology and cell-based techniques.
Ongoing projects in the laboratory include:
(1) Sex differences in central control of body weight and glucose balance.
(2) External and intrinsic signals regulating activities of melanocortin neurons in the context obesity and diabetes.
(3) The 5-HT neural circuits and feeding behaviors.
(4) Brain estrogenic actions and blood pressure.
Selected Publications
Xu Y, Jones JE, Kohno D, Williams KW, Lee CE, Choi MJ, Anderson JG, Heisler LK, Zigman JM, Lowell BB and Elmquist JK. "5-HT2CRs expressed by pro-opiomelanocortin neurons regulate energy homeostasis." Neuron. 2008 November 26;60(4):582-9. Pubmed PMID: 19038216
Xu Y, Berglund DE, Sohn JW, Holland WL, Chuang JC, Fukuda M, Rossi J, Williams KW, Jones JE, Zigman JM, Lowell BB, Scherer PE and Elmquist JK. "5-HT2CRs expressed by pro-opiomelanocortin neurons regulate insulin sensitivity in liver." Nature Neuroscience. 2010 December 13;13(12):1457-9. Pubmed PMID: 21037584
Xu Y, Jones JE, Lauzon DA, Anderson JG, Balthasar N, Heisler LK, Zinn AR, Lowell BB and Elmquist JK. "A serotonin and melanocortin circuit mediates D-fenfluramine anorexia." J Neurosci. 2010 November 3;30(44):14630-4. Pubmed PMID: 21048120
Xu Y and Krukoff TL. "Adrenomedullin in the rostral ventrolateral medulla increases arterial pressure and heart rate: roles of glutamate and nitric oxide." Am J Physiol Regul Integr Comp Physiol. 2004 October;287(4):R729-34. Pubmed PMID: 15178541
Xu Y and Krukoff TL. "Adrenomedullin in the rostral ventrolateral medulla inhibits baroreflex control of heart rate: a role for protein kinase A." British Journal of Pharmacology. 2006 Pubmed PMID: 16501581
Xu Y and Krukoff TL. "Adrenomedullin stimulates nitric oxide production from primary rat hypothalamic neurons: roles of calcium and phosphatases." Molecular Pharmacology. 2007 Pubmed PMID: 17446268
Xu Y and Krukoff TL. "Adrenomedullin stimulates nitric oxide release from SK-N-SH human neuroblastoma cells by modulating intracellular calcium mobilization." Endocrinology. 2005 May;146(5):2295-305. Pubmed PMID: 15677761
Lee J, Moulik M, Fang Z, Saha P, Zou F, Xu Y, Nelson DL, Ma K, Moore DD, Yechoor VK. "Bmal1 and β-cell clock are required for adaptation to circadian disruption, and their loss of function leads to oxidative stress-induced β-cell failure in mice." Mol Cell Biol. 2013 June;33(11):2327-38. Pubmed PMID: 23547261
Marino JS, Xu Y, Hill JW. "Central insulin and leptin-mediated autonomic control of glucose homeostasis." Trends Endocrinol Metab. 2011 July;22(7):275-85. Pubmed PMID: 21489811
Tong Q and Xu Y. "Central leptin regulation of obesity and fertility." Curr Obes Rep. 2012 December 1;1(4):236-244. Pubmed PMID: 23243628
Xu Y, Elmquist JK, Fukuda M. "Central nervous control of energy and glucose balance: focus on the central melanocortin system.." Ann N Y Acad Sci. 2011 December;1243(1):1-14. Pubmed PMID: 22211889
Xu Y, Faulkner LD, Hill JW. "Cross-talk between metabolism and reproduction: the tole of POMC and SF1 neurons.." Front Endocrinol (Lausanne). 2012 January 4;2:98. Pubmed PMID: 22649394
Xu Y and Krukoff TL. "Decrease in arterial pressure induced by adrenomedullin in the hypothalamic paraventricular nucleus of is mediated by nitric oxide and GABA." Regul Pept. 2004 June 15;119(1):21-30. Pubmed PMID: 15093693
Hill JW, Elias CF, Fukuda M, Cho YR, Chuang JC, Xu Y, Choi MJ, Balthasar N, Coppari R, Scherer PE, Brüning JC, Lowell BB, Elmquist JK. "Direct insulin and leptin action in pro-opiomelanocortin neurons is required for normal glucose homeostasis and fertility." Cell Metab. 2010 April 7;11(4):286-97. Pubmed PMID: 20374961
Xu Y, Nedungadi TP, Zhu L, Sobhani N, Irani BG, Davis KE, Zhang X, Zou F, Gent LM, Hahner LD, Khan SA, Elias CF, Elmquist JK, Clegg DJ. "Distinct hypothalamic neurons mediate estrogenic effects on energy homeostasis and reproduction.." Cell Metab. 2011 October 5;14(4):453-65. Pubmed PMID: 21982706
Xu P, Cao X, He Y, Zhu L, Yang Y, Saito K, Wang C, Yan X, Hinton A, Zou F, Ding H, Xia Y, Yan C, Wu SP, Yang B, Feng Y, Clegg DJ, DiMarchi R, Khan SA, Tsai SY, DeMayo FJ, Wu Q, Tong Q, Xu Y. "Estrogen receptor-α in medial amygdala neurons regulates body weight." The Journal of Clinical Investigation. 2015 July 1;125(7):2861-76. Pubmed PMID: 26098212
Zhu L, Zou F, Yang Y, Xu P, Saito K, Hinton A, Yan X, Ding H, Wu Q, Fukuda M, Sun Z, Tong Q, Xu Y. "Estrogens prevent metabolic dysfunctions induced by circadian disruptions in female mice." Endocrinology. 2015 June;156(6):2114-2123. Pubmed PMID: 25807042
Cao X, Xu P, Oyola MG, Xia Y, Yan X, Saito K, Zou F, Wang C, Yang Y, Hinton Jr. A, Yan C, Ding H, Zhu L, Yu L, Yang B, Feng Y, Clegg DJ, Khan S, DiMarchi R, Mani SK, Tong Q, Xu Y. "Estrogens stimulate serotonin neurons to inhibit binge-like eating in mice." J Clin Invest. 2014 August 26 Pubmed PMID: 25157819
Wu Z, Kim ER, Sun H, Xu Y, Mangieri LR, Li DP, Pan HL, Xu Y, Arenkiel BR, Tong Q. "GABAergic projections from lateral hypothalamus to paraventricular hypothalamic nucleus promote feeding." The Journal of Neuroscience. 2015 February;35(8):3312-3318. Pubmed PMID: 25716832
Xu Y, Wu Z, Sun H, Zhu Y, Kim ER, Lowell BB, Arenkiel BR, Xu Y and Tong Q. "Glutamate mediates the function of melanocortin receptors 4 on Sim1 neurons in body weight regulation." Cell Metab. 2013 December 3;18(6):860-70. Pubmed PMID: 24315371
Yan, C, Yang Y, Saito K, Xu P, Wang C, Hinton A, Yan X, Wu Q, Sun Z, Tong Q, Elmquist JK, Fukuda M, Xu Y. "Meta-Chlorophenylpiperazine enhances leptin sensitivity in diet-induced obese mice." British Journal of Pharmacology. 2015 March Pubmed PMID: 25817043
Hill JW, Xu Y (joint first author), Preitner F, Fukuda M, Cho YR, Luo L, Balthasar N, Coppari R, Cantley LC, Kahn BB, Zhao JJ, Elmquist JK. "Phosphatidyl inositol 3-kinase signaling in hypothalamic proopiomelanocortin neurons contributes to the regulation of glucose homeostasis." Endocrinology. 2009 November;150(11):4874-82. Pubmed PMID: 19819947
Xu Y, Hill JW, Gautron L, Lee CE, Choi MJ, Dhillon H, Lowell BB, Zigman JM, Zhao JJ and Elmquist JK. "PI3K signalling in ventromedial hypothalamic nucleus is required for normal energy homeostasis." Cell Metab. 2010 July 7;12(1):88-95. Pubmed PMID: 20620998
Xu Y, Kim ER, Fan S, Xia Y, Xu Y, Huang C, Tong Q. "Profound and rapid reduction in body temperature induced by the melanocortin receptor agonists." Biochem Biophys Res Commun. 2014 August 22;451(2):184-9. Pubmed PMID: 25065745
Saito K, Cao X, He Y, Xu Y. "Progress in the molecular understanding of central regulation of body weight by estrogens." Obesity. 2015 May;23(5):919-926. Pubmed PMID: 25865677
Sohn JW, Xu Y, Jones JE, Wickman K, Williams KW, Elmquist JK. "Serotonin 2C receptor activates a distinct population of arcuate nucleus pro-opiomelanocortin neurons via TRPC channels." Neuron. 2011 August 11;71(3):488-97. Pubmed PMID: 21835345
Berglund ED, Liu C, Sohn JW, Liu T, Kim MH, Lee CE, Vianna CR, Williams, KW, Xu Y(corresponding author), Elmquist JK. "Serotonin 2C receptors in pro-opiomelanocortin neurons regulate energy and glucose homeostasis." J Clin Invest. 2013 December 2;123(12):5061-70. Pubmed PMID: 24177424
Kim KW, Sohn JW, Kohno D, Xu Y, Williams K, Elmquist JK. "SF-1 in the ventral medial hypothalamic nucleus: A key regulator of homeostasis." Mol Cell Endocrinol. 2011 April 10;336(1):219-23. Pubmed PMID: 21111025
Zhu L, Yang Y, Xu P, Zou F, Yan X, Liao L, Xu J, O'Malley BW, Xu Y. "Steroid receptor coactivator-1 mediates estrogenic actions to prevent body weight gain in female mice.." Endocrinology. 2013 January;154(1):150-8. Pubmed PMID: 23211707
Davis KE, Neinast MD, Sun K, Skiles WM, Dills JD, Zehr JA, Zeve D, Hahner LD, Cox DW, Gent LM, Xu Y, Wang ZV, Khan SA, Clegg DJ. "The sexually dimorphic role of adipose and adipocyte estrogen receptors in modulating adipose tissue expansion, inflammation, and fibrosis." Mol Metab. 2013 June 4;2(3):227-42. Pubmed PMID: 24049737
Kim KW, Zhao L, Donata J , Khono D, Xu Y, Lee C, Parker K, Elmquist JK. "Steroidogenic factor 1 directs programs regulating diet-induced thermogenesis and leptin action in the ventral medial hypothalamic nucleus." Proc Natl Acad Sci U S A. 2011 June 28;108(26):10673-8. Pubmed PMID: 21636788
Yan C, He Y, Xu Y, Shu G, Wang C, Yang Y, Saito K, Xu P, Hinton A, Yan X, Yu L, Wu Q, Tso P, Tong Q, Xu Y. "Apolipoprotein A-IV inhibits AgRP/NPY neurons and activates POMC neurons in the arcuate nucleus.." Neuroendocrinology. 2015 August 25 Pubmed PMID: 26337236
Scott MM, Xu Y, Elias CF and Williams KW. "Central regulation of food intake, body weight, energy expenditure, and glucose homeostasis.." Frontiers in Neuroscience. 2014 December 3;8:384. Pubmed PMID: 25520610
Shu G, Lu N, Zhu X, Xu Y, Du M, Xie Q, Zhu C, Xu Q, Wang S, Wang L, Gao P, Xi Q, Zhang Y, Jiang Q. "Phloretin promotes adipocyte differentiation in vitro and improves glucose homeostasis in vivo.." The Journal of Nutritional Biochemistry. 2014 December;25(12):1296-308. Pubmed PMID: 25283330
Xu P, Cao X, Xu Y. "Physical activity controlled by estrogen signals in the medial amygdala.." Receptors & Clinical Investigation. 2015
Xu P, Cao X, Xu Y. "Targeting brain estrogen receptor for binge eating.." Oncotarget. 2015 August 22 Pubmed PMID: 26309082
Zhu L, Xu P, Cao X, Yang Y, Hinton A, Xia Y, Saito K, Yan X, Zou F, Ding F, Wang C, Yan C, Saha P, Khan SA, Zhao J, Fukuda M, Tong Q, Clegg DJ, Chan L, Xu Y. "The ERα-PI3K cascade in pro-opiomelanocortin progenitor neurons regulates feeding and glucose balance in female mice.." Endocrinology. 2015
Meng F, Han Y, Srisai D, Belakhov V, Farias M, Xu Y, Palmiter RD, Baasov T, Wu Q. "A new inducible genetic method reveals critical roles of GABA in the control of feeding and metabolism." Proc Natl Acad Sci U S A. 2016 March 29;113(13):3645-50. Pubmed PMID: 26976589
Fan S, Dakshinamoorthy J, Kim ER, Xu Y, Huang C, and Tong Q. "An indirect action contributes to c-fos induction in paraventricular hypothalamic nucleus by neuropeptide Y." Scientific Reports. 2016 January 27;6(19980) Pubmed PMID: 26813148
Hinton A, He Y, Xia Y, Xu P, Yang Y, Saito K, Wang C, Yan X, Shu G, Henderson A, Clegg DJ, Khan SA, Reynolds C, Wu Q, Tong Q, Xu Y. "Estrogen receptor-α in the medial amygdala prevents stress-induced elevations in blood pressure in females." Hypertension (in press). 2016
Xu Y, Chang JT, Myers Jr. MG, Xu Y, Tong Q. "Euglycemia restoration by central leptin in Type 1 diabetes requires STAT3 signaling but not fast-acting neurotransmitter release." Diabetes. 2016 January 28 Pubmed PMID: 26822087
Saito K, He Y, Yang Y, Zhu L, Wang C, Xu P, Hinton A, Yan X, Zhao J, Fukuda M, Tong Q, Clegg DJ, Xu Y. "PI3K in the ventromedial hypothalamic nucleus mediates estrogenic actions on 2 energy expenditure in female mice." Scientific Reports. 2016 March 18;18(6):23459. Pubmed PMID: 26988598
Saito K, He Y, Yan X, Yang Y, Wang C, Xu P, Hinton Jr. A, Shu G, Yu L, Tong Q, Xu Y. "Visualizing estrogen receptor-α-expressing neurons using a new ERα-ZsGreen reporter mouse line." Metabolism. 2016 April;65(4):522-32. Pubmed PMID: 26975544
Duerrschmid C, He Y, Wang C, Li C, Bournat J, Romere C, Saha PK, Phillps KJ, Jain P, Farias M, Wu Q, Milewicz DM, Suton VR, Moore DD, Butte NF, Krashes MJ, Xu Y (corresponding author), Chopra AR.. "Asprosin is a centrally-acting orexigenic hormone.." Nat Med (in press). 2017
Bai J, Cervantes, C, Liu J, He S, Zhou H, Zhang B, Cai H, Yin D, Hu D, Li Z, Chen H, Gao X, Wang F, O'Connor JC, Xu Y, Liu M, Dong LQ, Liu F.. "DsbA-L prevents obesity-induced inflammation and insulin resistance by suppressing mtDNA release-activated cGAS-cGAMP-STING pathway." Proc Natl Acad Sci U S A.
Zhu C, Xu P, He Y, Yuan Y, Wang T, Cai X, Yu L, Yang L, Wu J, Wang L, Zhu X, Wang S, Gao P, Xi Q, Zhang Y, Xu Y (corresponding author), Jiang Q, Shu G.. "Heparin increases food intake through AgRP neurons.." Cell Reports. 2017 September;20(10):2455-2467. Pubmed PMID: 28877477
Xu Y, Lu Y, Xu P, Mangieri LR, Isingrini E, Xu Y, Giros B, Tong Q.. "VMAT2-Mediated Neurotransmission from Midbrain Leptin Receptor Neurons in Feeding Regulation.." eNeuro. 2017 May Pubmed PMID: 28560316
Wu CS, Bongmba O, Lee YH, Lin L, Saito K, Pradhan G, Xu A, Guo S, Xu Y, Sun Y.. "Suppression of GHS-R in AgRP neurons mitigates diet-induced obesity by activating thermogenesis.." The International Journal of Mechanical Sciences. 2017 April Pubmed PMID: 28420089
Xu Y (corresponding author), O'Malley BW, Elmquist JK.. "Brain nuclear receptors and body weight regulation.." The Journal of Clinical Investigation. 2017 April;127(4):1172-1180. Pubmed PMID: 28218618
Xu P, Zhu L, Saito K, Yang Y, Wang C, He Y, Xia Y, Hyseni Ilirjana, Tong Q, Xu Y.. "Melanocortin 4 receptor is not required for estrogenic regulations on energy homeostasis and reproduction.." Metabolism. 2017 May;70:152-159.
Hinton AO Jr, Yang Y, Quick AP, Xu P, Reddy CL, Yan X, Reynolds CL, Tong Q, Zhu L, Xu J, Wehrens XH, Xu Y, Reddy AK.. "SRC-1 regulates blood pressure and aortic stiffness in female mice.." Plos One. 2016 December
He Y, Shu G, Xu P, Yang Y, Xia Y, Wang C, Saito K, Hinton A, Yan X, Liu C, Wu Q, Tong Q, Xu Y.. "A small potassium current in AgRP/NPY neurons regulates feeding behavior and energy metabolism.." Cell Reports. 2016 November;17(1807-1818)
Qu N, He Y, Wang C, Xu P, Yang Y, Cai X, Liu H, Yu K, Pei Z, Hyseni I, Sun Z, Fukuda M, Li Y, Tian Q, Xu Y. "A POMC-originated circuit regulates stress-induced hypophagia, depression and anhedonia." Molecular Psychiatry. 2019 Pubmed PMID: 31485012
Xu Y, Lu Y, Cassidy R, Mangieri L, Zhu C, Huang X, Jiang Z, Justice N, Xu Y, Arenkiel B, and Tong Q. "Identification of a neurociruit underlying regulation of feeding by stress-related emotional responses." Nature Communications. 2019 Pubmed PMID: 31371721
Kaneko K, Fu Y, Lin H, Cordonier EL, Mo Q, Gao Y, Yao T, Naylor J, Howard V, Saito K, Xu P, Chen SS, Chen M, Xu Y, Williams KW, Ravn P, and Fukuda M. "Gut-derived GIP activates central Rap1 to impair neural leptin sensitivity during overnutrition." The Journal of Clinical Investigation. 2019 Pubmed PMID: 31403469
Mangieri L, Jiang Z, Lu Y, Xu Y, Cassidy R, Justice N, Xu Y, Arenkiel B, Tong Q. "Defensive behaviors driven by a hypothalamic-ventral midbrain circuit." eNeuro. 2019 Pubmed PMID: 31331938
Zhou W, He Y, Rehman AU, Kong Y, Hong S, Ding G, Yalamanchili HK, Wan YW, Paul B, Wang C, Gong Y, Zhou W, Liu H, Dean J, Scalais E, O'Driscoll M, Morton J, Hou X, Wu Q, Tong Q, Liu Z, Liu P, Xu Y (co-corresponding author), and Zheng Sun. "NCOR1/2 loss of function impairs memory through a novel GABAergic hypothalamus–CA3 projection." Nature Neuroscience. 2019 Pubmed PMID: 30664766
Wang C and Xu Y. "Mechanisms for sex differences in energy homeostasis." Journal of Molecular Endocrinology. 2019 Pubmed PMID: 31130779
Yang Y, van der Klaauw AA, Zhu L, Cacciottolo TM, He Y, Stadler L, Yan X, Keogh JM, Henning E, Banton MC, Hendricks AE, Bochukova EG, Mistry V, Lawler KL, Liao L, Xu J, O'Rahilly S, Tong Q, UK10K consortium, Barroso I, O'Malley BW, Farooqi IS, Xu Y. "Steroid Receptor Coactivator-1 Modulates the Function of Pomc Neurons and Energy Homeostasis." Nature Communications. 2019 Pubmed PMID: 30979869
Yan H, Yang W, Zhou F, Li X, Pan Q, Shen Z, Han G, Newell-Fugate A, Tian Y, Majeti R, Liu W, Xu Y, Wu C, Allred K, Allred C, Sun Y and Guo S. "Estrogen improves insulin sensitivity and suppresses gluconeogenesis via the transcription factor Foxo1." Diabetes. 2019 Pubmed PMID: 30487265
Xu J, Zhu C, Zhang M, Tong Q, Wan X, Liao Z, Cai X, Xu Y, Yuan Y, Wang L, Zhu X, Wang S, Gao P, Xi Q, Xu Y, Jiang Q, Shu G. "Arginine reverses growth hormone resistance through the inhibition of toll-like receptor 4-mediated inflammatory pathway." Metabolism. 2018 Pubmed PMID: 29080813
Mangieri L, Lu Y, Xu Y, Cassidy R, Xu Y, Arenkiel B, and Tong Q. "A Neural Basis for Antagonistic Control of Feeding and Compulsive Behaviors." Nature Communications. 2018
Xu Y, Lopez M. "Central regulation of energy metabolism by estrogens." Molecular Metabolism. 2018 Pubmed PMID: 29886181
Zhang P, Kuang H, He Y, Idiga SO, Li S, Chen Z, Yang Z, Cai X, Zhang K, Potthoff MJ, Xu Y, Lin J. "NRG1-Fc improves metabolic health via dual hepatic and central action." JCI Insight. 2018
Yu S, Cheng H, François M, Qualls-Creekmore E, Huesing C, He Y, Jiang Y, Gao H, Xu Y, Zsombok A, Derbenev AV, Nillni EA, Burk DH, Morrison CD, Berthoud HR, Münzberg H. "Preoptic leptin signaling modulates energy balance independent of body temperature regulation." Elife. 2018 Pubmed PMID: 29761783
Wang C, He Y, Xu P, Yang Y, Saito K, Xia Y, Yan X, Hinton A, Yan C, Ding H, Yu L, Shu G, Gupta R, Wu Q, Tong Q, Lagor WR, Flores ER and Xu Y. "TAp63 contributes to sexual dimorphism in POMC neuron functions and energy homeostasis." Nature Communica. 2018 Pubmed PMID: 29670083
Funding
Brain steroid receptor coactivators and energy homeostasis

- #P01 DK113954
$1,000,000.00 (07/01/2018 - 06/30/2019)
Grant funding from

NIH

Neurobiology for the sex differences in energy balance

- #R01 DK117281
$1,250,000.00 (04/01/2018 - 03/31/2023)
Grant funding from

NIH

Hypothalamic Grb10 and body weight

- #R01 DK115761
$630,488.00 (09/01/2018 - 08/31/2022)
Grant funding from

NIH