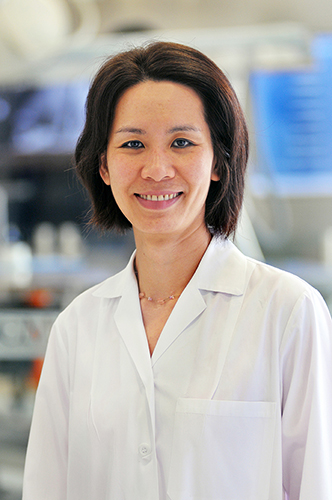 Email
Addresses
Department of Pathology, Texas Children's Hospital (Office)

1102 Bates Avenue

Feigin Center, room FC 0830.21

Houston, Texas 77030

United States

(832) 824-5202

tphung@bcm.edu
Websites
Is this you?Log in to edit your profile.
Positions
Assistant Professor

Pathology & Immunology
Baylor College of Medicine
Houston, TX, US

Member

Dan L Duncan Comprehensive Cancer Center
Baylor College of Medicine
Houston, Texas, United States
Education
Postdoctoral Fellowship at Beth Israel Deaconess Medical Center and Harvard Medical School

Boston, MA, United States

Clinical Fellowship at Harvard Medical School

Boston, MA, United States

MD-PhD from University Of Rochester

Rochester, NY, United States

MS from University Of Oxford

Oxford, United Kingdom
Certifications
Diplomat, Anatomic Pathology

The American Board of Pathology

Diplomat, Dermatopathology

The American Board of Pathology and the American Board of Dermatology
Honors & Awards
Fulbright & Jaworski L.L.P. Faculty Excellence Award in Teaching and Evaluation

Baylor College of Medicine

Research Mentor Award, Department of Pathology

Texas Children's Hospital

Young Investigator Awards Finalist, XIIIth International Vascular Biology Meeting

Editorial Board

Cancer Research

Skin Cancer Protocol Review Panel

College of American Pathologists (CAP)

Dermatopathology Abstract Review Board

United States and Canadian Academy of Pathology (USCAP)

Annual Conference Planning Committee

Pediatric Dermatology Research Alliance
Professional Interests
Signal transduction pathways in the vasculature
Pediatric dermatopathology
Global pathology
Professional Statement
I am a clinician-scientist with clinical expertise in Dermatopathology (skin pathology), and research expertise in pathological angiogenesis in cancer and vascular anomalies. As an attending dermatopathologist, my clinical work includes diagnostic assessment of skin specimens and working with the Dermatology Department to enhance diagnostic services for children and adults with skin disorders. I have co-authored a comprehensive medical textbook "Pediatric Dermatopathology" to be published by Springer-Verlag in early 2017.
My research work focuses on understanding mechanisms of growth factor signal transduction pathways in the regulation of pathological angiogenesis. My research goals are (1) to understand the role of the microenvironment in tumor progression and metastasis, with a particular focus on molecular mechanisms that drive the growth of blood vessels in tumors (tumor angiogenesis), and (2) to determine mechanisms in vascular development and growth (vascular anomalies) in children. We are investigating the molecular basis of vascular growth at the molecular, cellular and organism levels with relevant translational applications to the understanding and new therapy for pathological angiogenesis in human diseases. (Phung lab webpage: https://www.bcm.edu/research/labs/thuy-phung).
I am the Associate Director of Global Pathology, Department of Pathology, Texas Children's Hospital. My global health work focuses on child health and global pathology. In child health, I am a co-founder of the Vietnam Vascular Anomalies Center (VVAC), established in 2009 in Ho Chi Minh City, Vietnam. VVAC is a multi-disciplinary clinic founded through partnerships between Vietnamese and US physicians to provide humanitarian medical care for children with vascular and pigmented birthmarks, and to promote mutual collaboration between Vietnamese and US physicians to improve the health of these children. (Website: www.VietnamVAC.org). In global pathology, I am a Visiting Professor at the University of Medicine and Pharmacy, Hue City, Vietnam, and at the University of Medicine and Pharmacy, Ho Chi Minh City, Vietnam. Since 2012, I have been spearheading efforts to establish a network of global pathology connections in Vietnam and the Asia Pacific region. I have been working in collaboration with pathologists in the US, Canada, Hong Kong and Vietnam to organize CME conferences and provide subspecialty training in anatomic pathology in Vietnam, including dermatopathology. I have recently established a tele-pathology program for real-time pathology consultation and training with pathologists in Vietnam, utilizing whole slide imaging technology (digital pathology).
Selected Publications
Haws AL, Rojano R, Tahan SR, Phung TL. "Accuracy of biopsy sampling for subtyping basal cell carcinoma.." J. Am. Acad. Dermatol.. 2012 January;66(1):106-11. Pubmed PMID: 21798620
Thuy L. Phung, Wa Du, Qi Xue, Sriram Ayyaswamy, Damien Gerald, Zeus Antonello, Sokha Nhek, Carole A. Perruzzi, Isabel Acevedo, Rajesh Ramanna-Valmiki, Paul Rodriguez-Waitkus, et al.. "Akt1 and Akt3 exert opposing roles in the regulation of vascular tumor growth. Cancer Research; 75(1) January 1, 2015."
Lahat G, Dhuka AR, Hallevi H, Xiao L, Zou C, Smith KD, Phung TL, Pollock RE, Benjamin R, Hunt KK, Lazar AJ, Lev D. "Angiosarcoma: clinical and molecular insights.." Ann. Surg.. 2010 June;251(6):1098-106. Pubmed PMID: 20485141
Phung TL, Pipkin CA, Tahan SR, Chiu DS. "Beta-lactam antibiotic-induced pseudoporphyria.." J. Am. Acad. Dermatol.. 2004 August;51(2):S80-2. Pubmed PMID: 15280819
Phung TL, Oble DA, Jia W, Benjamin LE, Mihm MC, Nelson JS. "Can the wound healing response of human skin be modulated after laser treatment and the effects of exposure extended? Implications on the combined use of the pulsed dye laser and a topical angiogenesis inhibitor for treatment of port wine stain birthmarks." Lasers Surg Med. 2008 January;40(1):41279. Pubmed PMID: 18220264
Phung TL, Hochman M, Mihm MC. "Current knowledge of the pathogenesis of infantile hemangiomas.." Arch Facial Plast Surg. 7(5):319-21. Pubmed PMID: 16172341
"Du W, Gerald D, Perruzzi CA, Rodriguez-Waitkus P, Enayati L, Krishnan B, Edmonds J, Hochman ML, Lev DC, Phung TL. Vascular tumors have increased p70 S6-kinase activation and are inhibited by topical rapamycin. Lab Invest 2013;93:1115-27.."
Phung TL, Eyiah-Mensah G, O'Donnell RK, Bieniek R, Shechter S, Walsh K, Kuperwasser C, Benjamin LE. "Endothelial Akt signaling is rate-limiting for rapamycin inhibition of mouse mammary tumor progression.." Cancer Res.. 2007 June 1;67(11):5070-5. Pubmed PMID: 17545582
"Hoang Van Minh, Bui Van Duc and Thuy L. Phung. Clinical Characteristics and Treatment of Leprosy (in press, Current Tropical Medicine Reports)."
Jia W, Sun V, Tran N, Choi B, Liu SW, Mihm MC, Phung TL, Nelson JS. "Long-term blood vessel removal with combined laser and topical rapamycin antiangiogenic therapy: Implications for effective port wine stain treatment.." Lasers Surg Med. 2010 February;42(2):105-12. Pubmed PMID: 20166161
"Mahmoud Bokhary and Thuy L. Phung. Molecular Pathogenesis of Leprosy (in press, Current Tropical Medicine Reports)."
"Medical textbook: Thuy Phung, Teresa Wright, Crystal Pourciau and Bruce Smoller. "Pediatric Dermatopathology", Springer International Publishing, 2017, ISBN 978-3-319-44822-0."
Sun JF, Phung T, Shiojima I, Felske T, Upalakalin JN, Feng D, Kornaga T, Dor T, Dvorak AM, Walsh K, Benjamin LE. "Microvascular patterning is controlled by fine-tuning the Akt signal.." Proc. Natl. Acad. Sci. U.S.A.. 2005 January 4;102(1):128-33. Pubmed PMID: 15611473
Nelson JS, Jia W, Phung TL, Mihm MC. "Observations on enhanced port wine stain blanching induced by combined pulsed dye laser and rapamycin administration.." Lasers Surg Med. 2011 December;43(10):939-42. Pubmed PMID: 22127673
Phung TL, Hochman M. "Pathogenesis of infantile hemangioma.." Facial Plast Surg. 2012 December;28(6):554-62. Pubmed PMID: 23188682
Phung TL, Ziv K, Dabydeen D, Eyiah-Mensah G, Riveros M, Perruzzi C, Sun J, Monahan-Earley RA, Shiojima I, Nagy JA, Lin MI, Walsh K, Dvorak AM, Briscoe DM, Neeman M, Sessa WC, Dvorak HF, Benjamin LE. "Pathological angiogenesis is induced by sustained Akt signaling and inhibited by rapamycin.." Cancer Cell. 2006 August;10(2):159-70. Pubmed PMID: 16904613
Metry DW, Garzon MC, Drolet BA, Frommelt P, Haggstrom A, Hall J, Hess CP, Heyer GL, Siegel D, Baselga E, Katowitz W, Levy ML, Mancini A, Maronn ML, Phung T, Pope E, Sun G, Frieden IJ. "PHACE syndrome: current knowledge, future directions.." Pediatr Dermatol. 26(4):381-98. Pubmed PMID: 19689512
Phung TL, Roncone A, Jensen KL, Sparks CE, Sparks JD. "Phosphoinositide 3-kinase activity is necessary for insulin-dependent inhibition of apolipoprotein B secretion by rat hepatocytes and localizes to the endoplasmic reticulum.." J. Biol. Chem.. 1997 December 5;272(49):30693-702. Pubmed PMID: 9388205
Hu S, Kim CC, Jessup C, Phung TL, Curiel-Lewandrowski C. "Primary cutaneous melanomas seen as inflamed pigmented lesions in patients undergoing adjuvant interferon treatment: a possible diagnostic clue for physicians.." Arch Dermatol. 2009 May;145(5):565-8. Pubmed PMID: 19451501
Caterson SA, Nyame T, Phung T, Lee B, Tobias AM. "Pyoderma gangrenosum following bilateral deep inferior epigastric perforator flap breast reconstruction.." J Reconstr Microsurg. 2010 September;26(7):475-9. Pubmed PMID: 20535668
Xue Q, Nagy JA, Manseau EJ, Phung TL, Dvorak HF, Benjamin LE. "Rapamycin inhibition of the Akt/mTOR pathway blocks select stages of VEGF-A164-driven angiogenesis, in part by blocking S6Kinase.." Arterioscler. Thromb. Vasc. Biol.. 2009 August;29(8):1172-8. Pubmed PMID: 19443844
Kazerounian S, Gerald D, Huang M, Chin YR, Udayakumar D, Zheng N, O'Donnell RK, Perruzzi C, Mangiante L, Pourat J, Phung TL, Bravo-Nuevo A, Shechter S, McNamara S, Duhadaway JB, Kocher ON, Brown LF, Toker A, Prendergast GC, Benjamin LE. "RhoB Differentially Controls Akt Function in Tumor Cells and Stromal Endothelial Cells during Breast Tumorigenesis.." Cancer Res.. 2013 January 1;73(1):50-61. Pubmed PMID: 23135917
Phung TL, Mooney RA, Kulas DT, Sparks CE, Sparks JD. "Suppression of the protein tyrosine phosphatase LAR reduces apolipoprotein B secretion by McA-RH7777 rat hepatoma cells.." Biochem. Biophys. Res. Commun.. 1997 August 18;237(2):367-71. Pubmed PMID: 9268718
Memberships
Fellow of the College of American Pathologists (FCAP)

American Association for Cancer Research (AACR)
Funding
National Institute of Arthritis and Musculoskeletal and Skin Diseases R03 grant

NIH

ACS Research Scholar Grant

American Cancer Society

AHA Beginning-Grant-in-Aid

American Heart Association

K08 Clinician Scientist Career Development Award

NIH