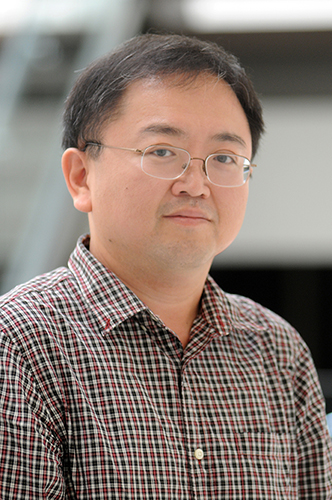 Email
Phone
Addresses
Office

BCM-Michael DeBakey Center

Room: BCMM-M711A

Mail Stop: BCM130

Houston, Texas 77030

United States

Lab (Lab)

BCM-Micheal DeBakey Center

Room: BCMM-M711

Houston, Texas 77030

United States
Websites
Is this you?Log in to edit your profile.
Positions
Associate Professor

Mol & Cell Biology-Mol.Regulation
Dan L. Duncan Cancer Center and Center for Reproductive Medicine
Baylor College of Medicine
Houston, TX, US

Member

Dan L Duncan Comprehensive Cancer Center
Baylor College of Medicine
Houston, Texas, United States
Education
Post-Doctoral Fellowship at Samsung Biomedical Reserach Institute

03/1997 - Seoul, South Korea

PhD from Seoul National University

02/1997 - Seoul, South Korea

Post-Doctoral Fellowship at Baylor College Of Medicine

06/2000 - Houston, Texas, United States
Certifications
Medical Degree

BCM
Professional Interests
Pathogenic Role of Steroid Receptor Coactivator and Nuclear Receptor in Women's Reproductive Disease
Professional Statement
Among women's reproductive disease, my lab has studies to figure out the molecular etiology of endometriosis and endometriosis-associated diseases. To achieve our scientific goal, my lab has three projects as follows:
Project 1: To Dissect Novel Molecular Pathogenesis of Endometriosis and Develops Small Molecular Inhibitors for Alternative Endometriosis Treatment: Endometriosis has been known as an estrogen-dependent inflammatory disease because estrogen signaling has an essential role in the pathogenesis of endometriosis. Therefore, previous endometriosis treatments systematically blocked estrogen signaling in endometriosis patients. However, this type of estrogen deficiency therapy has harmful side effects in other estrogen target tissues such as bone and brain, and administering such therapy to young women during their reproductive years can decrease bone production and depress mood. My strong interest in endometriosis led to my becoming the first to identify the new SRC-1 isoform that is required for endometriosis progression, which resulted in a publication (Han et al., Nature Medicine 2012). This finding is being further developed to find out how the SRC-1 isoform integrates estrogen signaling with the inflammatory response in ectopic lesions and how it cooperates with ERβ to promote ectopic lesion growth. Therefore, our novel ERβ/SRC-1 complex module will have profound impacts on current endometriosis paradigms and on alternative endometriosis treatments without the side effects of estrogen deficiency therapy.
Project 2: To Discover Main Causing Factors Induce Endometriosis-Associated Infertility: The disease afflicts 10%-15% of menstruating women causing debilitating pain and infertility. Endometriosis appears to affect every part of a woman's reproductive system including ovarian function, oocyte quality, embryo development and implantation, uterine function and the endocrine system choreographing the reproductive process and results in infertility or spontaneous pregnancy loss. Identifying and understanding the cellular and molecular mechanisms responsible for endometriosis-associated infertility might help unravel the confounding multiplicities of infertility and provide insights into novel therapeutic approaches and potentially curative treatments for endometriosis.
Project 3: Identification of Key Drivers of Tumorigenesis in Endometriotic Tissues: Endometriosis is classically defined as the presence of endometrial glands and stroma outside of the endometrial lining and uterine musculature. With an estimated frequency of 5%-10% among women of reproductive age, endometriosis is a common gynecologic disorder. While in itself a benign lesion, endometriosis shares several characteristics with invasive cancer, has been shown to undergo malignant transformation, and has been associated with an increased risk of epithelial ovarian carcinoma (EOC). Numerous epidemiologic studies have shown an increased risk of EOC among women with endometriosis. This is particularly true for women with endometrioid and clear cell ovarian carcinoma. However, the carcinogenic pathways by which endometriosis associated ovarian carcinoma (EAOC) develops remain poorly understood. Current molecular studies have sought to link endometriosis with EAOC through pathways related to oxidative stress, inflammation and hyperestrogenism. In addition, numerous studies have sought to identify an intermediary lesion between endometriosis and EAOC that may allow for the identification of endometriosis at greatest risk for malignant transformation or for the prevention of malignant transformation of this common gynecologic disorder. The objective of the current article is to review the current data regarding the molecular events associated with EAOC development from endometriosis, with a primary focus on malignancies of the endometrioid and clear cell histologic sub-types.
Funding
THE ERBETA/SRC-1 ISOFORM COMPLEX DRIVES ENDOMETRIOSIS PROGRESSION

- #R01HD082786
Grant funding from

EUNICE KENNEDY SHRIVER NATIONAL INSTITUTE OF CHILD HEALTH & HUMAN DEVELOPMENT

The major goals of this project are 1. Identify effective SRC-1 isoform Small Molecule Inhibitor to suppress the growth of established ectopic lesions in mice with surgically induced endometriosis. 2. Determine the effectiveness of combination treatment with both a SRC-1 isoform Small Molecule Inhibitor and PHTPP, ERbeta selective antagonist to suppress ectopic lesion growth. Based on the results from this Specific Aim, we expect to develop a new endometriosis treatment paradigm. This new endometriosis therapy should efficiently block both the nongenomic and genomic pathways driven by the ERβ/SRC-1-isoform complex in ectopic lesions, thus specifically suppressing ectopic lesion growth without interfering with the physiological effects of ER alpha necessary for normal reproductive function and the maintenance of bone density. This treatment approach would also avoid other harmful side effects associated with COX-2 inhibitor-based therapies.

Estrogen Receptor Beta Targeted Endometriosis Therapy

Grant funding from

Mike Hogg Fund

Based on the essential role of ERβ in ectopic lesion progression, we hypothesize that Small Molecule Inhibitor against ERβ (SMI-EB) should specifically prevent ERβ-mediated survival process in ectopic lesions, suppressing endometriosis progression without side effects from previous endometriosis therapy. Using 973 FDA approved drug screen library (Selleckchem) and HeLa cells expressing ERβ luciferase fusion protein, we will identify SMI-EB that effectively destabilize ERβ protein. After in vitro screening, we will non-invasively and exquisitely determine effects of elected SMI-EB in suppression of ectopic lesion growth in vivo.

Identification of Nuclear Receptor Genomic Network that link Endometriosis to Birth Defects

- #5 U24 DK097748-04
Grant funding from

NIDDK

The overall goal of this proposal is to first generate a global "omics" level profile of ERβ function in endometriotic lesions and eutopic endometrium using a mouse model of endometriosis. Therefore, this project should advance our understanding of how ectopic and eutopic endometrial ERβ signaling cooperatively modulates the progression of endometriotic lesions and the development of endometriosis-associated birth defects.