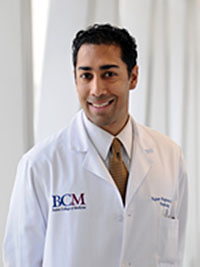 Email
Phone
Addresses
Baylor College of Medicine Medical Center, McNair Campus (Clinic)

7200 Cambridge St., 8th Floor, Suite 8B

Houston, Texas 77030

United States

(713) 798-8355

rajeevr@bcm.edu
Websites
Informative, educational, cartoon-style video on treatment options for patients with advanced kidney disease.
Is this you?Log in to edit your profile.
Positions
Associate Professor - Program Director Nephrology Training Program

Medicine-Nephrology
Baylor College of Medicine
Houston, TX, US
Board Certifications
American Board of Internal Medicine

Nephrology

American Board of Internal Medicine
Clinical Interests
Rheumatologic and glomerular diseases, renal ultrasonography, peritoneal dialysis, chronic kidney disease, hypertension, and acid-base/electrolyte disturbances
Education
BS from Case Western Reserve University

05/2001 - Cleveland, Ohio, United States
Chemical Engineering

M.D. from Baylor College Of Medicine

01/2005 - Houston, TX, United States

Residency at Baylor College of Medicine

06/2008 - Houston, Texas, United States
Internal Medicine

Clinical Fellowship at Baylor College of Medicine

05/2010 - Houston, United States
Nephrology

Fellowship at Emory University

Atlanta, Georgia, United States
Fellowship in Renal Ultrasonography
Dr. Rajeev Raghavan is a board certified internist and nephrologist. He sees outpatients at the Baylor Clinic and the Smith Clinic (Harris Health), as well as at several hemo- and peritoneal- dialysis clinics around Houston. He is the medical director at SNG Renal Solutions Dialysis Clinic. Dr. Raghavan rounds during select months at the CHI Baylor St. Luke's Hospital and the Ben Taub Hospital. His clinical interests include peritoneal dialysis, glomerular diseases (for example: protein or blood in the urine), and general chronic kidney disease.
He is a respected clinician educator at the Baylor College of Medicine. Since 2015, he has served as the Program Director for the nephrology fellowship training program. He is an active member of the prestigious curriculum committee and former Chair of the foundational sciences sub-committee. He is also the renal pathophysiology course director. Dr. Raghavan's research interests include health disparity in disadvantaged populations, and in particular the care of undocumented immigrants with advanced kidney disease. He is a national authority on this subject and advocates for change in public policy.
As an educator, Dr. Raghavan enjoys educating his patients about their disease. Finally, he is an exceptional cellist and performs with the Texas Medical Center Orchestra.
Memberships
American Society of Nephrology

Texas Medical Society
Selected Publications
Raghavan R, Nuila R. "Survivors--dialysis, immigration, and U.S. law.." N. Engl. J. Med.. 2011 June 9;364(23):2183-5. Pubmed PMID: 21651391
Raghavan R, Eknoyan G. "Music, musicians, medicine, and the kidney." 2014 January;27(1):50-6. Pubmed PMID: 24033748
Raghavan R. "Understanding Electrolytes: 15 Interactive Teaching Cases.." MedEdPortal. 2013
Raghavan R, Jeroudi A, Achkar K, Gaber AO, Patel SJ, Abdellatif A. "Bortezomib in kidney transplantation.." J Transplant. 2010;2010 Pubmed PMID: 20953363
Raghavan R, Ferlic-Stark L, Clarke C, Rungta M, Goodgame R. "The role of patient religiosity in the evaluation and treatment outcomes for chronic HCV infection.." J Relig Health. 2013 March;52(1):79-90. Pubmed PMID: 21246281
Airy M1, Raghavan R, Truong LD, Eknoyan G. "Tubulointerstitial nephritis and cancer chemotherapy: update on a neglected clinical entity.." Nephrol Dial Transplant. 2013 September;28(10):2502-10. Pubmed PMID: 24009289
Raghavan R. "When Access to Chronic Dialysis is Limited: One Center's Approach to Emergent Hemodialysis.." Semin Dial. 2012 May;25(3):267-71. Pubmed PMID: 22494194
Raghavan R, Jeroudi A, Achkar K, Suki W, Gaber AO, Knight R, Land G, Dilioglou S, Patel S, Abdellatif A. "Bortezomib in kidney transplant desensitization: a case report.." Clin Transpl. 2009:339-42. Pubmed PMID: 20524295
Berlinger N, Raghavan R.. "Bending the Rules, Working the System, and the Temptation to Turf.." Hastings Ctr Report. 2013 January:14-17. Pubmed PMID: 23315847
Raghavan R. Sheikh-Hamad, D.. "Descriptive Analysis of Undocumented Residents with End-Stage Renal Disease in Public Hospital System." Dialysis Transplantation. 2011 February(2):45-48.
Kuruvilla R, Raghavan R. "Health care for undocumented immigrants in Texas: past, present, and future.." Tex Med. 2014 July;110(7):e1. Pubmed PMID: 25147984
Raghavan R, Eknoyan G. "Acute interstitial nephritis - a reappraisal and update." Clin Nephrol. 2014 September;82(3):149-62. Pubmed PMID: 25079860
Raghavan R; Hale J. "Making Music." Am J Kid Disease. 2015 January;65:A65-67. Pubmed PMID: 25523806
Raghavan R, Winkelmayer WC. "Treated and Untreated Kidney Failure: Quantifying an Outcome." Am J Kid Dis. 2016 August 1;66(2):187-89. Pubmed PMID: 26210724
Raghavan R. "New Opportunities for Funding Dialysis-Dependent Undocumented Individuals." Clin J Am Soc Neph. 2017 February 8;12(2):370-375. Pubmed PMID: 27577244