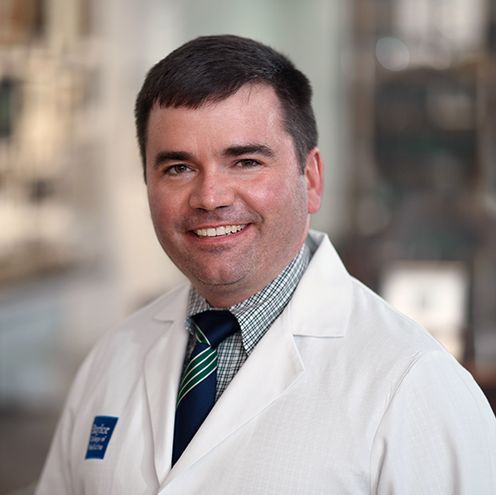 Addresses
General Thoracic Surgery (Clinic)

Baylor College of Medicine Medical Center McNair Campus

7200 Cambridge Street

Suite 6A

Houston, Texas 77030

United States

(713) 798-6376

lungsched@bcm.edu MAP IT

Lung Transplantation (Hospital)

Heart and Lung Transplant Center

6770 Bertner Avenue

Houston, Texas 77030

United States

(832) 355-3000
Websites
Is this you?Log in to edit your profile.
Positions
Assistant Professor of Surgery

Division of General Thoracic Surgery
Baylor College of Medicine
Education
Clinical Fellowship at University of Virginia Health System

Charlottesville
Thoracic Surgery

Research Fellowship at Virginia Mason Medical Center

Seattle
Thoraco-esophageal diseases

Residency at Rhode Island Hospital / Brown University

Providence
General Surgery

MD from University of Kansas School of Medicine

Kansas City

MS from University of Aberdeen

Aberdeen
Medical Molecular Genetics

BS from Washington and Lee University

Lexington
Biology
Certifications
American Board of Thoracic Surgery
American Board of Surgery
Honors & Awards
Clinical Nutrition Fellowship for Physicians

Nestle Nutrition Institute
Professional Statement
Dr. Philip W. Carrott as an assistant professor of surgery in the Divisions of General Thoracic Surgery and Cardiothoracic Transplantation & Circulatory Support. He is board-certified in General Surgery and Thoracic Surgery.
A native of Kansas City, Dr. Carrott completed his undergraduate education at Washington and Lee University in Lexington, Virginia. He then earned his medical degree at the University of Kansas, and went on to complete his general surgery training at Brown University in Providence, Rhode Island. Dr. Carrott then did a research fellowship in esophageal disease at Virginia Mason Medical Center in Seattle, Washington, before completing his training with a fellowship in thoracic surgery at the University of Virginia in Charlottesville, Virginia. In 2013, Dr. Carrott joined the faculty at the University of Michigan as an assistant professor, and now joins us here at Baylor College of Medicine.
Dr. Carrott specializes in thoracic surgery and lung transplantation and treats benign and malignant disorders of the lung, esophagus, and chest wall. He uses minimally invasive techniques (video-assisted thoracic surgery or VATS, and laparoscopic abdominal surgery) whenever possible to treat lung cancer, thymic tumors, esophageal cancer, paraesophageal or hiatal hernias, achalasia, diaphragm paralysis and congenital diaphragm hernias, pectus excavatum deformities, and rib tumors. Dr. Carrott also has extensive experience with recurrent or re-operative hiatal hernias and lung surgery. His research interests include peri-operative nutrition support, enhanced recovery after surgery (ERAS), and ischemic pre-conditioning of the stomach prior to esophagectomy.
Dr. Carrott has been involved in resident and medical student teaching, and he developed a curriculum for nutrition and cardiothoracic surgery for students at the University of Michigan. He was the Chair of the Clinical Competency Committee (CCC) for the Thoracic Surgery Residency and Fellowship at the University of Michigan, and has received training from the ACGME in trainee assessment.
Dr. Carrott is a member of the Alpha Omega Alpha medical honor society and has been awarded for leadership in medical school and residency.
Selected Publications
Kuppusamy MK, Hubka M, Felisky CD, Carrott P, Kline EM, Koehler RP, Low DE. "Evolving management strategies in esophageal perforation: Surgeons using nonoperative techniques to improve outcomes." J Am Coll Surg. Pubmed PMID: 21429768
Carrott Jr PW, Low DE. "Advances in the Management of Esophageal Perforation." Thorac Surg Clin. Pubmed PMID: 22040636
Carrott PW, Hong J, Kuppusamy M, Kirtland S, Koehler RP, Low DE. "Repair of giant paraesophageal hernias routinely produces improvement in respiratory function." J Thorac Cardiovasc Surg. Pubmed PMID: 22104674
Carrott PW, Hong J, Kuppusamy M, Koehler RP, Low DE. "Clinical ramifications of giant paraesophageal hernias are underappreciated: Making the case for routine surgical repair." Ann Thorac Surg. Pubmed PMID: 22742845
Carrott PW, Markar SR, Kuppusamy MK, Traverso LW, Low DE. "Accordion severity grading system: Assessment of relationship between costs, length of hospital stay, and survival in patients with complications after esophagectomy for cancer." J Am Coll Surg. Pubmed PMID: 22683069
Cleveland JD, Gazoni LM, Carrott PW, Norton PT, Ailawadi G. "Arrested bullet embolus to the aortic root." Ann Thorac Surg. Pubmed PMID: 23272864
Carrott PW, Markar SR, Hong J, Kuppusamy MK, Koehler RP, Low DE. "Iron-Deficiency Anemia Is a Common Presenting Issue with Giant Paraesophageal Hernia and Resolves Following Repair." J Gastrointest Surg. Pubmed PMID: 23515913
Carrott PW Jr, Jones DR. "Teaching video-assisted thoracic surgery (VATS) lobectomy." Journal of thoracic disease. Pubmed PMID: 24040525
He Y, Wang L, Liu W, Zhong J, Bai S, Wang Z, Thomas DG, Lin J, Reddy RM, Ramnath N, Carrott PW, Lynch WR, Orringer MB, Chang AC, Beer DG, Chen G. "MAP3K3 expression in tumor cells and tumorinfiltrating lymphocytes is correlated with favorable patient survival in lung cancer." Sci Rep. Pubmed PMID: 26088427
Philip Carrott, Jill R. Cherry-Bukowiec, Christopher M. Jones, Keith R. Miller, Laszlo Kiraly. "Nutrition Therapy in the Organ Donor: Theoretical Benefits and Barriers to Implementation." Curr Nutr Rep.
Memberships
American College of Surgeons

Fellow

Society for Surgery of the Alimentary Tract

Society of Thoracic Surgeons

International Association for the Study of Lung Cancer

International Society for Diseases of the Esophagus

Southern Thoracic Surgical Association

American Society for Parenteral and Enteral Nutrition

International Society of Heart and Lung Transplantation