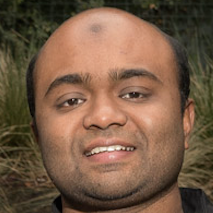 Email
Addresses
Baylor College of Medicine (Lab)

One Baylor Plaza

Room: T403 (Office) T405 (Lab)

Mail Stop: BCM335

Houston, Texas 77030

United States

(713) 798-7551

samee@bcm.edu
Websites
Is this you?Log in to edit your profile.
Positions
Assistant Professor

Molecular Physiology & Biophys
Baylor College of Medicine

Associate Faculty Member

Computational and Integrative Biomedical Research (CIBR) Center
Baylor College of Medicine

Member

Cardiovascular Research Institute (CVRI)
Baylor College of Medicine

Member

THINC@BCM
Baylor College of Medicine
Education
Postdoctoral Fellowship at Gladstone Institutes, University of California San Francisco

01/2019 - San Francisco, California, United States
Bioinformatics Fellow

PhD from University of Illinois Urbana Champaign

05/2015 - Urbana, Illinois, United States
Computer Science
Professional Interests
Machine Learning; Comparative Genomics; Transcriptional Regulation; Chromatin Organization; Application of computational genomics in tissue regeneration and cancer
Professional Statement
We want to explain how genotype translates to phenotype, and apply this knowledge in the context of tissue regeneration and cancer. In particular, we are working to relate DNA sequence and structure to the regulation of gene expression and chromatin organization under both normal (i.e., healthy/wildtype) and perturbed (i.e., diseased/mutant) conditions. To this end, we leverage machine learning, algorithms, biophysics, and comparative genomics to develop robust statistical models for massive and complex biological datasets.