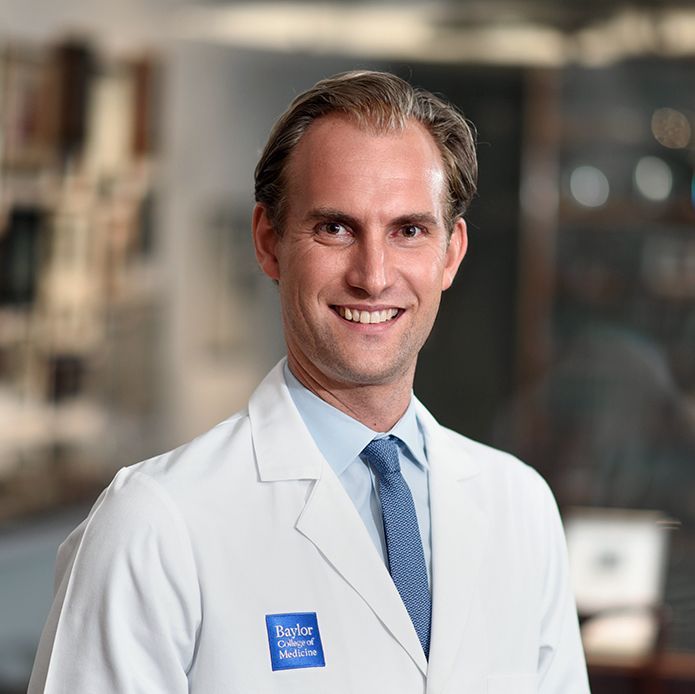 Email
Addresses
Baylor St. Luke's McNair Campus (Clinic)

7200 Cambridge 9th floor

Houston, Texas 77030

United States

(713) 798-4696
Is this you?Log in to edit your profile.
Positions
Assistant Professor

Neurosurgery
Baylor College of Medicine
Houston, TX, US
Education
MD from University of Leipzig

12/2007 - Leipzig, Germany

Residency at Department of Neurosurgery, University Hospital Zurich

03/2014 - Zurich, Switzerland

Clinical Fellowship at Vascular Neurosurgery, University of California San Francisco

06/2017 - San Francisco, United States

Clinical Fellowship at Endovascular Neurosurgery, New York University Langone Medical Center

09/2018 - New York, United States
Professional Statement
Dr. Burkhardt is an assistant professor of neurosurgery at Baylor College of Medicine in Houston who specializes in cerebrovascular surgery, both microsurgical and endovascular. Dr. Burkhardt earned his medical degree from the University of Leipzig in Germany and completed neurosurgery residency training at the University Hospital Zurich in Switzerland. He completed both a microsurgical vascular fellowship at University of California San Francisco (Dr. Lawton) and an endovascular fellowship at NYU Langone Medical Center in New York (Dr. Riina/Dr. Nelson). Besides his clinical practice, based primarily at Baylor St. Luke's Medical Center in Houston, Dr. Burkhardt is a productive researcher with over 120 peer-reviewed clinical and preclinical publications. An enthusiastic teacher, he also serves as vascular section editor for the Journal World Neurosurgery and as an ad hoc reviewer for many neurosurgical journals. Dr. Burkhardt speaks both English and German.
To make an appointment
call: (713) 798-4696
or email: neurosurgery@bcm.edu
Skills
Vascular Neurosurgery: Open Microsurgical and Endovascular Neurosurgery of Brain and Spine

Primary Area of Expertise - Neurosurgical Interests:
Aneurysms, Arteriovenous Malformations (AVMs), Arteriovenous Fistulas (AVFs) and Cerebral Cavernous Malformations.
Cerebral Revascularization and Intracranial Bypass Procedures.
Moyamoya Disease, Subarachnoid Hemorrhage, Intracranial Hemorrhage, Acute Stroke and Chronic Vessel Stenosis or Occlusion.