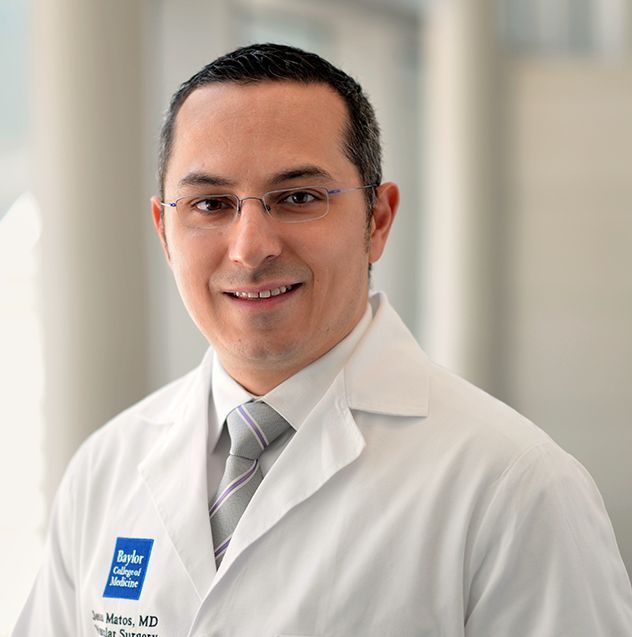 Addresses
Clinic

Baylor Clinic

6620 Main Street

Suite 1325

Houston, Texas 77030

United States

(713) 798-5700
Email
Phone
Websites
Is this you?Log in to edit your profile.
Positions
Assistant Professor of Surgery

Division of Vascular Surgery and Endovascular Therapy
Baylor College of Medicine
Houston, TX, US
Board Certifications
Board Certified

American Board of Surgery
Clinical Interests
Vascular Surgery
Carotid artery disease
Abdominal Aortic Aneurysm (AAA)
Peripheral and Renal artery disease
Thoracic outlet syndrome
Varicose veins
Venous insufficiency and ulcers
Dialysis access
Deep Vein thrombosis (DVT)
Wound care and limb salvage
Education
Fellowship at Baylor College of Medicine

Houston, Texas, United States
Vascular Surgery

Residency at Indiana University School of Medicine

Indianapolis

MD from Indiana University School of Medicine

Indianapolis

Fellowship at NIH

Indianapolis
T32 Research Fellowship
Professional Statement
Jesus Matos, M.D. is a board certified vascular surgeon working in Houston. Dr. Matos, earned his medical degree from Indiana University School of Medicine in 2005. He completed his general surgery residency also from Indiana University School of medicine in 2012. Dr. Matos took two years in between surgical training to do basic science research sponsored by an NIH T32 training grant. Dr. Matos completed his Vascular Surgery fellowship training at Baylor College of Medicine in 2014. He specializes in all aspects of surgical and endovascular treatment for arterial and venous disorders.
Honors & Awards
Association of Program Directors in Vascular Surgery

Executive Council Member

The Carl H. McCaskey Research Award

American College of Surgeons

Honors Program in Surgery

Indiana University School of Medicine
Selected Publications
Matos JM, de la Cruz KI, Ouzounian M, Preventza O, LeMaire SA, Coselli JS. "Endovascular repair as a bridge to surgical repair of an aortobronchial fistula complicating chronic residual aortic dissection." Tex Heart Inst J.
Matos JM, Barshes NR, Pisimisis G, Lin PH, Kougias P, Bechara CF. "Validating Common Carotid Artery Stenosis by duplex ultrasound with carotid angiogram or computed tomographic angiography scan." J Vasc Surg.
Krajcer Z, Matos JM. "Totally Percutaneous EVAR: 30-Day Results From the Independent Access Site Closure Study of the PEVAR Trial – ProGlide vs. SEVAR." Tex Heart Inst J.
Matos JM, Fajardo A, Dalsing MC, Motaganahalli RL, Akingba GA, Lemmon GW, Murphy MP. "Management of the Acutely Ischemic Limb in the Infant Population: Evidence for Non-Operative Management." J Vasc Surg.
Yip-Schneider MT, Doyle CJ, McKillop IH, Wentz SC, Brandon-Warner E, Matos JM, Sandrasegaran K, Saxena R, Hennig ME, Wu H, Waters JA, Klein PJ, Froehlich JC, Max Schmidt C. "Alcohol Induces Liver Neoplasia in a Novel Alcohol-Preferring Rat Model." Alcohol Clin Exp Res.
Ziegler KM, Nakeeb A, Pitt HA, Schmidt CM, Bishop SN, Moreno J, Matos JM, Zyromski NJ, House MG, Madura JA, Howard TJ, Lillemoe KD. "Pancreatic surgery: evolution at a high-volume center." Surgery.
Matos JM, Grützmann R, Agaram NP, Saeger HD, Kumar HR, Lillemoe KD, Schmidt CM. "Solid pseudopapillary neoplasms of the pancreas: A multi-institutional study of 21 patients." J Surg Res.
Matos JM, Schmidt CM, Turrini O, Agaram NP, Niedergethmann M, Saeger HD, Merchant N, Johnson CS, Lillemoe KD, Grützmann R. "Pancreatic Acinar Cell Carcinoma: A Multi-institutional Study." J Gastrointest Surg.
Matos JM, Witzmann FA, Cummings OW, Schmidt CM. "A Pilot Study of Proteomic Profiles of Human Hepatocellular Carcinoma in the United States." J Surg Res.
Hennig M, Yip-Schneider MT, Klein P, Wentz S, Matos JM, Doyle C, Choi J, Wu H, O'Mara A, Menze A, Noble S, McKillop IH, Schmidt CM. "Ethanol-TGFalpha-MEK signaling promotes growth of human hepatocellular carcinoma." J Surg Res.