Dan Liu, Ph.D., B.S.
Picture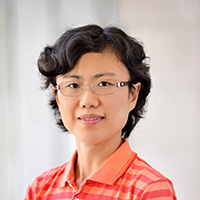 Email
danl@bcm.edu
Positions
Associate Professor

Biochemistry-Songyang Lab
Baylor College of Medicine
Houston, TX US
Director

Cell-based Assay Screening Service (C-BASS) core
Baylor College of Medicine
Houston, Texas United States
Addresses
BCM-MD Anderson Hall (Office)

Room: BCMA-337E
Houston, TX 77030
United States
Education
Post-Doctoral Fellowship at Baylor College Of Medicine

01/2003 - Houston, Texas United States
Biochemistry and Molecular Biology
PhD from Tufts University School Of Medicine

01/1998 - Boston, Texas United States
Immunology
BS from Beijing University

01/1992 - Beijing, China
Ecology
Honors & Awards
Postdoctoral Fellow

American Cancer Society (01/2003)
The V.C. Joshi Memorial Award

Baylor College of Medicine (01/2000)
Professional Statement
Cell Based Assay Screening Service (C-BASS) Core Facility
Genetic screens have been a powerful approach for defining signaling and developmental pathways in model organisms. However, such genetic strategies in mammalian systems have been hampered by a lack of tools. The emergence of RNAi as a tool for suppressing gene expression has invigorated the idea that such unbiased approaches can be applied to questions of human biology and disease. With the objective of facilitating BCM investigators in utilizing RNAi technologies, the Cell-based Assay Screening Service core provides instrumentation, resources, assistance, and advice for (1) performing whole-genome or sub-genome scale RNAi screens, (2) utilizing individual lentivirus-based shRNA vectors, (3) large-scale automated manipulation and preparation of shRNA libraries, (4) automated mammalian cell transfection and lentivirus production, (5) high-throughput cell-based assays using automated microscopy or flow cytometry, and (6) data analysis, storage, and management. To ensure optimal use of our services, we provide consultations and training for screen design, assay development, and data acquisition and analysis.
Websites