Baylor and Texas Children's Hospital partner to bring fellowship training in oncology and hematology to East Africa
Media Component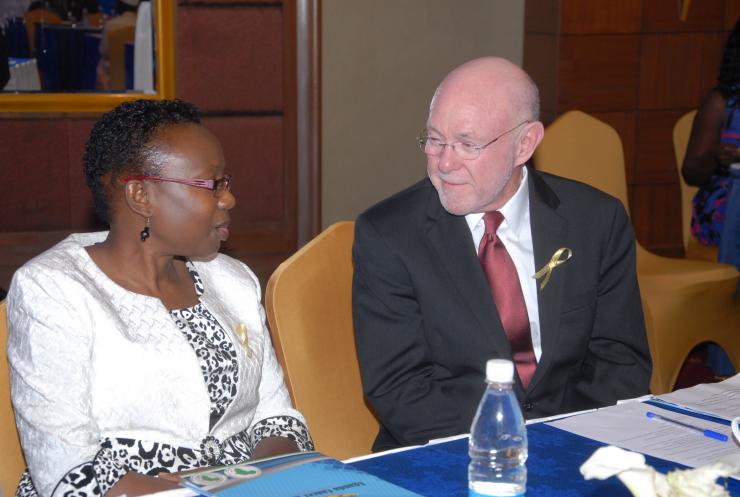 Content
Medical students and practicing pediatricians in Uganda and other East African countries lack access to specialty pediatric training and education in oncology and hematology in their region, despite the need for doctors to provide care for patients with cancer and blood disorders. A new program of Baylor College of Medicine and Texas Children's Hospital is addressing this need.
The East African Fellowship Training Program launched Sept. 1, a partnership between Baylor College of Medicine Children's Foundation – Uganda, Texas Children's, the Ministry of Health of the Republic of Uganda, the Makerere University College of Health Sciences, the Uganda Cancer Institute and the Mulago National Referral Hospital. Baylor-Uganda is part of the Baylor College of Medicine International Pediatric AIDS Initiative network of treatment centers.
In the U.S., pediatric cancer is being cured in more than 80 percent of children. However, in Sub-Saharan Africa, where over 100,000 children develop cancer each year, approximately 80 to 90 percent of children die. Similarly, in Western nations, the majority of children with blood disorders are properly diagnosed and receive timely treatment but in Sub-Saharan Africa, most are undiagnosed and untreated.
"The reasons for the dramatic differences in outcomes for children in these different settings is due to differences in the availability of appropriate diagnostic and therapeutic resources and the lack of trained hematology-oncology subspecialty physicians," said Dr. David Poplack, professor of pediatric oncology at Baylor and Director of Texas Children's Cancer and Hematology Centers, a joint program of Baylor and Texas Children's. "With this new program, the Republic of Uganda and the other East African nations are making a giant step toward closing this gap by implementing a comprehensive, innovative program designed to educate selected pediatricians of this region to become fully-trained experts in the care of children with cancer and blood diseases."
The program is being led by Dr. Joseph Lubega, assistant professor of pediatrics at Baylor who is based in Uganda through the global program of Texas Children's Cancer and Hematology Centers. Lubega also is leading a research program in Uganda focusing on Burkitt's lymphoma and supported through a St. Baldrick Foundation International Scholar award.
"The medical education path is much different in Uganda and elsewhere in Africa than it is in the United States, and to get specialty training in oncology and hematology, you typically have to leave the country," Lubega said. "This is the first fellowship program in Uganda and serves the whole region, and that's important because it means doctors can stay in this area and be trained where they are needed."
In the U.S., a fellowship in pediatric hematology/oncology is the third step in training, following medical school and a residency in pediatrics. In Uganda, most doctors enter practice immediately after medical school, with no additional training. Some, like Lubega, who is from Uganda, leave for more training and – unlike Lubega – often they do not return. Others simply learn on the job but many have very little experience with oncology and hematology.
The program has started with four fellows. They will complete a two-year program that focuses on five key areas:
• Developing the skills to diagnose pediatric patients with cancer and blood disorders and to manage the care of these patients.
• Performing procedures involved in the diagnosis and treatment of patients with cancer and blood disorders, including bone marrow biopsies, spinal taps and microscopy, and developing technical skills in other areas, such as handling and administering blood products.
• Building communication, professionalism and interpersonal skills that can be applied to interactions with patients, families and other health professionals, which often occur in situations of high stress and anxiety.
• Understanding the theoretical knowledge of pediatric oncology and hematology, including the biomedical, clinical, epidemiological and socio-behavioral sciences relevant to childhood cancer and blood disorders and applying this knowledge to patient care in a highly ethical manner.
• Developing research, leadership and quality improvement skills and an awareness of the systems of healthcare in Africa as well as the ability to mobilize resources to provide optimal care.
Lubega explained that Uganda was the ideal place to launch the program for several reasons. The country has a strong medical university and hospital system. It's also already home to a BIPAI Center of Excellence as well as a childhood cancer and hematology treatment program through Texas Children's Cancer and Hematology Centers' initiatives. Finally, there are up to 700 new patients diagnosed with childhood cancer in Uganda. These children have many of the same cancers as children in the U.S., but their disease is often far more advanced at the time of diagnosis due to the lack of specialty doctors and an unclear referral process.
In its first year, the program was only open to fellows in Uganda, but starting next year will expand to other East African countries. "It's very important that we have started this program in East Africa," Lubega said. "It can potentially help save a lot of kids, and it marks a new chapter of medical education in Uganda and in the region."
The program officially launched with a ceremony in Kampala, Uganda, that was attended by the Prime Minister, the minister of health, as well as survivors of cancer and sickle cell disease, who spoke about their treatment and disease, and Poplack, Lubega and other representatives from Baylor and Texas Children's.