Smartphone app for teens puts reliable health information at their fingertips
Media Component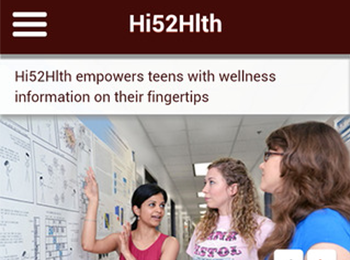 Content
A new app from the Baylor Teen Health Clinic puts healthcare information and resources at the fingertips of teens and young adults.
"Today's young people are at an advantage, because information is readily available with the use of smart phones," said Ruth Buzi, director of social services at the Baylor Teen Health Clinic and associate professor in the department of obstetrics and gynecology at Baylor College of Medicine. "However, many teens have trouble finding accurate health information, especially when it concerns sexual health. Using today's technology is a way to reach these tech savvy teens and provide them with accurate and useful health information."
The app, called Hi52hlth, was developed with Saviance Technologies. Some of the key features of the app include the ability to:
Content
Access information on services and programs provided by the Teen Health Clinic and other community organizations
Access educational materials including articles and informative videos on topics such as sexually transmitted infections, birth control and parenting
Search and view nearest clinics and treating clinicians
Content
The app builds on the efforts of the Teen Health Clinic to promote awareness among teens about sexual health, including the importance of getting tested for sexually transmitted infections and HIV. Its ability to connect users with nearby clinics and health centers is important, Buzi said, especially for those faced with an HIV-positive diagnosis.
Early linkage to care is critical for viral suppression – which means low level of HIV in the blood – and transmission prevention, Buzi said. However, adolescents are more likely to delay linkage to care than adults, she said.
"When we diagnose a young person with HIV, it's important to link them to care that is accessible and affordable so that they stay in care and on antiretroviral medication," Buzi said. "Unfortunately, we see a lot of young people delay or drop out of care, and that puts their health at risk."
The app isn't limited to information about sexual health. Users can find other healthcare providers, including dental care, primary care and more.
The app was developed with grant support from Gilead Sciences to the Baylor Teen Health Clinic. The Hi52hlth app is available for download free from Apple iTunes and Google Play Store. Find more information on the Hi52hlth app online.