St. Baldrick's awards eight faculty with cancer research grants
Media Component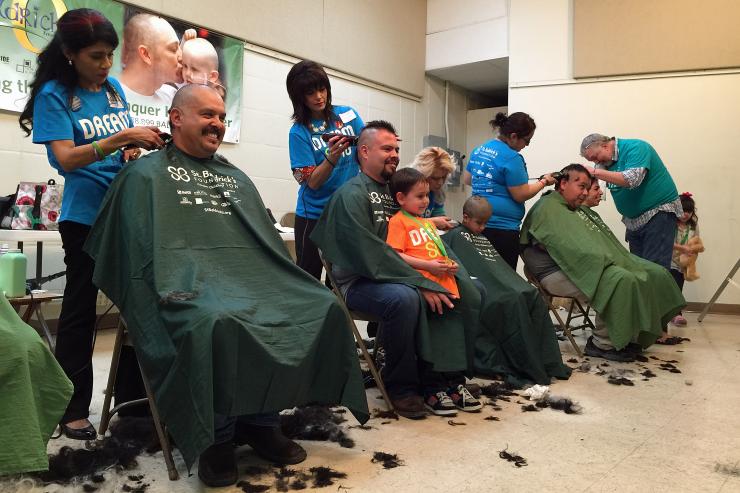 Content
The St. Baldrick's Foundation, a volunteer-powered charity dedicated to raising money for childhood cancer research, has announced its 2017 summer grant recipients, including eight from Baylor College of Medicine and Texas Children's Cancer Center.
"We are very grateful to St. Baldrick's Foundation," said Dr. David Poplack, director of Texas Children's Cancer Center, and professor and head of the hematology-oncology section of pediatrics at Baylor. "They are playing a leading role in funding the most promising and innovative research aimed at finding cures for childhood cancer."
The Consortium Research Grant, funding given to groups of researchers at multiple institutions who are collaborating on projects with great promise, has been awarded to Dr. Philip Lupo, assistant professor of pediatrics-oncology at Baylor. The grant, for $428,530, will support Lupo's project, "Reducing Ethnic Disparities in Acute Leukemia (REDIAL) Consortium," with the aim to expand and enhance an established network of childhood cancer centers. The consortium will work to tackle ethnic outcome disparities by generating an unmatched resource of clinical information and biological samples. This information will then be used to predict those who have the greatest risk of poor outcomes, with a focus on those of Hispanic ethnicity, to improve prevention and treatment strategies.
Dr. Carl Allen, assistant professor of pediatrics at Baylor, has received the St. Baldrick's Foundation Innovation Award for $150,000. The Innovation Award will support Allen's work in Langerhans Cell Histiocytosis, a potentially fatal disease characterized by inflammatory tumors. His project examines the role of inherited genes, acquired gene mutations and the origin of tumor cells to define the causes of LCH, with the ultimate goal to develop a personalized approach for each child.
Dr. Jade Wulff, instructor in pediatric hematology-oncology at Baylor, has been named a St. Baldrick's Fellow, a grant that provides two to three years of funding for childhood cancer researchers. Wulff's award, for $184,184, will help fund her research in Ewing sarcoma, particularly the study of the proteins that allow the disease to spread.
Four St. Baldrick's Scholars also were announced, granting three or more years of funding to early career professionals who are pursuing exciting cancer research. Dr. Eveline Barbieri, assistant professor of pediatrics at Baylor, is receiving a scholar extension grant for $110,324 to continue her research into developing novel targeted therapies for children with high-risk neuroblastoma whose disease is unresponsive to conventional therapies.
Dr. Maria Gramatges, assistant professor of pediatrics at Baylor, is receiving a scholar extension grant for $75,000 to fund an additional year of her work in studying the genetic markers characterizing the subpopulation of children and young adults with acute myeloid leukemia.
Assistant professor of pediatrics Dr. Nino Rainusso's scholar extension grant for $115,000 will fund an additional year of his work to identify cancer stem cells in pediatric sarcomas using patient derived tumor xenografts.
Dr. Saurabh Agarwal, an instructor in pediatrics, is being named the David's Warriors St. Baldrick's Scholar and receiving a grant for $199,955. Agarwal's research is focused on developing effective therapeutic approaches to target high-risk neuroblastoma tumor cells that become resistant to initial treatment and regenerate drug-resistant disease. His grant supports efforts to uncover the mechanisms controlling neuroblastoma tumorigenicity and relapse, as well as the development of an effective targeted approach for high-risk neuroblastoma.
The David's Warriors Hero Fund was created in memory of David Heard, who battled neuroblastoma until his passing at the age of 10. David inspired his family and countless others to commit to raising money for research to fight pediatric cancer through the St. Baldrick's Foundation. The Fund honors the amazing spirit with which he lived.
The International Scholar award provides funding to train researchers from low- and middle- income countries to prepare them to answer specific research questions related to childhood cancer in their home country. Dr. Joseph Lubega, an instructor in pediatrics at Baylor, is receiving the international scholar extension grant for $115,000. Lubega was awarded a new grant in 2016 to fund an additional year of this International Scholar award to study measures of infection-fighting proteins in children with and without Burkitt's lymphoma in Uganda. The goal is to discover if these infection-fighting proteins in blood or saliva can be used as specific indicators of Burkitt's lymphoma and developed into clinical tests for early detection and monitoring treatments for children with this type of cancer.
Drs. Poplack, Lupo, Allen, Barbieri, Gramatges and Rainusso also are members of the NCI-designated Dan L Duncan Comprehensive Cancer Center at Baylor.