Baylor researchers recognized with prestigious AAAS honor
Media Component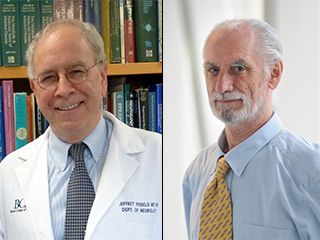 Content
Two Baylor College of Medicine researchers have been named 2017 Fellows of the American Association for the Advancement of Science.
This prestigious honor is awarded to AAAS members for their distinguished efforts toward advancing science applications that are deemed scientifically or socially distinguished.
The newest Baylor AAAS Fellows include:
In the section of Biological Sciences, Dr. Philip J. Hastings, professor of molecular and human genetics and member of the Dan L Duncan Comprehensive Cancer Center, for pioneering contributions to the understanding of mutagenesis, DNA repair and genetics and for exceptional educational contributions.
In the section of Neuroscience, Dr. Jeffrey L. Noebels, professor of neurology, neuroscience and molecular and human genetics, director of the Blue Bird Circle Developmental Neurogenetics Laboratory at Baylor and endowed chair in neurogenetics - Cullen Trust for Health Care, for distinguished contributions to the field of neuroscience and translational genomic research, particularly in neurological excitability disorders such as epilepsy.
Members of the AAAS, the world's largest general scientific society, nominate each Fellow while the organization's council, including its president, makes the final vote.
AAAS includes nearly 250 affiliated societies and academies of science, serving 10 million individuals with a goal of advancing science and serving society through initiatives in science policy, international programs, science education, public engagement and more.
Past Baylor AAAS Fellows include: Drs. Salih Wakil (1987), Thomas C. Caskey (1990), Bert O'Malley (1995), James Lupski (1996), Mary K. Estes (1999), Adam Kuspa (2005), Susan Rosenberg (2010), Margaret "Peggy" Goodell (2014), Brendan Lee (2014), Theodore Wensel (2014), David Nelson (2014), Michael A. Grusak (2015) and Jeffrey Rosen (2015).