Society for Endocrinology awards O'Malley 2014 Dale Medal
Content
Dr. Bert O'Malley, chair of molecular and cellular biology at Baylor College of Medicine, has been selected to receive the 2014 Dale Medal from the Society for Endocrinology. It is the Society's highest award given to a scientist who has changed the understanding of endocrinology in a fundamental way.
O'Malley will receive the award March 25, 2014, during the Society's meeting in Liverpool, UK. He also will deliver a lecture on his work on steroid hormones and steroid receptor coactivators.
Heading
Acclaimed research
Media Component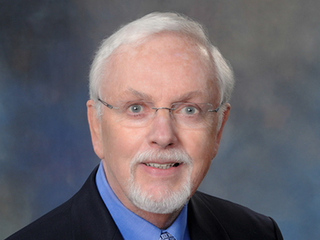 Content
O'Malley, recipient of the 2007 National Medal of Science, has centered his research around steroid hormones and determined how they work on the cell nucleus, genes and the level of gene expression. His laboratory discovered the first steroid receptor coactivator, and he has gone on to elucidate the function of these "master regulators" in both normal and cancer cells. He is known as the father of the field of molecular endocrinology.
"Dr. O'Malley is a master scientist whose work in the laboratory sheds new light on reproductive medicine and cancer as well as the normal operations of the cell," said Dr. Paul Klotman, president and CEO of BCM. "His contributions to the endocrinology field are significant, and this honor speaks to his impressive work."
O'Malley, associate director of the Dan L Duncan Cancer Center at BCM, is also known for his contributions to education. He has graduated more than 250 students and postdoctoral fellows, who now serve as professors, chief executive officers and deans at institutions around the world.
Content
He has been elected to membership in the National Academy of Sciences and the Institute of Medicine. He is a Fellow of the American Academy of Arts and Sciences and the American Association for the Advancement of Science and the American Academy of Microbiology. He has been inducted into the Royal Academy of Medicine in Ireland.
He is the recipient of numerous honorary degrees and many awards. He has published more than 650 papers and holds 22 patents in the fields of gene regulation, molecular endocrinology and steroid receptor action.
He heads one of the longest running National Institutes of Health Reproductive Training Grants and Center Programs in the United States. He is a Distinguished Professor and Scholar at BCM where he is valued for his administrative skills and continues to participate as an award-winning teacher in multiple yearly courses. He holds the Thomas C. Thompson Chair in Cell Biology.
Heading
Research at Baylor
Content
Read more about research at Baylor College of Medicine in our monthly newsletter From the Labs.