New palliative care fellowship program part of growing field
Media Component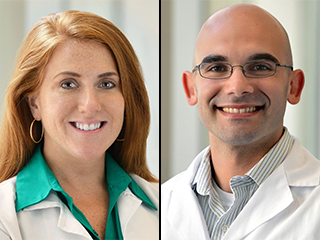 Content
Palliative care is an emerging field in pediatric subspecialty care, leading to the development of a new pediatric fellowship program at Baylor College of Medicine. The Pediatric Hospice and Palliative Medicine Fellowship will launch in July 2017, providing one year of specialty training for physicians interested in this field.
Pediatric palliative care is specialized medical care for children with serious and chronic illnesses. It focuses on providing relief from the symptoms and stress of a serious illness to improve quality of life for both the child and the family.
"Pediatric palliative care is a relatively new field nationwide. There are few pediatric training programs in the U.S., so there is a need to provide more training," said Dr. Jared Rubenstein, assistant professor of pediatrics and co-director of the new fellowship. "We are excited about the new program so we can cultivate passion and dedication for this growing field at our institution and nationally."
Many people think of palliative care as end-of-life care, but Dr. Jill Ann Jarrell, assistant professor of pediatrics and fellowship co-director, emphasized that it is much more than that. In addition to focusing on pain and other symptoms of disease, palliative care health professionals pay close attention to psycho-social needs of the patient and family, including financial concerns and religious beliefs and how these factors impact overall health and ability to cope with disease.
Texas Children's Hospital will serve as the primary clinical site for the Baylor College of Medicine Pediatric Hospice and Palliative Medicine Fellowship Program. Fellows in the program will conduct hospital rotations with the Texas Children's Pediatric Advanced Care Team, or PACT, which consists of doctors, nurses, social workers, chaplains, bereavement coordinators and other healthcare professionals who assist with goals of care discussions, complex care coordination, advanced symptom management, grief and bereavement support and end-of-life care. Fellows also will rotate with Houston Hospice on home and in-patient visits and with Health Bridge, a long-term care facility for children with chronic conditions. The fellowship also will include rotations with the anesthesia pain service, physical medicine and rehabilitation, hematology/oncology and other pediatric specialties, and a research component.
A devoted palliative care program at Baylor started with the establishment of the Section of Pediatric Hospice and Palliative Care in the Department of Pediatrics in summer 2016. The fellowship was approved by the Accreditation Council for Graduate Medical Education in January 2017. It is one of only 11 ACGME-accredited pediatric palliative care fellowship programs in the U.S., according to Dr. Jacqueline Levesque, assistant dean for graduate medical education at Baylor.
"Our establishment of a state-of-the-art palliative care program at Baylor and Texas Children's Hospital reflects our commitment to the holistic care of seriously ill children and their families," said Dr. Mark Kline, chair of the Department of Pediatrics at Baylor and physician-in-chief at Texas Children's. "Ultimately, we hope to drive education and innovation in palliative care in the same way that we do in so many other pediatric subspecialty areas."
Previously, residents and physicians at Baylor College of Medicine interested in palliative care received education through lectures and other informal outlets. The fellowship program will start with one fellow and later expand to two, which is in line with the size of other programs nationally.
"This new addition to our educational system demonstrates the breadth of opportunities available at Baylor and in the Texas Medical Center and will provide a great experience for trainees to learn more about the field, which goes well beyond providing care for those with terminal illnesses," Levesque said.
Find more information online about the Pediatric Hospice and Palliative Medicine Fellowship.