NCI renews lymphoma immunotherapy research grant
Media Component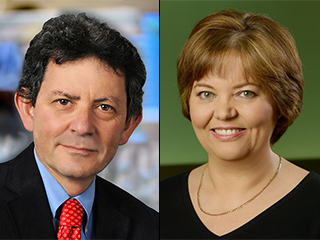 Content
The Center for Cell and Gene Therapy at Baylor College of Medicine, Houston Methodist Hospital and Texas Children's Hospital has received an $11.5 million, five-year renewal grant from the National Cancer Institute to continue advancing translational lymphoma research by developing and testing new forms of T-cell immunotherapies to fight the disease.

The grant is awarded through the NCI's Specialized Programs of Research Excellence (SPORE) funding, which was established to promote collaborative, interdisciplinary translational cancer research. The Center for Cell and Gene Therapy received the initial lymphoma SPORE grant in September 2007, received a renewal in 2012 and has received a second renewal in 2017.

The new grant funding will enable investigators to devise and test novel forms of first-in-man cellular immunotherapy mediated by T-cells and natural killer T (NKT) cells to treat non-Hodgkin lymphoma or Hodgkin lymphoma with the following goals.
Content
Use highly specific T and NKT cell immunotherapies to target multiple lymphoma antigens;
Increase the potency of the T and NKT cell immunotherapies for lymphoma;
Overcome the immune evasion tactics of lymphoma cells and their microenvironment; and
Make T and NKT cell immunotherapy more broadly applicable
Content
Dr. Helen Heslop, director of the Center for Cell and Gene Therapy and professor of medicine and pediatrics hematology/oncology at Baylor, serves as co-principal investigator along with Dr. Malcolm Brenner, founding director of the Center for Cell and Gene Therapy and a professor of medicine and pediatrics hematology/oncology at Baylor. Both also are members of the Cancer Cell and Gene Therapy research program in the NCI-designated Dan L Duncan Comprehensive Cancer Center at Baylor.
"The SPORE award is unique in that it encourages collaboration by bringing together basic and clinical investigators, along with core resources, that have a long history of productive translational research," Heslop said. "We are thrilled to continue our work through the SPORE grant to advance our understanding of lymphoma."

Heslop and Brenner will lead a team of Baylor investigators, which also includes Drs. Cliona Rooney, Ann Leen, Juan Vera, George Carrum, Premal Lulla, Max Mamonkin, Rayne Rouce, Carlos Ramos, Leonid Metelitsa, Bilal Omer, Tao Wang, Adrian Gee and Bambi Grilley. Drs. Andrea Marcogliese from Baylor and Youli Zu from Houston Methodist Hospital will lead the Tissue Bank while Dr. Carl Allen, co-director of Texas Children's Lymphoma Center, will coordinate the integration of pediatric lymphoma in the SPORE.
The SPORE also has a career enhancement program directed by Drs. Heslop, Martha Mims and Jenny Chang, and a developmental research program led by Drs. Brenner, Peggy Goodell and Stephen Gottschalk.
Heslop said she was pleased to see the advancements of previous career enhancement awardees Drs. Leen, Ramos and Rouce, who are now project leaders, while Dr. Mamonkin's project targeting T-cell lymphoma with CD5 CAR T-cells and Dr. Omer's strategy using a co-stimulatory CAR arose from developmental research awards.