Baylor College of Medicine names Dr. Alicia Monroe as first senior dean
Media Component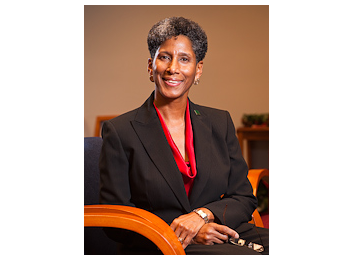 Content
Baylor College of Medicine has named Dr. Alicia D. H. Monroe as senior dean of education and senior vice president of academic affairs and faculty development, a new leadership position overarching all four schools of the College.
Monroe currently is the chief academic officer and vice dean of educational affairs at University of South Florida Morsani College of Medicine and is a professor of family medicine. Monroe's position at BCM will become effective February 2014.
"As a health sciences university with schools of medicine, biomedical sciences, allied health sciences and tropical medicine, it is important to have a senior dean to forge collaboration among the programs and provide additional assistance to strengthen each of them, said Dr. Paul E. Klotman, BCM president and CEO. "Investing in programs that support our faculty is a high priority for Baylor. Dr. Monroe is a recognized leader in mentoring, professionalism and development of academic medical leadership programs making her an excellent choice to also lead academic affairs and faculty development."
"Baylor College of Medicine is an outstanding institution with an exceptional portfolio of strengths and achievements. I am honored to join the team and look forward to collaborating with senior leaders, faculty, administrators and students to advance the BCM vision and mission," said Monroe.
At the University of South Florida, Monroe has held several leadership positions and has been instrumental in coordinating education programs. She joined USF Health in 2008. At USF, she oversees undergraduate medical education programs, the physical therapy program and the master's program in graduate studies. She has focused on reengineering medical education to enhance student readiness for postgraduate training and medical practice.
In partnership with the Lehigh Valley Health Network in Allentown, Penn., she developed the SELECT (Scholarly Excellence, Leadership Experiences, Collaborative Training) MD Program. She is the principal investigator of a new Professional Project jointly sponsored by the Institute on Medicine as a Profession and the Josiah Macy Jr. Foundation. The project supports the development of new initiatives and training around patient-centered care.
She previously served in leadership roles at the Warren Alpert Medical School of Brown University. At Brown, she was the associate dean for diversity on the Division of Biology and Medicine and a member of the Executive Leadership Council. She served as associate dean of medicine for minority affairs at Brown from 1996 to 2007.
Monroe has written and lectured extensively on curricula and faculty development topics.
She received her bachelor's degree in biology from Brown University in 1973 and her medical degree from Indiana University School of Medicine in 1977. She completed residency training in family practice at Methodist Hospital Graduate Medical Center in Indianapolis and an internship in psychiatry from Georgetown University Medical Center.
At Baylor College of Medicine, Monroe will provide oversight and support to the College's four schools – the Medical School, the Graduate School of Biomedical Sciences, the School of Allied Health Sciences and the National School of Tropical Medicine. In her role as vice president of academic affairs and faculty development, she will establish the Academic and Faculty Development Office which will focus on designing a comprehensive faculty orientation and development program including faculty mentoring and career development.
Heading
Research at Baylor
Content
Read more about research at Baylor College of Medicine in our monthly newsletter From the Labs.