Student awarded fellowship through New Americans Program
Media Component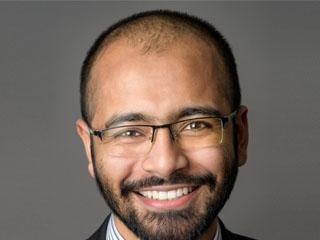 Content
The Paul & Daisy Soros Fellowships for New Americans, a graduate school program for immigrants and children of immigrants, today announced its 2018 fellows, which includes Baylor College of Medicine M.D./Ph.D. student Muhammad Saad Shamim. Shamim was one of 30 student selected from a pool of more than 1,700 applicants and will receive up to $90,000 in funding for his graduate program.
Shamim immigrated with his family to the United States from Pakistan at the age of 2. While completing his undergraduate studies at Rice University, he volunteered as an Advanced EMT with Houston 911 ambulance agencies and Rice University EMS, was awarded the Rice University Spirit of Service and Outstanding Senior Awards and was recognized as a Baker College Fellow.
At Baylor, Shamim has contributed to several publications in the field of 3-D genomics, and the National Institutes of Health ENCODE Project officially adopted the high-performance computing pipeline he co-developed for processing 3-D genomics datasets.
"Baylor and its partnerships across the Texas Medical Center have been key to my growth," Shamim said. "I've had the opportunity to work with exemplary mentors and colleagues on projects that will transform the future of medicine."
Shamim is pursuing his M.D./Ph.D. in bioengineering at Baylor and Rice. He is completing his second year in medical school and will be transitioning to Rice's bioengineering graduate program in the fall.
Founded by Hungarian immigrants Daisy M. Soros and her late husband, Paul Soros, the program honors continuing generations of immigrant contributions to the United States. Selection criteria focuses on accomplishments that show creativity, originality and initiative in light of the challenges and opportunities that have been part of the applicant's immigration experience. Selection is based on merit and the selection criteria emphasize creativity, originality, initiative and sustained accomplishment.
"This award is an incredible honor and an amazing recognition of the journey that a lot of immigrants take in the United States," Shamim said. "It acknowledges the challenges our families have overcome and our contributions to this amazing country that we call home."