Researchers find evidence of local transmission of dengue virus in Houston
Media Component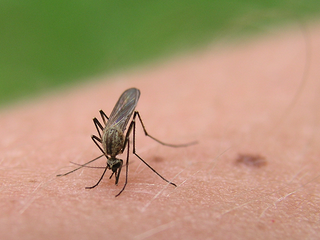 Content
In a retrospective study of three years of blood and cerebrospinal fluid samples submitted for West Nile virus testing in the Houston area, researchers at the National School of Tropical Medicine at Baylor College of Medicine found that 47 of the samples were positive for dengue virus. Their report appears today in the journal Vector-Borne and Zoonotic Diseases.
"We looked at clinical specimens that were banked at the city laboratory to see if there were potentially any other viruses that we could detect that weren't known to be circulating in Houston but have the high potential to do so," said Dr. Kristy Murray, associate professor and associate vice chair of research in the Department of Pediatrics at BCM and director of the Laboratory of Viral and Zoonotic Diseases at Texas Children's Hospital. "We started with dengue virus since it was highest on the list of possible transmission here in Houston because we have the right kind of mosquitoes and a very large, densely populated city full of frequent travel to endemic areas, including Mexico and Central and South America."
Content
Dengue virus is spread through mosquitoes, similar to the way in which West Nile virus is transmitted. However, it is spread by a different mosquito, mostly the Asian tiger mosquito, which is rampant in the city. These are the mosquitoes that are out during the middle of the day as opposed to those mosquitoes that carry West Nile virus, which are out predominantly between dusk and dawn.
People with dengue virus develop fever, severe headaches, joint pain, bone pain, pain behind the eyes and often a rash. The virus is usually a self-limiting illness. Patients have a febrile illness and flu-like symptoms for several days. However, infants between 5 and 8 months of age are at a high risk for severe disease, as are those who have been exposed to dengue virus previously. People who have had dengue once and are exposed to a different type of dengue virus have a high risk of developing hemorrhagic fever, an incredibly severe form of the disease.
Heading
Discovering dengue in Houston
Content
Murray and colleagues first checked the clinical samples for immunoglobulin M (IgM) antibodies, the antibodies that represent acute dengue infection, and found that 47 of the 3,768 samples were positive for IgM antibodies specific to the dengue virus. Two of those samples were positive for the actual virus in their blood, which happened to be dengue 2. This particular strain of dengue virus can be associated with severe illness, including hemorrhagic fever.
When researchers looked at the medical records of these patients and conducted interviews, they found that most did not have a history of travel to endemic areas, indicating that the virus is being transmitted locally. Most cases occurred in the summer months of 2003 and showed the typical characteristics of an outbreak.
Medical record review identified two fatal cases, one of whom had been bed-bound for two years, so clearly had no history of travel outside of Houston. The other fatal case did have a history of recent travel to Mexico, and clinical symptoms were compatible with dengue hemorrhagic fever and shock syndrome. None of the medical records of any of the cases listed dengue as a possible cause of the illness.
"Dengue virus is one of those diseases for which we suspected some low level of ongoing virus activity, and certainly Houston is a prime spot for these types of viruses to circulate," said Murray.
Many times, dengue virus is overlooked because a lot of doctors don't know how to recognize the symptoms, she added. She is now working to educate physicians on how to recognize the disease.
Heading
Houston's 'ideal climate'
Content
"One of the reasons we established the National School of Tropical Medicine in Houston was to be at 'ground zero' where neglected tropical diseases are present because of the confluence and warm climate in the southern United States," said Dr. Peter Hotez, dean of the NSTM at BCM. "Dr. Murray's important work confirms our assumptions and preliminary studies that neglected tropical diseases such as dengue are likely widespread in Texas and the Gulf Coast."
Murray is now working with the local health department to test for dengue as a part of routine diagnostics. She also worked with local health authorities to create a Dengue Working Group, which has regular meetings to talk about strategies to enhance surveillance for these types of diseases.
This is another reminder to be cautious of mosquitoes, no matter what time of day it is, and to protect from getting mosquito bites, especially in children and the elderly, said Murray.
Others who took part in the study include Liliana F. Rodriguez, Emily Herrington, Vineetkumar Kharat, Nikolaos Vasilakis and Christopher Walker of The University of Texas Health Science Center at Houston; Cynthia Turner, Salma Khuwaja and Raouf Arafat of the City of Houston Department of Health and Human Services; Scott C. Weaver of The University of Texas Medical Branch in Galveston; and Diana Martinez, Cindy Kilborn, Rudy Bueno and Martin Reyna of Harris County Public Health and Environmental Services.
The study was supported in part by a grant from the United States Department of Defense, Army (Grant W81XWH-04-2-0031) and by the National Institutes of Health (Grant AI069145).
Heading
Research at Baylor
Content
Read more about research at Baylor College of Medicine in our monthly newsletter From the Labs.