Grant funds study of ethics of adaptive deep brain stimulation
Media Component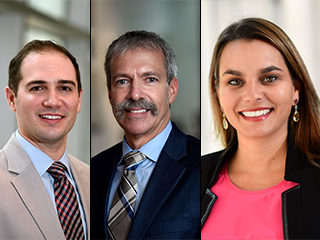 Content
Deep brain stimulation has been used to help manage symptoms of conditions like Parkinson's and Tourette's for many years, but the advent of adaptive technologies has raised new questions in the use of these technologies in the brain. The Center for Medical Ethics and Health Policy at Baylor College of Medicine has been awarded with one of four NIH BRAIN Initiative neuroethics grants in order to identify and evaluate the ethical, legal and social concerns with adaptive deep brain stimulation (aDBS) technologies.
The BRAIN Initiative is aimed at revolutionizing the understanding of the human brain. The four-year, $1.9 million grant award to Baylor will support research into the neuroethical implications of advancements in neurotechnology and brain science, stressing the importance of data-driven research generated from ethicists and neuroscientists.
"Our job is to start exploring these ethical and social issues, working with the scientists, interviewing patients who undergo the surgery, those who decline to participate due to some concern, and caregivers," said Dr. Gabriel Lazaro-Munoz, assistant professor in the Center and co-principal investigator on the grant. "We want to examine this from an empirical standpoint to collect real data and identify the challenges and benefits, thereby building a foundation of data for this sparsely-researched area."
Lazaro-Munoz will work with fellow Baylor faculty to examine neuroethical issues generated by aDBS for various disorders, and evaluate the impact of aDBS on patient-participants' perceptions of autonomy, personal identity and risk propensity.
"In contrast to most current devices, new generation aDBS systems can both stimulate and record, and use signals from the brain to adjust stimulation in real time," said Dr. Wayne Goodman, chair of the Menninger Department of Psychiatry and Behavioral Sciences at Baylor and co-principal investigator. "The goal is to develop prototype aDBS systems that can adjust stimulation automatically to better control the symptoms of treatment-resistant neuropsychiatric disorders such as obsessive compulsive disorder, Parkinson's disease, Tourette's syndrome and Essential Tremor disorders."
The research team will gather data from participants in existing aDBS clinical trials, targeting the mood and motor outputs in five patient populations. Because aDBS is implemented in treatment-resistant disorders, study participants have likely tried countless medications and are searching for alternative therapies. In addition to studying patients currently participating in aDBS trials, the research team will also survey those who decline to have the surgery to find out what their concerns are.
Acting as an observer in the trials, researchers will conduct interviews and distribute pre- and post-surgery questionnaires to participating patients and their caregivers to identify potential neuroethical issues associated with the implantation of the technology, looking particularly at changes in perception of autonomy, personality and risk propensity.
"These patients are essentially having a computer that can modify and influence emotional processing, mood and motor outputs inserted into the brain," said Lazaro-Munoz. "These responses define us as human beings and dictate our autonomy. If a participant experiences a personality change, does this change who they are or dehumanize them by altering their nature? These are some of the questions we have to consider."
Although these personality changes have been observed in DBS previously, the empirical data is limited, and it has not been empirically examined in aDBS. This study will look at 10 participants from each of the five aDBS collaborating studies, and while the sample size is small, the data will help Lazaro-Munoz and the ethics team to develop a framework for the responsible research and translation of aDBS systems.
"It is fascinating to have the chance to see how these patients respond to these novel technologies," added Lazaro-Munoz.
In addition to social concerns, ethical and legal questions as to how to regulate these technologies will be considered.
"We will be generating the data to come up with potential solutions to the key challenges we identify. These devices actually record brain activity; what is the place for this in the medical record? How do you manage this medical information and what protections do we need to put into place for patients? How will courts handle this information?" said Dr. Amy McGuire, director of the Center and co-principal investigator. "These are all questions we hope to explore through this study."
For the millions of patients who do not respond to existing treatments, this technology could provide a level of management for their symptoms. While promising, it raises a host of questions in regards to altering movement and emotional responses, which impact autonomy, risk perception and personal identity.
"The potential for this technology is great, and we want to be sure we are developing responsible policies to manage it," added Lazaro-Munoz.
Other contributors to this work include Barbara Koenig, Philip Starr, Michael Okun and Aysegul Gunduz.