Dr. Matthew Ellis receives Stand Up To Cancer's Laura Ziskin Prize for breast cancer research
Media Component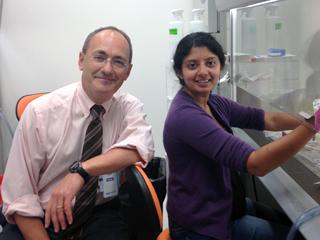 Content
Dr. Matthew Ellis, director of the Lester and Sue Smith Breast Center at Baylor College of Medicine, has received the Stand Up To Cancer 2015 Laura Ziskin Prize to advance studies of the defective DNA repair mechanisms in breast cancer.
The $250,000, two-year grant will fund a joint project with Dr. Charles Swanton at the Francis Crick Institute and UCL Cancer Institute in London.
DNA repair describes the processes that enables a cell to identify and correct damaged cell's genome. DNA repair acts as a protective mechanism for the genome. Defective DNA repair processes play a role in human disease development, including cancer.
"Right now the focus is on abnormalities associated with loss of the BRCA gene," said Ellis. The BRCA gene is a tumor suppressor gene associated with higher risk of breast cancer. "There are clearly many different forms of defective DNA repair that are in play, particularly in ER-positive breast cancer and HER2-positive breast cancer that we hope to better understand and identify."
"We hope this knowledge could be the basis for new treatments," said Ellis.
The new grant will fund two-post doctoral scientists, Dr. Svasti Haricharan who will work with Ellis and Dr. Nnenna Kanu who will work with Swanton. The teams will work on the project for two years.
Stand Up To Cancer's mission is to raise funds to accelerate the pace of groundbreaking translational research that can get new therapies to patients quickly and save lives now.
The Ziskin Prize is named for Laura Ziskin, legendary Hollywood producer whose work includes the box office hit Pretty Woman,who co-founded Stand Up To Cancer. Ziskin lived with breast cancer for seven years before she died in 2011. The prize, inaugurated in 2012, was created with $1.1 million designated for this purpose in Ziskin's will.