Dr. Zechiedrich named National Academy of Inventors Fellow
Media Component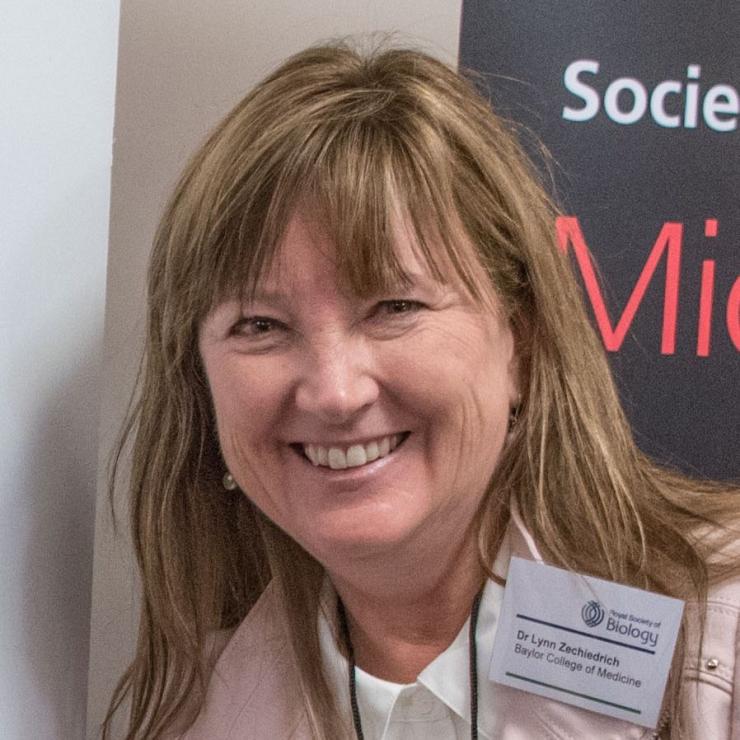 Content
Dr. Lynn Zechiedrich, the Kyle and Josephine Morrow Chair in Molecular Virology and Microbiology at Baylor College of Medicine, this week was named a Fellow of the National Academy of Inventors (NAI).
Election to NAI Fellow status is the highest professional accolade bestowed to academic inventors who have demonstrated a prolific spirit of innovation in creating or facilitating outstanding inventions that have made a tangible impact on quality of life, economic development and welfare of society.
Zechiedrich is recognized internationally for her work on DNA structure and function and the closely related fields of DNA topoisomerases and bacterial resistance to the fluoroquinolone antibiotics. The bacterial targets for fluoroquinolones, the topoisomerases, modulate how underwound or overwound the DNA double-helix is in cells, a process known as DNA supercoiling. Working at the interface of biophysics, mathematics, microbiology and medicine, Zechiedrich has developed supercoiled minivectors for dual use - physiologically relevant DNA substrates for enzymes like the topoisomerases that act on DNA and also gene therapy delivery vectors. Minivectors are made up of only the DNA sequence of interest and offer several advantages.
"In all respects, supercoiled DNA differs from the canonical rigid DNA double-helix you see pictured in textbooks. Trying to figure out how these differences affect topoisomerases and the drugs that target the topoisomerases led us to work hard to figure out how to make high quantities of supercoiled minivectors," Zechiedrich said. "I have been so lucky to work with such wonderful colleagues, most importantly Dr. Jonathan Fogg, senior staff scientist at Baylor College of Medicine, who enabled us to use minivectors for gene delivery."
As gene therapy delivery vectors, minivectors avoid the toxicity of viruses, last longer than plasmids (more than 10-times longer DNA circles containing bacterial sequences toxic to human cells), survive human serum, withstand nebulization for delivery to the lungs and survive and continue gene delivery in even hard-to-transfect cells longer than small interfering RNAs (siRNA) currently used to silence genes in the laboratory research setting. This breakthrough patented technology forms the basis of Twister Biotech, Inc., a Baylor College of Medicine spin-out company, of which Zechiedrich is founder and chief scientific officer.
Zechiedrich was one of 155 academic inventors named as an NAI fellow this week. The 2017 fellows are named inventors on nearly 6,000 issued U.S. patents, bringing the collective patents held by all NAI Fellows to more than 32,000 issued U.S. patents. Zechiedrich is the second BCM faculty member to be named an NAI fellow. Earlier this year, Baylor College of Medicine became an NAI member institution.
Included among all NAI Fellows are more than 100 presidents and senior leaders of research universities and non-profit research institutes; 439 members of the National Academies of Sciences, Engineering, and Medicine; 36 inductees of the National Inventors Hall of Fame; 52 recipients of the U.S. National Medal of Technology and Innovation and U.S. National Medal of Science; 29 Nobel Laureates; 261 AAAS Fellows; 168 IEEE Fellows; and 142 Fellows of the American Academy of Arts & Sciences, among other awards and distinctions.
Zechiedrich and the other 2017 NAI fellows will be inducted as part of the seventh annual NAI Conference in Washington, D.C., in April 2018. In addition, the 2017 NAI Fellows will be highlighted with a full-page announcement in the Jan. 19, 2018, issue of the Chronicle of Higher Education and in upcoming issues of Science and Technology and Innovation, the journal of the NAI.