Researchers awarded multiple Department of Defense grants in next frontier of breast cancer genomics
Content
In estrogen receptor-positive (ER+) breast cancer, one-third of women will develop resistance, despite past success in blocking the estrogen receptor function using endocrine therapies. To better understand the causes of this resistance, the Department of Defense (DOD) has awarded researchers at Baylor College of Medicine a Breakthrough Level 2 grant to identify gene anomalies in ER+ breast cancer that are associated with recurrence and poor outcome, a Breakthrough Level 1 grant to develop alternative therapies to target endocrine therapy-resistant ER+ breast cancers, as well as a large, collaborative Breakthrough Level 3 grant to develop combinatorial strategies using proteogenomic approaches to targeting HER2-activating mutations in ER+ metastatic breast cancers.
Heading
Identifying abnormalities in ER+
Media Component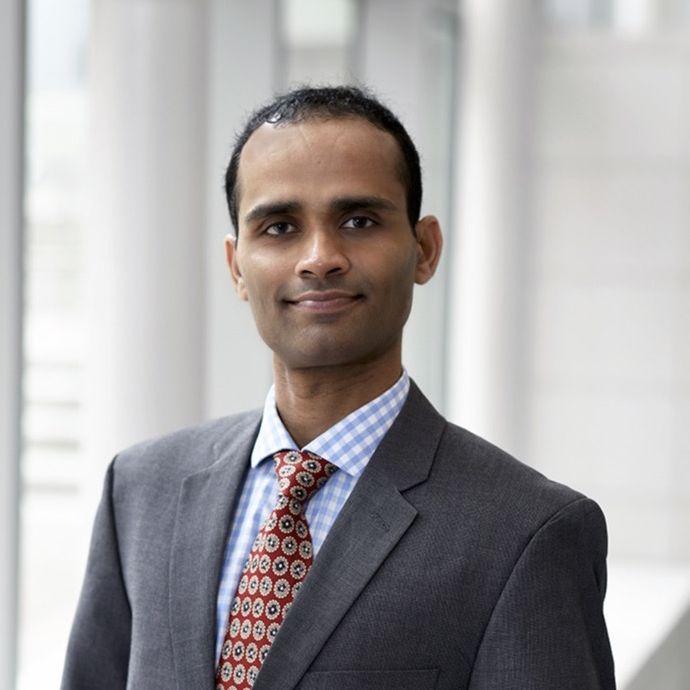 Content
"We combed through public ER+ data sets of breast cancer patients who were treated with standard-of-care hormone therapy to identify any gene abnormalities, such as overexpression or mutations, that we know are associated with relapse," said Dr. MeghaShyam Kavuri, assistant professor in the Lester and Sue Smith Breast Center, part of the NCI-designated Dan L Duncan Comprehensive Cancer Center at Baylor. "Out of all of the genes we analyzed, we were able to recognize abnormalities in DDR1, which are strongly correlated to increased risk of metastasis and cancer death."

Through the DOD Breakthrough Level 2 grant, Kavuri and colleagues will aim to address the mechanistic basis of how poor-prognosis DDR1 overexpression and mutations affect endocrine therapy re­sistance, tumor growth and potential for the disease to spread, or metastasize, using CRISPR/Cas9-mediated syn­thetic gen­etic screens.

"Based on what we determine through our research, the larger goal is to establish potential therapeutic strategies to effectively treat DDR1 overexpression and mutated ER+ breast cancers," Kavuri said. "There is a possibility to significantly impact patient care through this project."
Heading
Innovative ER+ clinical trials
Content
"Understanding different types HER2 activation is absolutely critical for breast cancer treatment," Kavuri said. Some breast cancers are fueled by HER2, which can be targeted with antibodies called Herceptin with the goal of improving patient outcomes.

By studying the results of genome sequencing analysis, researchers identified a new subset of breast cancers that do not make an abundance of the HER2 protein, but rather its genes were recoded as a result of mutations.

"Our own laboratory studies indicated that HER2 mutation renders cancer cells sensitive to neratinib, an HER inhibitor therapy. In our recently reported phase II trial of neratinib in patients with HER2 mutated, non-amplified metastatic breast cancer, we saw that about 30 percent of patients had a positive therapeutic benefit from the single agent," Kavuri said.

With the Breakthrough Level 3 grant, a multi-institutional collaborative project, Kavuri and colleagues will be using ER+ and HER2 mutant patient derived xenografts to design combinatorial strategies using proteogenomic approaches.

Moreover, the research team will conduct a Phase II clinical trial of neratinib in combination with fulvestrant in ER+, HER2 mutated metastatic breast cancer to assess the clinical activity of this combination.

"This project will revolutionize treatment regimens and improve patient outcomes in metastatic estrogen-receptor positive patients whose cancer contains a HER2 mutation by replacing standard chemotherapy with a more effective, less toxic drug combination," said Kavuri, who is a co-principle investigator of the grant along with Dr. Matthew Ellis, director of the Lester and Sue Smith Breast Center and McNair Scholar at Baylor.

Collaborating sites for the clinical trial include Washington University in St. Louis and Dana-Farber Cancer Institute at Harvard Medical School.
Heading
The next frontier
Content
Currently, 30,000 women a year in the United States alone die from ER+ breast cancer due to the development of endocrine therapy resistance in ER+ breast cancer cells.

Research funded through a DOD Breakthrough Level 1 grant, led by Dr. Svasti Haricharan as the initiating principal investigator, along with partnering principal investigator Kavuri, aims to uncover a novel relationship between DNA damage repair pathways and the activation of a growth receptor in ER+ breast cancer. Understanding this relationship will provide guidance in developing alternative therapies to targeting endocrine therapy resistant ER+ breast cancers.

"The results of this study will have clear clinical impact by providing biomarkers for screening cancer patients, which will facilitate treatment and help prevent cancer-related deaths," said Haricharan, assistant professor in the Lester and Sue Smith Breast Center at Baylor. "Reviewers of our proposal feel that it is contributing to 'the next frontier' for cancer genomics and will utilize big data to influence patient lives."

The collaboration between Kavuri and Haricharan combines their strengths in HER2 breast cancer and DNA repair, respectively.

Haricharan explains that certain types of DNA repair defects can serve as sensors to detect sensitivities to ER+ inhibitors and treatment resistance. Because these mutations can be found in the primary tumor, physicians can alter the treatment decisions for certain patients based on their screen before they even begin.
"The mutations in the cell can actually cause changes in the larger tumor microenvironment. We hadn't necessarily expected DNA repair and the tumor microenvironment to be linked since one is taking place inside the cell and the other outside, but we have found that they are. I think that is where we see the future of this research heading. Could this be the case in other cancers or tumors?" added Kavuri.
"The Dan L Duncan Comprehensive Cancer Center, and the breast cancer program in particular, has a very genomics-driven philosophy in pursuing research, and these grants will contribute significantly to advancing that philosophy," said Ellis, who also is associate director of precision medicine in the Dan L Duncan Comprehensive Cancer Center at Baylor.