CDC director visits Baylor-Uganda Children's Clinical Center of Excellence
Media Component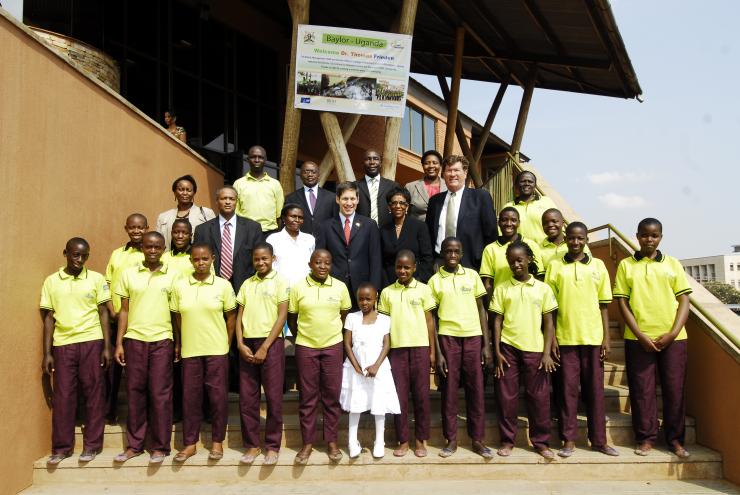 Content
Baylor College of Medicine's pediatric AIDS program in Uganda recently had a special visit from a very important guest.
Dr. Tom Frieden, director of the U.S. Centers for Disease Control and Prevention, made an official visit July 15 to tour the Baylor College of Medicine-Bristol-Myers Squibb Children's Clinical Center of Excellence at Mulago Hospital in Kampala, Uganda.
The CDC has been a strong partner and supporter of Baylor's efforts in Uganda since the pediatric HIV/AIDS program first reached the country in the early 2000s.
A majority of Baylor-Uganda's $24 million annual budget is primarily supported by the CDC through the U.S. President's Emergency Plan for AIDS Relief.
With this support, BIPAI Uganda provides integrated pediatric HIV/AIDS care and treatment in 300 health facilities across the country. Children remain the main focus of the program, but family members also benefit from the services. Mortality rates from the disease in the country have decreased from 3.2% to 2.8%.
"This visit signified the important role Baylor-Uganda plays in the national scale-up of pediatric HIV/AIDS prevention, care and treatment as well as addressing maternal mortality," said Michael Mizwa, senior vice president and chief operating officer of BIPAI.
The Baylor-Uganda program is the major provider of pediatric HIV/AIDS care, treatment and prevention services in Uganda.
Appointed by President Barack Obama in May 2009, Frieden is a former commissioner of the New York City Health Department.
While appointing Frieden, President Obama said he is an expert in preparedness and response to health emergencies and has been at the forefront of the fight against heart disease, cancer and obesity and infectious diseases such as tuberculosis and AIDS.
Frieden is in Uganda visiting CDC programs and partners working to prevent HIV/AIDS, improve maternal and child health, and build capacity to rapidly detect and effectively respond to disease outbreaks.
More information about CDC's work in Uganda is available at www.cdc.gov/globalhealth/countries/uganda/.
The Baylor College of Medicine International Pediatric AIDS Initiative at Texas Children's Hospital operates a broad network of pediatric HIV/AIDS clinics and satellite centers that blanket southern and east Africa and treats approximately 175,000 children and families. It was founded by Dr. Mark Kline, chair of pediatrics at BCM and physician-in-chief at Texas Children's Hospital, in 1996.
Photo available upon request.