Researcher receives CDC award to fight antibiotic resistance
Media Component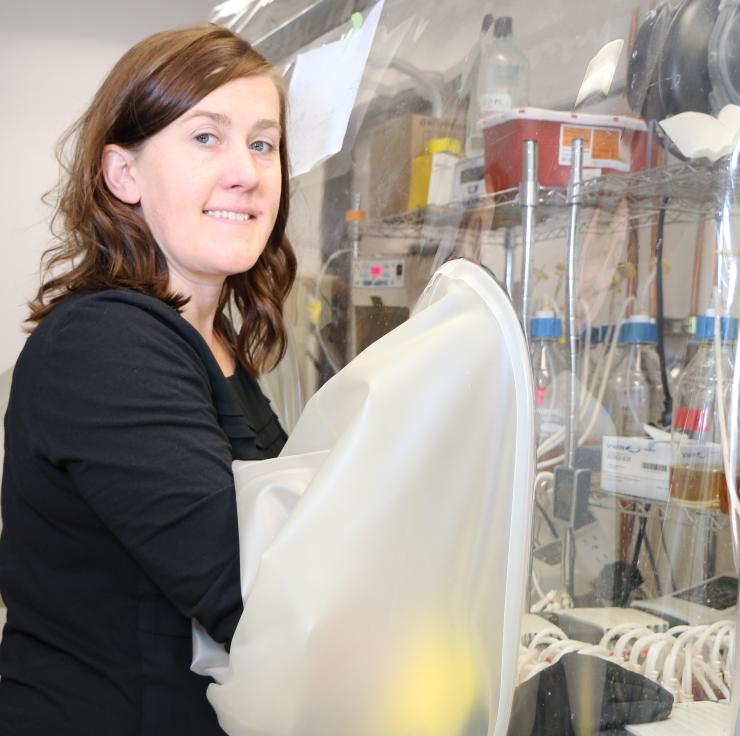 Content
Dr. Jennifer Auchtung, assistant professor of molecular virology and microbiology at Baylor College of Medicine, has received an award from the Centers for Disease Control and Prevention for innovative research to combat antibiotic resistance.
The award, made through a broad agency announcement, is part of the Antibiotic Resistance Solutions Initiative intended to grow the CDC's innovative approaches to combat antibiotic resistance. Funding was determined through a competitive selection process and based on funds available.
Antibiotic resistant infections can be deadly for humans and are a growing global threat jeopardizing modern medicine and the healthcare, veterinary and agriculture industries. Auchtung and her colleagues submitted a proposal that included validation of new pre-clinical models of the human gastrointestinal microbiome – the microbial community living in the human gut – that could be used in the early phases of development of new antibiotics that limit collateral damage to the gastrointestinal microbiome and for testing of microbe-based therapies to treat disease.
"I proposed cross-validating two different models of the gastrointestinal microbiome that we have developed," Auchtung said. "One is a unique tool to model the gastrointestinal microbiome, called human fecal mini bioreactors, and the other is a model of the human gastrointestinal microbiome living in mice."
Both models are complex and replicate many of the functions of the human microbiome obtained from human fecal samples; however, according to Auchtung's preliminary studies, their differences provide tradeoffs between throughput and complexity.
"The mini bioreactor model is higher throughput and lower cost, so we can use it as a pre-screening tool before we go into a more expensive mouse model," Auchtung said. "The mouse model is more complex as it includes interactions between the microbiome and the mouse digestive, immune and other organ systems, providing insights into some of the interactions between microbes and those systems that might be taking place in people."
In these models, Auchtung and her colleagues will study antibiotic resistance. "We want to look at whether treatment with antibiotics in these models promotes expansion of antibiotic resistant bacteria. We will use next-generation genetic sequencing to determine genetic changes that correlate with antibiotic resistance and also study the metabolic evidence for resistance to penicillins and cephalosporins, two commonly used types of antibiotics. We will also see how treatment with antibiotics impacts susceptibility to Clostridium difficile, the leading cause of antibiotic-associated diarrhea. I am excited to have this financial support for our collaborative studies to further develop tools that could provide useful pre-clinical models to discover new therapeutics."
The researchers will use this $294,000, one-year research award to develop tools and fundamental knowledge that can be broadly useful to the research community. Co-Investigators on this project are Dr. Robert Britton, professor of molecular virology and microbiology and member of the Alkek Center for Metagenomics and Microbiome Research and the Dan L Duncan Comprehensive Cancer Center at Baylor College of Medicine, and Dr. Anthony Haag, assistant professor of pathology and immunology at Baylor and director of Metabolomics and proteomics at the Texas Children's Hospital Microbiome Center.