Baylor College of Medicine to focus on environmental causes of disease
Media Component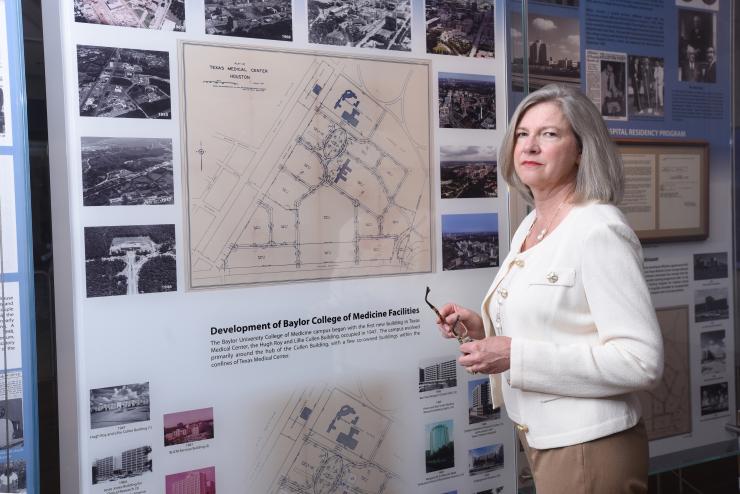 Content
Dr. Cheryl Lyn Walker, a renowned molecular biologist, has joined the faculty of Baylor College of Medicine to develop a new center to understand causes of disease through research at the intersection of genetics, environmental health and computational biology.
Walker joins Baylor as a professor of cellular and molecular biology and will be the director for the new academic center called the Center for Precision Environmental Health. The goal of the Center is to increase our understanding of how our environment influences health and risk for disease. It will focus on how early life exposures to certain environmental factors permanently change the body's physiological processes to increase risk for cancer and metabolic diseases.
"This is a major area of interest for Baylor College of Medicine and the reason we have designated an academic center addressing it," said Dr. Paul Klotman, president, CEO and executive dean of Baylor. "Dr. Walker is the ideal leader for this effort. We are fortunate to have her expertise and her plans to collaborate across the Baylor research enterprise.
The Center officially opens this week.
"This is an exceptional opportunity to leverage outstanding research at Baylor to build a world-class program combining genetics, environmental health and big data," said Dr. Adam Kuspa, vice president of research at Baylor. "Dr. Walker will help to establish Baylor as an international leader in environmental health and will move environmental health research in exciting new directions."
Walker's research focuses on finding the mechanisms by which environmental exposures early in life "reprogram" the epigenome of developing cells, tissues and organs to change how they function. These epigenetic alterations cause changes in gene expression that alter physiologic "set-points" to increase susceptibility to diseases that occur in adulthood. Studies from the Walker's research group are leading the field of environmental epigenomics, forging new ground in understanding how environmental exposures contribute to development of cancer, metabolic diseases such as obesity and heart disease.
"Precision environmental health mirrors the precision medicine initiative launched by the NIH," said Walker, who also is joining the Dan L Duncan Comprehensive Cancer Center at Baylor. "Research focused at the intersection of genetics, epigenetics and environmental health, combined with the ability to analyze big "omics" data sets holds the most promise for understanding and preventing environmental causes of disease."
Some of Walker's major research accomplishments include identifying tumor suppressor genes as the target for chemical carcinogens, creating an animal model for the most frequent gynecologic tumor of women, answering a long-standing question in biology about how cells maintain the correct number of peroxisomes, and discovering a new linkage between the epigenome and the cytoskeleton with her recent publication in Cell reporting the discovery of a chromatin remodeler that also remodels the cell's cytoskeleton.
Before coming to Baylor, Walker was the Robert A. Welch Professor, a Distinguished University Professor and director of the Institute of Biosciences and Technology at Texas A&M. Prior to that she held positions with The University of Texas MD Anderson Cancer Center including as the Ruth and Walter Sterling Professor of Carcinogenesis. She also was on faculty at the University of North Carolina at Chapel Hill, North Carolina State University and the National Institute of Environmental Health Sciences.
Walker earned her undergraduate degree from the University of Colorado in Boulder, Colo. She earned her Ph.D. at The University of Texas Health Science Center, Southwest Medical School in Dallas. She then completed a fellowship at the National Institute of Environmental Health Science.
Among her numerous awards and recognitions are the Cozzarelli Prize in Biological Sciences from the National Academy of Sciences and the Society of Toxicology Leading Edge in Basic Science Award. She has been a named Fellow with the Academy of Toxicological Sciences and the American Association for the Advancement of Sciences. She also is a past-president of the Society of Toxicology and Women in Cancer Research of the American Association for Cancer Research.
Walker either has led or been a part of research teams on more than 170 publications in scientific journals. She is a highly sought-after speaker at national and international scientific conferences, has held numerous advisory appointments in academia and government, including current service on the Board of Scientific Advisors for the National Cancer Institute, and recently was named one of the 2015 "Women on the Move" by Texas Executive Women.