Avon grant supports breast care services for underserved
Media Component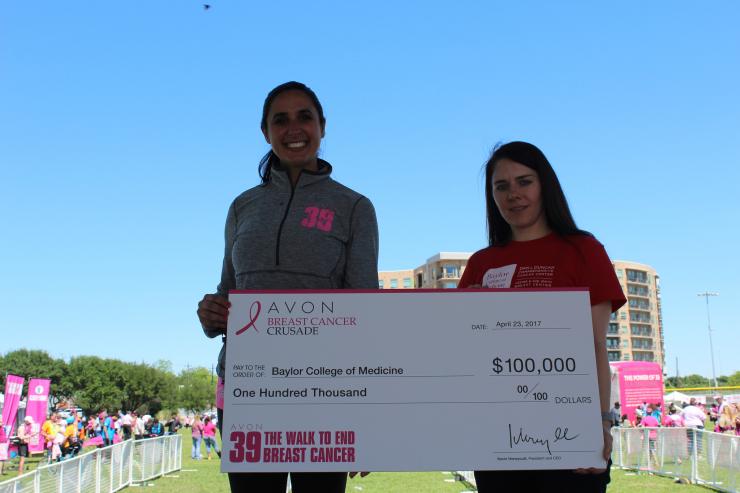 Content
For the 10th consecutive year, Baylor College of Medicine served as the Medical Sponsor for the annual Avon 39 walk. At the end of the marathon weekend, the Avon Foundation for Women presented Baylor with a grant for $100,000 to support the Lester and Sue Smith Breast Center's Pink 4 Life project.
Dr. Stacey Carter, assistant professor of surgery at Baylor and the medical director for this year's walk, said the experience was "an overwhelming wave of support and spirit in the fight against breast cancer." Carter accepted the award on behalf at Baylor at the event's closing ceremonies on April 23.
Pink 4 Life works to increase access to state-of-the-art diagnostics and treatment for women in Houston through resources available at Baylor and Harris Health System's Smith Clinic, which serves the city's medically underserved and uninsured community.
"The support we receive from Avon is crucial to the Pink 4 Life project, and we are honored to work with the Avon Foundation year after year to provide services such as genetic counseling and breast cancer care to economically disadvantaged patients," said Dr. Mothaffar Rimawi, medical director of the Dan L Duncan Comprehensive Cancer Center's Lester and Sue Smith Breast Center at the Smith and Baylor Clinics.
This grant marks the eighth year that Baylor has received support from the Avon Foundation.
Throughout the two-day event, Carter and a team of medical volunteers oversaw all healthcare and medical services for the walkers.
"This was my first year serving as the medical director for the Avon 39, and it was such a thrilling experience!" said Carter. "These men and women are such an inspiration, and it was our job to make sure their feet, ankles and knees were bandaged and kept in good shape throughout those 39 miles. It was a privilege to hear about their dedication to the event and how each of our patients had been touched by breast cancer."
Every year, the Avon 39 attracts thousands of men and women to gather together to walk 39 miles over the course of two days to raise critical funds for breast cancer research and treatment. The Houston event drew 795 walkers from across the country and raised $1.7 million to advance access to breast healthcare.