Master
Content
The Candela Smoothbeam is an exciting laser technology. The laser uses a combination of skin heating and cooling to selectively heat the middle layer of the skin. By heating that layer (the dermis), it is possible to gently treat a variety of skin problems. The laser is FDA approved to treat wrinkles, acne and acne scars. In addition, the Smoothbeam laser has been reported to improve sebaceous hyperplasia and other skin problems.
Media Component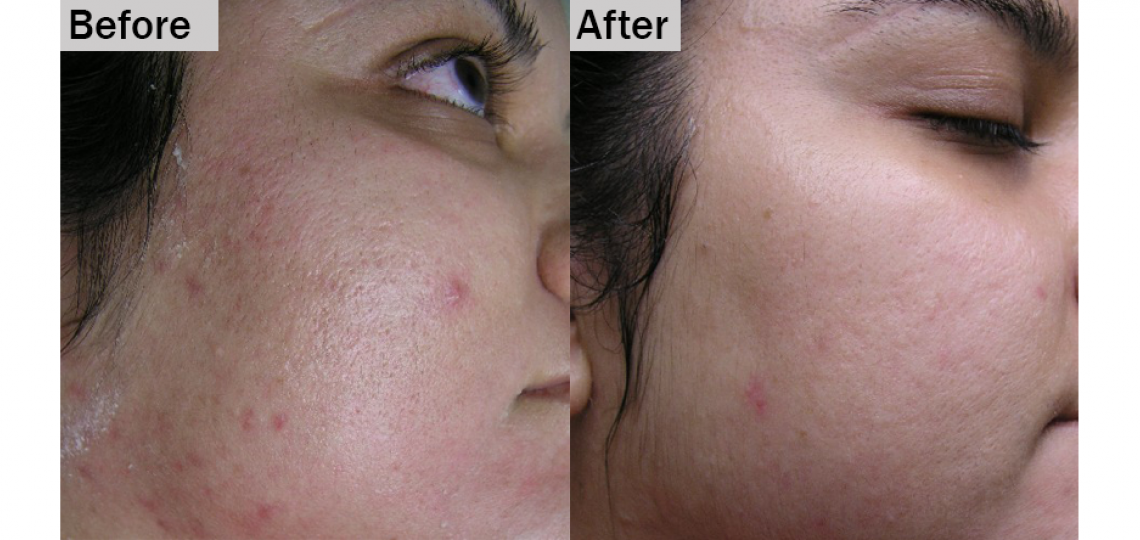 Content
The images above are of a Baylor Medicine Dermatology patient who had four Smoothbeam treatments for acne and scars. Left is before treatment, right is afterwards.
Content
One of the benefits to the Smoothbeam laser is the low chance of side effects. The most common side effect is mild redness in spots lasting about a few hours. Rare side effects can include blistering or color changes. Scarring is extremely rare, but possible with any treatment of the skin. Even though the laser is cutting edge technology, there is a chance it may not sufficiently treat your skin problem.
Insurance does not pay for any Smoothbeam laser treatment. The laser treatment must be paid for by the patient on the day of treatment. The cost is dependent on the area treated.
Content
Smoothbeam Price List

| Area Treated | M.D. Charge Per Session | R.N. Charge Per Session |
| --- | --- | --- |
| Full Face | $500 | $400 |
| Cheeks | $400 | $200 |
| Mouth | $300 | $200 |
| Small Area | $300 | $200 |
| Chest | $500 | $400 |
| Shoulders | $500 | $400 |
| Upper Back | $500 | $400 |
Content
A series of treatments are usually recommended for acne, acne scars and wrinkles. After four treatments active acne is usually 70 percent reduced on average. Scars and wrinkles are improved by a mild to moderate degree. In addition, oil production is reduced. The results are long lasting. Research has indicated that acne stays 70 percent better for two years or more after a series of four treatments. More treatments tend to be more beneficial, although most patients are satisfied with four.