Master
Media Component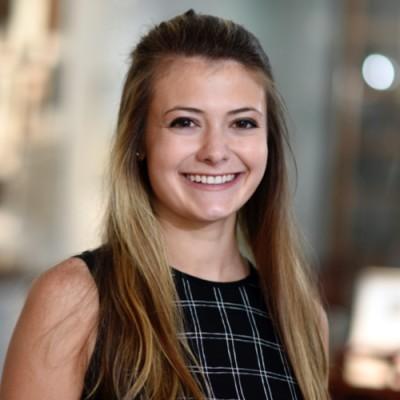 Content
Mentor: Matthew N. Rasband, Ph.D.
Undergraduate major: Behavioral Neuroscience
Undergraduate school: Quinnipiac University
Research Interests: Axon regeneration and Axon Degeneration
Why did you choose Baylor College of Medicine?
I chose Baylor because of the high level of research being done across the labs and because of the care and attention the Neuroscience program pays to the students. I appreciated the friendly graduate students during my interviews and how the professors took time to get to know all of the interviewing students. I knew that I would have support around me if I joined the program.
What is your research interest?
I'm interested in studying how axons regenerate after injury. For my project, I am studying if the axon initial segment is required for axon regeneration. I am using genetic mouse models to answer this question. I am looking in the peripheral nervous system, so I use a sciatic nerve crush surgery to induce injury.
Why did you choose your mentor?
I chose Dr. Rasband because I appreciated how much he cared about his students' success. During my rotation I noticed how he took the time to explain things to me, such as how to read a paper well and how to design experiments. I knew Dr. Rasband would help me to become a better scientist. The students and the post docs in the lab were welcoming too!
Did Baylor's location in the Texas Medical Center enhance your experience?
Yes it did! There are many seminars and meetings throughout the medical center that you can attend. It is unique that we have multiple close institutions to learn from.
What do you enjoy about living in Houston?
I love how there are things to do for everybody! There are museums, nice parks, plenty of restaurants and breweries, professional sports teams, etc. You can always find something fun to do.
What advice do you have for prospective students?
I think it is so important to choose the lab that is right for you. It is important that you find the science of the lab interesting, but I believe it's crucial to find a mentor that is supportive to your needs and learning style.