Master
Media Component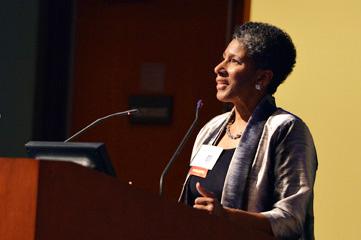 Content
Dr. Alicia Monroe serves as provost and senior vice president of academic and faculty affairs at Baylor College of Medicine. She holds the Cullen Trust for Higher Education Provost Chair and serves as the interim diversity, equity and inclusion chief.
The Provost's office ensures that the College and its programs are maintaining compliances with the Southern Association of Colleges and Schools Commission on Colleges and institution-level accreditation guidelines. The office provides centralized infrastructure to leverage resources across Baylor and focuses on several key strategic priorities at the institution level that further advance and support the College's faculty and academic initiatives. The office also focuses on supporting faculty through faculty development, well-being and diversity, inclusion and equity programs.
The Office of the Provost provides oversight to meet the needs of students and faculty across the College, through various initiatives including:
The Office of the Provost also partners with the Office of the President in oversight of continuous quality improvement through Institutional Effectiveness (Baylor login required).
Heading
Teamwork Skills for Career Success
Content
Team Launch provides innovative, interdisciplinary, team-based learning to prepare you for success across the broad spectrum of career paths in healthcare and science. Discover opportunities for students, trainees, faculty and staff to participate in this unique program.
Learn more
Heading
Compact Between Teachers, Learners, Educational Staff
Content
This compact serves both as a pledge and a reminder to teachers, learners and educational staff that moral, ethical and professional behavior by all Baylor personnel is essential to the basic principles of Baylor College of Medicine. Read the compact.
View Compact