Master
Heading
Surgical Simulation Laboratory
Content
Housed in the Department of Surgery, these laboratories have yielded lifesaving medical devices, including the artificial heart, ventricular assist devices, autologous blood salvage, and innovative surgical approaches, such as stem cell and gene therapies.

Today, the laboratories also serve as a comprehensive resource for surgical learning and training residents and fellows in the latest minimally invasive surgical techniques, continuing medical education for practicing surgeons, and core laboratory support for CME organizations and the biomedical industry. Accredited by the Association for Assessment and Accreditation of Laboratory Animal Care, the laboratories further serve as an ideal site for pre-clinical studies in compliance with federal and institutional guidelines.
Heading
Surgical Simulation Lab Facilities
Content
Wet Space: Operating Room wet space to accommodate animal models, cadaveric models or tissue based models for research, training, R & D.
OR 1 Can accommodate up to two surgical stations for animate or cadaver training/research events. Room is equipped with state of the art LED surgical lighting with OR light camera and large monitor to project surgical field images, anesthesia machines, Karl Storz laparoscopic towers with HD cameras and telescopes, electrocautery units, OR beds and physiologic monitors.
OR 2 Can accommodate up to 4 surgical stations for animate or cadaver training/research events. Equipped with OR lights, OR tables, anesthesia machines, electrocautery units and physiologic monitors. Two Linvatec HD endoscopic towers with telescopes, 3 Stryker endoscopic/arthroscopic towers with arthroscopes and shavers. One Olympus Endoscopy tower with bronchoscope and colonoscope.
OR 3 Imaging room equipped with OEC Series 9600 Mobile Digital Imaging System. Two radiolucent OR beds, lead aprons.
Preparation room / Instrument room equipped with instrument washer, instruments and gravity sterilizer.
Dry Simulation: The simulation Center combines classroom and conference room with multi-purpose space for various simulation task trainers and a dedicated room for virtual reality platform trainers for vascular, laparoscopic, endoscopic, orthopedic, neurosurgical and GYN.
Classroom: Seating for 24 and a large projection screen, HD projection, 2 way conferencing and integrated speaker's podium.
Conference Room: Seats 20 – 25 in conference style. Projector screen and LCD projector upon request.
Heading
Microscopic and Endoscopic Center for Clinical Applications Laboratory
Content
The Department of Neurosurgery's newly renovated anatomical dissection laboratory, called the Microscopic and Endoscopic Center for Clinical Applications Laboratory (MECCA).
Media Component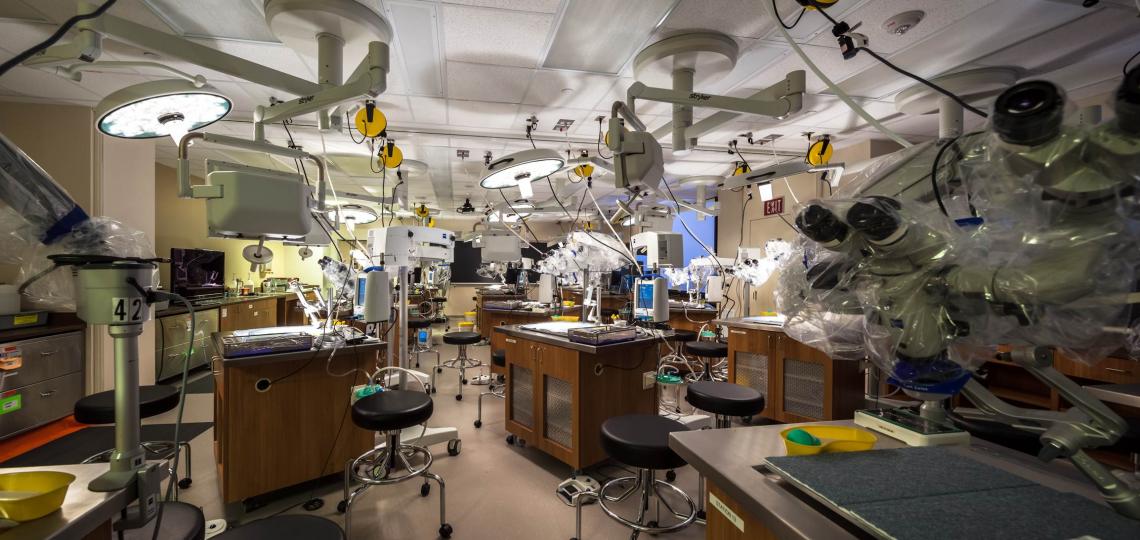 Heading
Anesthesiology Simulation
Content
The Department of Anesthesiology has utilized simulation for many years to teach residents critical skills in a simulated operating room environment. We have a dedicated anesthesiology simulation center in the heart of the medical school. This state of the art facility comprises a mock operating room, a high-tech control room and a debriefing room where residents can watch recorded scenarios in which they participated.
Learn more
Media Component