Master
Media Component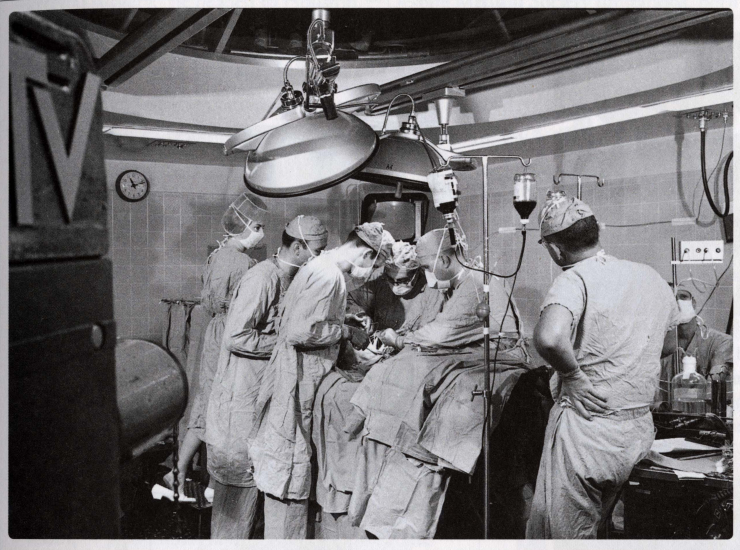 Content
The heritage of the vascular surgery program at Baylor College of Medicine began in 1948 when Dr. Michael E. DeBakey arrived in Houston to become the chair of Baylor College of Medicine's Department of Surgery. Widely regarded as the father of modern cardiovascular surgery, Dr. DeBakey was instrumental in creating the VA health care system as well as the Houston VA Medical Center, which was subsequently renamed in his honor in December 2003. During his illustrious surgical career at Baylor, Dr. DeBakey has invented countless surgical devices and developed innumerable surgical procedures, which benefited millions of patients with cardiovascular diseases worldwide.
Visit the DeBakey tribute website.
The modern operative principle of thoracoabdominal aortic aneurysm is largely credited to the pioneering work of Dr. E. Stanley Crawford who joined Dr. DeBakey as Baylor faculty in 1954 following his surgical residency training at Massachusetts General Hospital. In his ensuing 38 years of remarkable career at Baylor before he passed away in 1992, Dr. Crawford was known for his innovative surgical techniques in the treatment of thoracoabdominal aortic aneurysm as well as complex aortic diseases, particularly in Marfan syndrome and aortic dissection. He authored more than 300 peer-reviewed publications and book chapters and co-authored a textbook, Disease of the Aorta. His world renowned expertise in thoracoabdominal aortic aneurysm has led to a wide adaption of the Crawford Classification of this condition. In recognition of Dr. Crawford's contribution to the specialty of vascular surgery, the Society of Vascular Surgery has dedicated the "E. Stanley Crawford Critical Issues Forum" during its annual national meeting in June.
The current Division of Vascular Surgery and Endovascular Therapy at Baylor was established in December 2001. Since then, the Baylor vascular surgery program has become a preeminent academic vascular division in the country. The current division has a robust basic science and clinical program which include eight full-time clinical faculty physicians, two full-time research faculty members, and 15 post-doctoral research personnel. The clinical practice of the Baylor vascular program encompasses Baylor Clinic, St. Luke's Medical Center / Texas Heart Institute, Michael E. DeBakey VA Medical Center, Ben Taub Hospital, Texas Children's Hospital, Park Plaza Hospital, St. Joseph Medical Center, and University General Hospital.
Built on a heritage of over six decades of care to the patient with vascular disease, the Baylor Vascular division maintains the tradition as envisioned by Dr. DeBakey in clinical and research excellence. The division has shifted from traditional open surgical to minimally invasive endovascular interventions whenever appropriate. The faculty physicians are recognized as national leaders in training, research, and the performance of endovascular procedures.