Master
Heading
About Russell J. Blattner, M.D.
Media Component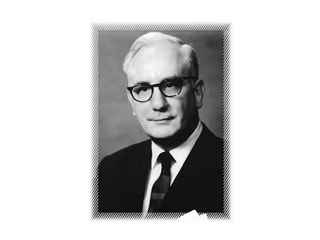 Content
Russell J. Blattner, M.D., was Texas Children's Hospital's first physician-in-chief.
He was first recognized in the 1940s for research identifying the cause of St. Louis encephalitis and came to Baylor College of Medicine in 1947 as the first pediatric department chair.
He helped develop the pediatric residency program as well as the planning and construction of Texas Children's Hospital in 1954. Blattner worked to form a relationship between Baylor College of Medicine and Texas Children's Hospital and to include local pediatricians on Baylor's teaching faculty.
He retired as physician-In-chief in July, 1977, and was succeeded by Ralph D. Feigin, M.D. Dr. Blattner died in 2002.
The Russell J. Blattner Lectureship was established by the Baylor College of Medicine Pediatric Alumni Association in his honor, and he was the inaugural speaker in 1977.
Heading
Previous Lecturers
Content
2017 Gary Silverman, M.D.
2016 Daniel B. Jernigan, M.D., M.P.H.
2015 D. Brent Polk, M.D.
2014 Rodney Willoughby, M.D.
2013 Glenn T. Furuta, M.D.
2012 Christy Turlington
2011 Wesley Burks, M.D.
2010 Gregory A. Storch, M.D.
2009 None
2008 Caroline Breese Hall, M.D.
2007 Carol J. Baker, M.D.
2006 Kathryn Edwards, M.D.
2005 Elizabeth McArnarney, M.D.
2004 Huda Zoghbi, M.D.
2003 Georges Peter, M.D.
2002 Larry Pickering, M.D.
2001 Richard Jacobs, M.D.
2000 Bonnie Ramsey, M.D.
1999 Samuel Katz, M.D.
1998 George McCracken, M.D.
1997 Walter Hughes, M.D.
1996 Larry Shapiro, M.D.
1995 Jerold Lucey, M.D.
1994 Jerome Klein, M.D.
1993 Margaret Heagarty, M.D.
1992 Robert Haggerty, M.D.
1991 Phillip Dodge, M.D.
1990 Philip Brunnell, M.D.
1989 Abraham Rudolph, M.D.
1988 Saul Krugman, M.D.
1987 Henry Barnett, M.D.
1986 Gilbert Flores, M.D.
1985 Charles Alford, M.D.
1984 William Blattner, M.D.
1983 Helen Taussig, M.D.
1982 Sydney Gellis, M.D.
1981 Ralph Feigin, M.D. and Carol Baker, M.D.
1980 Margaret H.D. Smith, M.D.
1979 Lewis Barness, M.D.
1978 Russell J. Blattner, M.D.